Description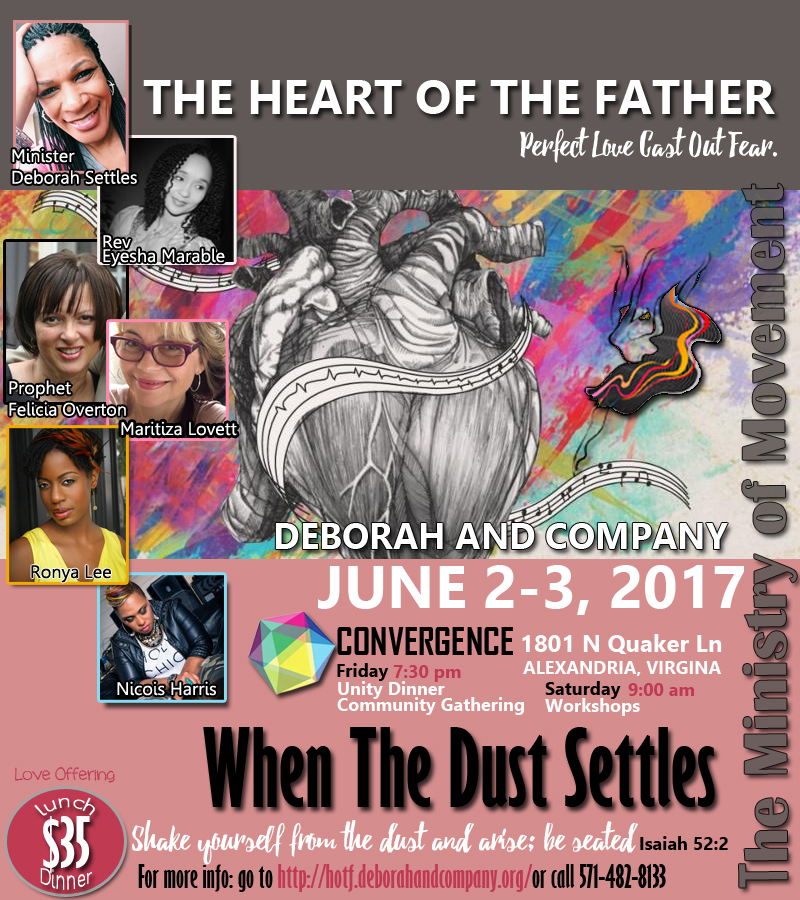 A once a year Conference/Workshop- A 2 Day Gathering.

See more at http://www.hotf.deborahandcompany.org/

Our primary focus is to to bring unity to the body of Christ, healing and deliverance through divine encounters with the power of Gods love.

Deborah and Company reaches out to local and national dance leaders, companies and pioneers within the dance community to teach and share. Our Conference consist of Friday Unity Dinner, a night of worship/community gathering with area artists and Saturday workshops.

Scriptural foundation for June 2017 is Isaiah 52:2
The Message (MSG)
Awake, awake, Zion, clothe yourself with strength! Put on your garments of splendor, Jerusalem, the holy city. The uncircumcised and defiled will not enter you again. 2 Shake off your dust; rise up, sit enthroned, Jerusalem. Free yourself from the chains on your neck, Daughter Zion, now a captive.

We start off Friday afternoon with Charette Team A. A meeting for leaders begining at 1:00 pm at local restaurant - Bus Boys and Poets.
Friday evening June 3rd is our Unity Dinner, We open the doors at 7 pm. We have some artist lined up to minister to your soul. Plan to spend a divine evening with us.
Saturday we begin our day at 8:30 am with Praise and Worship. A dynamic day is planned for you, with pagentry, warefare, flags and billows, along with technique in modern, contemporary lyrical, African and tambourine. Yes tambourine! So we can beat the head of the enemy ha!

Our facilitators include, Min DeborahSettles, Prophetic Artist Maritza Lovett, Rev. Eyesha Marable of the National Liturgical Network, Ronya Lee of Dancing by the Power, Merari Cordero of Academia de Pandero y Danza "KAIROS", Prophet Felicia Overton of KWIM,

The Heart of the Father will take place on June 2 -3, 2017 at the Convergence Community of Faith in Alexandria, VA.

We hope to see you there!

Deborah