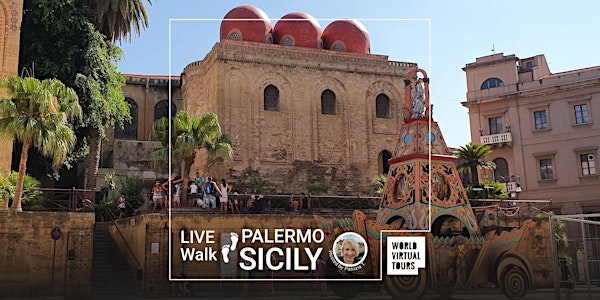 The heart of Sicily: Live Walk in Palermo and its Wonders
Sicily's main city, Palermo, will amaze you with its art, culture, ancient history and lifestyle.
About this event
👷🏻‍♂️ Build this project with us:
Our Tours are FREE TO JOIN
the Event is TIP-SUPPORTED (read below ⭐)
⏰ Time is listed as Eastern Time (US/New York)
Language: English
Live stream event from Palermo, hosted by PATRIZIA T.: Graduated Licensed Tour Guide with experience all over the world.
Summary
Pretoria Fountain
Massimo Theatre
St. Cataldo Cathedral
Maqueda Street
Live Q&A
Contents suitable for children
Description
Come on a tour of Palermo, the most energetic and vibrant city in Sicily! You will visit landmarks including Pretoria Fountain, Massimo Theatre, St. Cataldo's red domes and the Cathedral (one of the eight UNESCO World Heritage Sites in town). Stroll along Maqueda Street and browse tempting treats of Sicilian cuisine such as arancini rice balls. Sicily's main city, Palermo, will amaze you with its striking architecture heritage, many-layered history and its fun-loving lifestyle.
ATTENTION:
⛈️ In case of adverse weather conditions, the walking tour will be canceled and rescheduled without notice.
*****************
How to JOIN:
- Click on Register button, and get your ticket here on Eventbrite
- You will receive the Zoom code by email (attention to spam folder!)
- If you are confused about Starting time, click the link here to check your local time zone (LINK AL SITO)
- Join some minutes before the event start time
*****************
Special Instructions and Requirements
PC, laptop, tablet or smartphone
Stable internet connection
This experience will use Zoom
PLEASE NOTE: since is a Free Event with high demand, if you don't connect on first 10 mins from tour start, we reserve the rights to assign your reserved seat to someone else
Read Carefully Our TOS here:
https://worldvirtualtours.online/terms.html
You can TIP Patrizia here:
https://www.worldvirtualtours.online/tiptheguide.html?guide=Patrizia
⭐ Why donate to your Tour Guide
Our project is solely funded by your donations.
All our virtual tours are made possible only thanks to your support as part of our Community.
The majority of your tip supports the Guide, the rest lets our group continue to carry out our initiative.
THANK YOU!
#worldvirtualtours #tellHIST #palermo #sicily #unesco #monument #art #travel #italy #italianlifestyle #italianbeauty #immersiveexperience #virtualtour #virtualtrip #culturalheritage #artandculture #culture #architecture