Description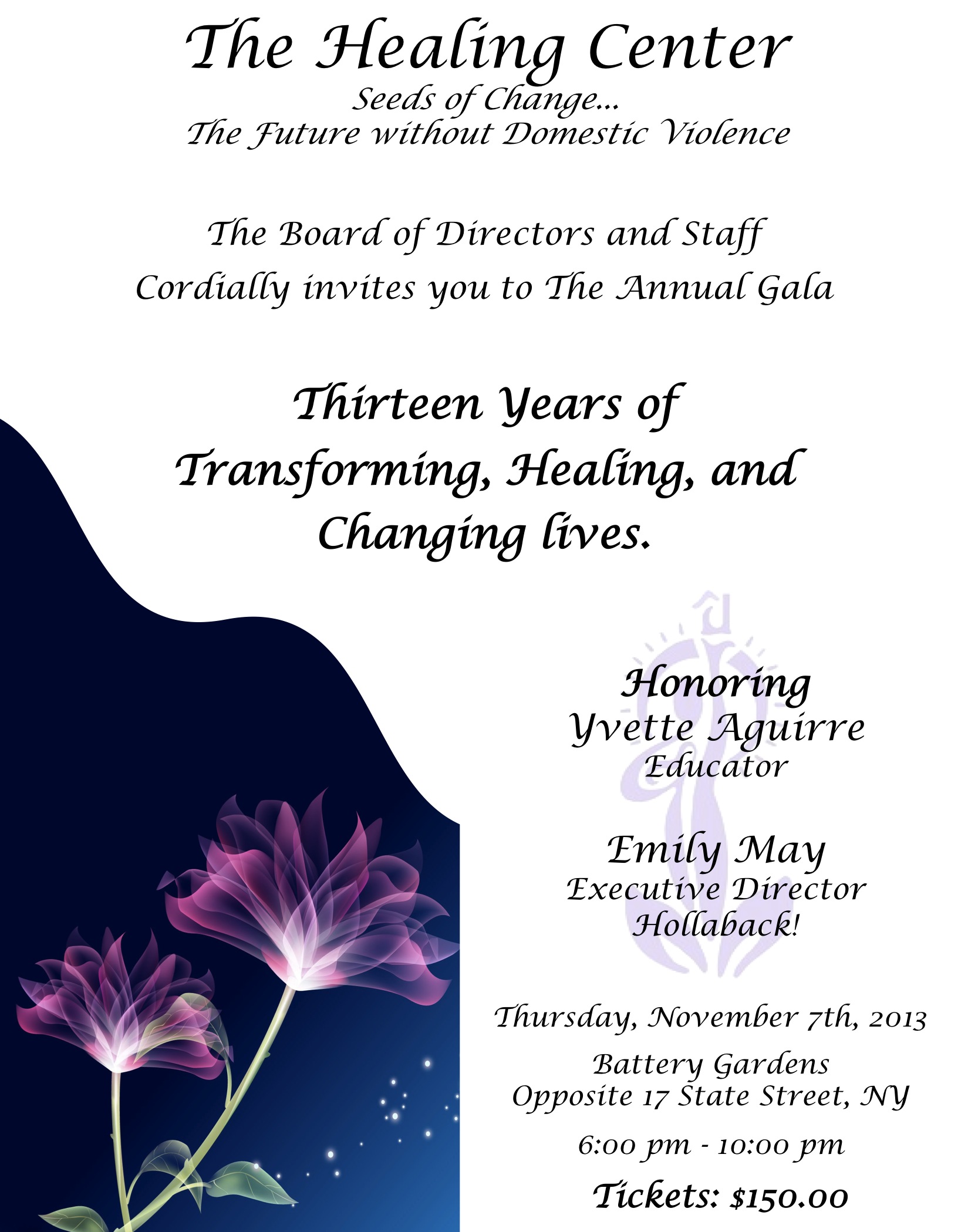 Journal Ads
Full Page Ad $500.00
Half Page Ad $300.00
Quarter Page Ad $150.00
Business Card $100.00
Ad text and design should be submitted no later than October 12, 2013. Payments in full by Friday, October 18, 2013. For ad placement call 718-238-5138.
Organizer of The Healing Center 2013 Annual Gala
Our Mission
The Healing Center also know as Trinity Healing Cente, Inc is committed to the intervention and prevention of family violence, abuse, and sexual assault, serving people of diverse faiths, cutlures and persoanl experiences.  The The Healing Center was establsihed in 2000, to serve families affected by domestic violence.
At the heart of our mission is a set of core values that the Healing Center lives by:
We work within the worldview of the individuals served.

We believe in meeting individuals where they are by respecting their personal lifestyle and faith beliefs.

We respect and value the diversity of each individual.

We walk and partner with those we serve on the journey to healing.

We address the holistic needs of individuals —emotional, spiritual, physical and mental.
Over the past fourteen years we have developed programs that offer transformation, healing and change. T
his includes crisis intervention and prevention, referrals, community education and outreach to churches, schools and community organizations. Our Teen Program -Daughters of the Lotus for girls 13-15, where they learn about teen dating violence, healthy relationships, peer pressure. Girls develop self-esteem, positive goals and empowerment.  The Hi5 Children's program serves children ages 5-10 who witness domestic violence. We provide individual counseling and support groups. In addition, The Healing Center is the sponsor of the NYC Teen Dating Violence Awareness Walkathon to be held on Saturday, April 18, 2015.  
The Healing Center was featured in the video documentary, "What Harm is it to be a Woman", produced by The Religious Consultation on Population, Reproductive Health and Ethics, and I Beleive You, Faith's Response to Intimate Partner Violence.

The Healing Center is passionate about being a catalyst for change as is evident in the transformation of the lives of the families it serves. We envision the eradication of family violence in our community and pray that our faith and actions in this mission will extend to the global community.