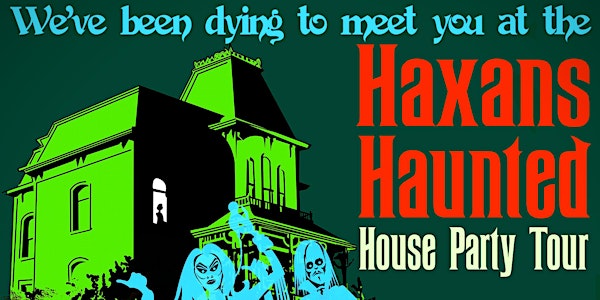 The Haxans "Haunted House Party Tour" Paul Bielatowicz's "Nosferatu Live"
Location
Alchemy
171 Chestnut Street
Providence, RI 02903
The Haxans ( Ash Costello of New Years Day and Piggy D of Rob Zombie)special guest Paul Bielatowicz performing 2 sets to1922 Nosferatu film
About this event
ABOUT THE HAXANS
The Haxans are Ashley Costello, subcultural style icon and leader of Warped Tour screamo stars New Years Day, a seeming heir-apparent to the glory days of My Chemical Romance and AFI, and Matt Montgomery, better known by his alias Piggy D., bassist for over a decade with multi-platinum shock rocker Rob Zombie, guitarist with horror punks Wednesday 13, and sometime visual and musical collaborator with rock icon Alice Cooper.
A Goth-pop duo, decked out in creep kitsch high fashion, and named after a silent film from the twenties about a 15th century German guide to hunting witches, The Haxans sound exactly like everything those images conjure. It's the psycho-saccharine music of a fiendish creep's fever dream…Classic art-house cinema, b-movie horror, spooky decadence, vintage American myth, and black roses dripping with blood are all tossed in The Haxans cauldron, like so many ingredients from a well-worn book of spells.
The Haxans isn't a side project. It's the irrepressible, irresistible, and inevitable exorcism of the party-centric Halloween costume shop kicking around inside the brains and bodies of the group's two coconspirators.
ABOUT PAUL BIELATOWICZ
Paul Bielatowicz is best known for his virtuoso guitar work with some of the biggest names in progressive rock. He's played, recorded and toured with Carl Palmer (ELP), Neal Morse (Spock's Beard, Transatlantic), YES, Todd Rundgren, John Lodge and The Alan Parsons Project.
In 2014, he released his debut solo album Preludes & Etudes, featuring solo electric guitar arrangements of virtuoso classical showpieces. When COVID 19 halted all touring, Paul spent the best part of two years working in the studio, writing and recording music for three albums… one of those projects is this soundtrack to the classic 1922 Nosferatu film.
The Nosferatu Live show brings together a variety of musical styles and instruments (guitars, keyboards, analog synths, vocals… even a Theremin) in an exciting theatrical production that breathes new life into the undead classic!