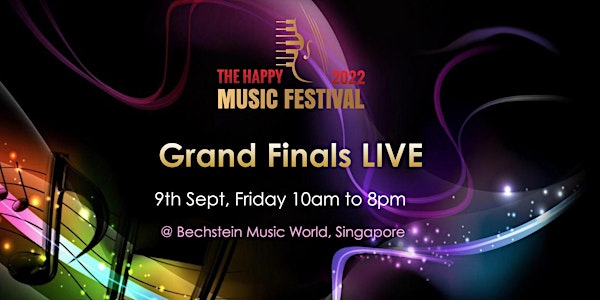 The Happy Music Festival 2022 Grand Finals LIVE
The Happy Music Festival 2022 Grand Finals Live for All Piano And Violin Categories.
When and where
Location
BECHSTEIN MUSIC WORLD 7 Shenton Way , #02-01 Singapore Conference Hall Singapore, 068810 Singapore
About this event
The Grand Finals of The Happy Music Festival 2022.
Live at Bechstein Music World, Singapore Conference Hall
Date: 9th September 2022, Friday (School Holidays)
Time: 4 Separate Sessions from 10.30am to 8pm. (Doors open at 10am)
1) 10.30am to 12pm: Violin Session - All Violin Categories
2) 1pm to 3pm: Piano Session A - Little Star & Classical Intermediate
3) 3.30pm to 5.30pm : Piano Session B - Classical Junior & Piano 4 Hands
4) 6pm to 8pm: Piano Session C - Pop Piano & Classical Senior
Each ticket is for entry of 1 person, per session. Please purchase the correct ticket for the correct session. You can purchase tickets and attend multiple sessions.
Limited tickets for each session. Ticket sales will stop once sold out.
Contestants do not need to purchase tickets.
F.A.Q:
1. Do I need to be fully vaccinated to attend the event?
No. From 26th April 2022 onwards, in accordance with Singapore's latest easing of COVID-19 regulations, events with less than 500 attendees no longer requires Vaccination-differentiated safe-management measures (VDS). Please note that mask-wearing is still required throughout the event.
2. Do I need to do TraceTogether SafeEntry to enter the concert hall?
No. From 26 April 2022 onwards, attendees will no longer be required to do SafeEntry check in using the TraceTogether app or token, for events of less than 500 attendees which applies to this event.
3. Do I need to wear a mask?
All guests will be required to wear a mask at all times throughout the competition. Contestants will perform mask-off on the stage.
4. What time does the contestants need to arrive for his/her session?
Contestants are advised to arrive at least 30 minutes before the stated timing of his/her session. Session may start later if there's any delay from previous session. Contestants who did not turn up once the session start will be disqualified.
5. Can I bring my child to attend the competition?
All guests must be at least 4 years old or older to attend.
6. Do I need to print out the tickets?
You don't need to print out the ticket. You only need to show your ticket in your email, or register with your name or mobile number at the registration counter on that day.
7. How are the seats assigned?
Contestants will be seated at the front rows throughout the session. Family members and guests will be seated at the back. Seats are assigned on a first-come-first-serve basis.
8. Is there intermission during each session?
No, there is no intermission. Guests are encouraged to use the washroom before or after each session. Door will be closed once the session starts and no entry be allowed.
9. What is the dress code?
Formal or smart causal attire is preferred. Contestants are advised to dress well and dress appropriately for their performance.
10. What are the house rules?
We ask that all guests to keep their mobile devices away to silent mode and remain seated throughout the competition. Guests who did not comply will be asked to leave.