Description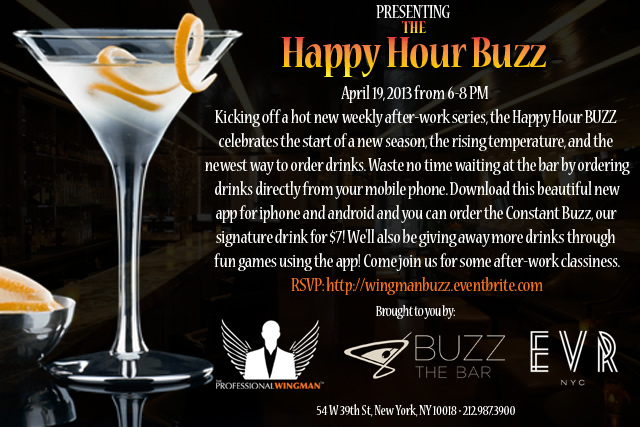 Kicking off a hot new weekly after-work series, the Happy Hour BUZZ celebrates the start of a new season, the rising temperature, and the newest way to order drinks. Waste no time waiting at the bar by ordering drinks directly from your mobile phone. It's the perfect set up so you focus on what's most important -- having a great time. And what better place to have a good time than in one of NYC hottest venues, EVR.
BUZZ the Bar is a mobile application that allows you to order and pay for drinks on your phone. Download this beautiful new app for iphone and android and you can order the Constant Buzz, our signature drink for $7! We'll also be giving away more drinks through fun games using the app! Come join us for some after-work classiness.
With the warmer weather finally here, let's get out of the house, toss off those winter coats, and check out who's been hibernating the past few months. Have fun meeting some new friends and reconnecting with your old ones. We'll see you there!
Brought to you by Buzz the Bar, EVR, and The Professional Wingman