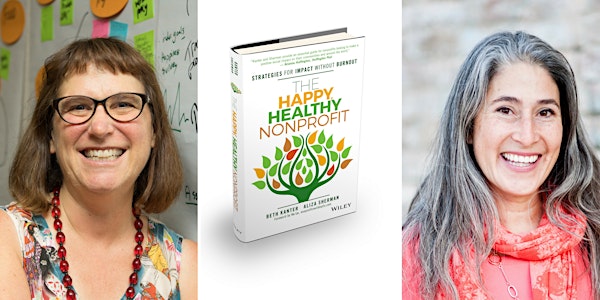 The Happy, Healthy Nonprofit: Strategies for Impact Without Burnout
Location
Georgetown University School of Continuing Studies
640 Massachusetts Avenue Northwest
Washington, DC 20001
Description
Join Georgetown University's Center for Social Impact Communication and co-authors Beth Kanter and Aliza Sherman for a conversation and reception in celebration of their new book, The Happy, Healthy Nonprofit: Strategies for Impact Without Burnout.
Nonprofits are driven to do more, more, more, often with fewer and fewer resources; there comes a breaking point where passion dwindles under the weight of pressure, and the mission suffers as a result. Hear tips and strategies from the authors that will help steer your organization away from burnout while boosting all-around performance.
Following a lively conversation with the book's co-authors, join us for a Happy, Healthy reception featuring fresh fruit smoothies and made-to-order espresso drinks.
Event Agenda
9:30 AM: Coffee & Registration
10:30 AM: Fireside Chat with the Authors
Introductions by Senior Associate Dean Denise Keys | Moderated by Deputy Director, John Trybus

11:30 AM: Book Signing & Smoothie Reception
Copies of The Happy, Healthy Nonprofit will be available for sale (cash or credit accepted) during the reception.

Event Sponsor
This event is sponsored by Impact Communications, Inc. Impact Communications is a strategic creative fundraising agency. We connect your organization with the people who want to help you change the world. At Impact Communications we help you communicate your vision by finding and telling your stories and developing smart fundraising strategies. We help you raise more money--from acquiring new donors to helping those donors leave enduring legacies.