The Happy Healthy Nonprofit Professional: Self-Care for Change Makers
Description
The passion you feel about your work as a nonprofit professional is a double-edged sword.
Your commitment helps you keep going in the face of difficult times. Yet, you can be so driven you don't stop to refuel (or smell the proverbial roses), or even notice you might be experiencing symptoms of burnout.
Based on her new book, The Happy Healthy Nonprofit: Strategies for Impact without Burnout (co-authored with Aliza Sherman), Beth Kanter will lead an interactive session where you'll:
Take a self-assessment to determine burnout symptoms and opportunities to create self-care habits
Discuss and share tips and methods for self-care activities that go beyond physical health
Make a commitment to implementing one small self-care activity post workshop
All workshop participants have option to get a copy of the book and time to have it signed at the end of the session!
This workshop is for nonprofit staff only, whether paid or volunteer. Due to limited space, please no consultants or trainers.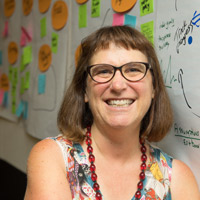 Beth Kanter is an internationally recognized thought leader in networks, social media and data. She has over 35 years working in the nonprofit sector in capacity building and has facilitated trainings for nonprofits on every continent in the world (except Antarctica). Named one of the most influential women in technology by Fast Company and one of the BusinessWeek's "Voices of Innovation for Social Media," Beth was Visiting Scholar at the David and Lucile Packard Foundation, 2009-2013. Her past and current clients include Robert Wood Johnson Foundation, Gates Foundation, Brainerd Foundation, Knight Foundation, Knight Digital Media Center, Edutopia, HHS and others. She is the author of the award winning Networked Nonprofit Books published by Wiley, publishers of the The Happy Healthy Nonprofit: Impact without Burnout.