Description
It's time to bloom through the gloom, people! So hop along for a happy morning of laid-back loafing at Loaf's Battersea Shack with a scrummy breakfast spread and bucketloads of unbridled optimism from Emily Coxhead, the founder of The Happy Newspaper.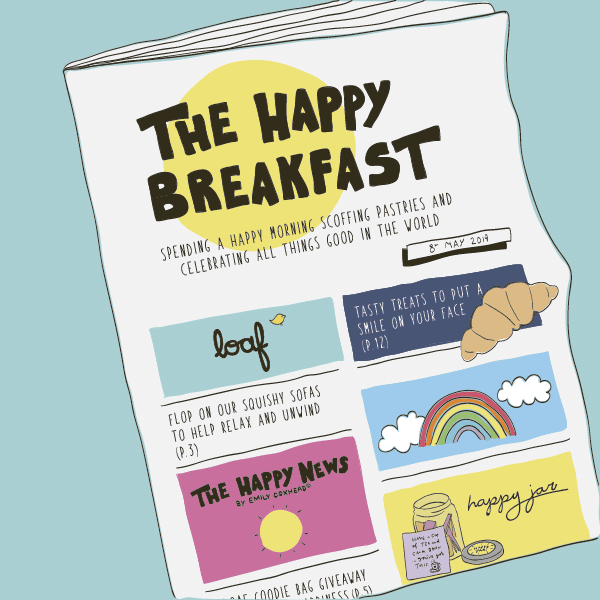 ABOUT THE EVENT
Worried sick about everything? Here's your chance to say 'Sod it!' by spending a happy morning scoffing pastries and celebrating all that's good in the world. Flop on Loaf's squishy sofas (before they open to the public) and let Emily Coxhead show you how to make your very own Happy Jar in a crafty workshop!
The workshop will kick-off at 9.30am. Places are very limited so make sure you get there early to nab your spot!
You'll leave with a smile on your face, a nice full tummy and a lovely Loaf goody bag.
About Loaf
Brit-brand Loaf makes laid-back furniture for people to kick-off their shoes and lead happier, more relaxed lives. The homeware brand has made it their mission to encourage people to enjoy their homes more. Having lost a whole Saturday trying to buy a bed, founder Charlie Marshall saw an opportunity to make the shopping experience as quick and hassle-free as possible. So two years, 187 mattress and bed factories later, Loaf was born.

About The Happy Newspaper
The Happy Newspaper celebrates all that's good in the world; a platform to share positive news and wonderful people. The first issue launched in December 2015 thanks to 73 people who pledged towards a Kickstarter campaign. Since then, The Happy Newspaper has been released quarterly, containing happy news which has been collected over a period of three months. It is currently on its 14th issue and has been featured on some of the biggest news outlets in the world. The newspaper itself is an illustrated 32 page publication organised chronologically, with news articles arranged month by month. Not only is the paper packed with only positive stories from across the globe, it also has an entire section dedicated to our Everyday Heroes.
The finer details
Parking: There are a few Loaf parking spaces next to the shack but be quick as they get snapped up!
Public transport: Loaf is a hop, skip and a jump from Queenstown Road station (about a 2 minute walk) or Battersea Park Railway station (about a 6 minute walk), with trains running frequently from Clapham Junction, Waterloo and Victoria

Goody bags: Only one goody bag is allowed per person.
Question?
If you have any questions then please ping the Loaf team an email to goodtimes@loaf.com.

Social stuff!
Spread the love and share this event with your friends & family tagging:
#TheHappyBreakfast
@loafhome
@thehappynewspaper
@emilycoxhead