Description
2020 New Year - All remaining Happiness Movement luncheons are now on the 3rd Tuesday of each month.

How does one sustain happiness in a world full of hate and negativity?
This 10 month Happiness Program is designed to provide critical life skills in training yourself for happiness and to combat the daily negative input life can inflict upon us. You can attend one or two or for maximum benefits join the movement and attend all 10.
Happy is an INSIDE job - BE the change you want to see
On a daily basis hatred, meanness, resentment, bitterness, disappointment, jealousy, and so on thrust into our minds, bodies and souls eating away our JOY, kindness, love, and peace. It's time for a movement..... The Happiness Movement.
Our communities, our world, needs YOU, needs ME, needs US to come together and combat the hatred and daily negative BS inflicted upon us and BE the MOVEMENT.... THE HAPPINESS MOVEMENT to protect our own JOY and pay it forward to others.
Join the movement... the Happiness Movement with THE Cynthia Gossman.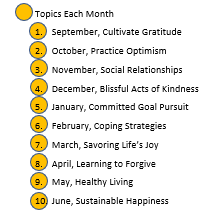 Who? Group of people (just like you) who want more happiness and JOY in life. Open to all.
What? Lunch & learn - learn proven techniques and skills to cultivate and sustain happiness and joyful living, regardless of the negative BS that bombards you daily.
Why? To strengthen coping mechanisms and FEEL better in life.
When? 3rd Tuesday, monthly, 11:30a - 1p
Where? Olive Garden, 5920 Virginia Beach Blvd., Norfolk, VA 23502
How Much? $40 or BECOME an AMBASSADOR and save. Includes training materials and lunch.