2021 The Happiness Movement - Retrain your Brain for more happiness, healthier relationships and greater success.
About this event
 How does one sustain happiness in a world full of hate and negativity?
This 10 module Happiness Program is designed to provide critical life skills in training yourself for happiness and to combat the daily negative input life can inflict upon us. Attending the live zoom online each week at the scheduled time is encouraged; however, the sessions will be recorded and available to watch later.  
Happy is an INSIDE job - BE the change you want to see
On a daily basis hatred, meanness, resentment, bitterness, disappointment, jealousy, and so on thrust into our minds, bodies and souls eating away our JOY, kindness, love, and peace. It's time for a movement..... The Happiness Movement.
Our communities, our world, needs YOU, needs ME, needs US to come together and combat the hatred and daily negative BS inflicted upon us and BE the MOVEMENT.... THE HAPPINESS MOVEMENT to protect our own JOY and pay it forward to others.
Join the movement... the Happiness Movement with THE Cynthia Gossman.
Who? Group of people (just like you) who want more happiness and JOY in life. Open to all.
What? Learn proven techniques and skills to cultivate and sustain happiness and joyful living, regardless of the negative BS that bombards you daily.
Why? To strengthen coping mechanisms and FEEL better in life.
BONUS - all participants with perfect attendance become a HAPPINESS AMBASSADOR.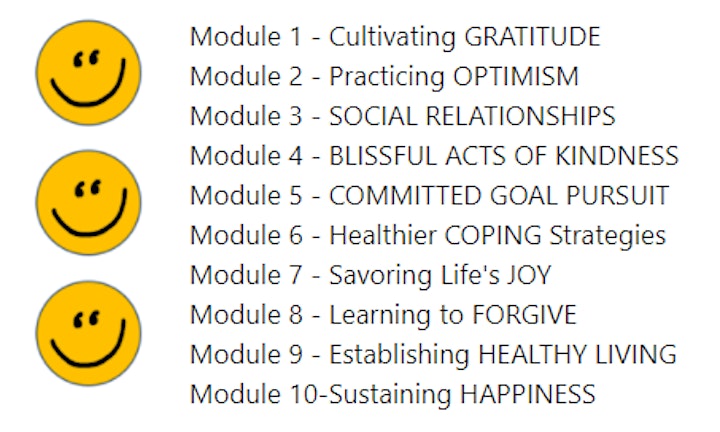 Includes weekly handouts, activities and study guide (value $150 - FREE)
This course repeats every Wednesday with a new module to learn.
Here are all of the dates:
April 7, 14, 21, 28
May 5, 12, 19, 26
Jun 2, 9
Date and time
Location
Refund policy
Organizer of The Happiness Movement COURSE
EWB provides alternative methods and proven techniques aiding in the management of emotions in order to help all individuals reach their full potential and personal success. For nearly 20 years EWB has been the leading go to company for students, professionals and organizations providing excellent services and programs using emotional intelligence and positive psychology to help individuals achieve peak performance and STAAR Performance status.
THE Cynthia Gossman is Owner of Emotional Wellness & Balance|EQiConcepts, The Emotion Strategist, EQ Trainer, JOY Restoration Coach, Motivational Speaker and Author.
Cynthia uses her own personal experiences of living/coping with individuals with mental illnesses, parenting children with special needs, and being widowed very young to offer encouragement, resilience skills and a unique perspective on how to handle LIFE.
She is the creator of PAP© (patience, acceptance, perspective) and utilizes this as the foundation for her coaching and training.