"The Happiness Advantage" Community Luncheon and Leadership Workshop
Description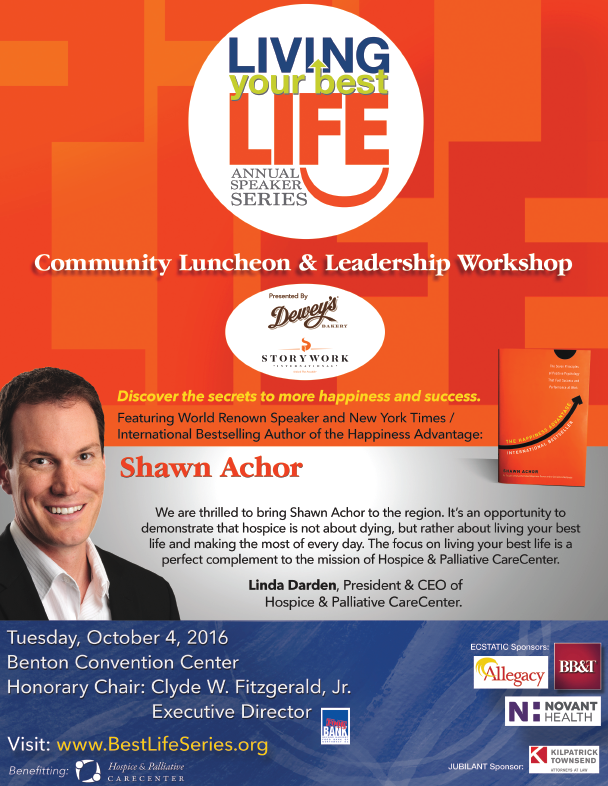 SINGLE TICKETS AVAILABLE -- We're pleased to announce that our event is now sold out, however there are some single tickets still available. Join us for our 2016 Speaker Series: "Living Your Best Life" with inaugural speaker Shawn Achor, author of "The Happiness Advantage." This fun, exciting event will benefit Hospice & Palliative CareCenter. #gethappytriad

Tuesday, October 4, 2016
Benton Convention Center
Community Luncheon: 12:00 pm-1:30 pm (Doors open at 11:00 am)
Leadership Workshop (for select sponsorship levels): 2:00–5:00 pm
Honorary Chair: Clyde Fitzgerald - Executive Director of Second Harvest Food Bank of Northwest NC
Speaker and Workshop Leader: Shawn Achor
• Shawn is one of the world's leading experts on the connection between happiness and success.
• His research on mindset made the cover of Harvard Business Review
• His TED talk is one of the most popular of all time with over 12.5 million views
• His special on PBS has been seen by millions.
• He has lectured or worked with over a third of the Fortune
100 companies, as well as the NFL, the Pentagon and the
U.S. Treasury, Microsoft, American Express, BlueCross BlueShield, KPMG, UBS, Northwestern Mutual, AT&T, Re/MAX, Johnson & Johnson, Genentech and HP.
Tickets are now on sale. Please note: refunds are not available for this event.

Sponsorship Levels include:
Euphoric - $30,000
Please contact Carolyn Breese, Director of Philanthropic Giving, to participate at this level: carolyn.breese@hospicecarecenter.org or 336-331-1322.
• Three tables of 10 at "The Happiness Advantage" Luncheon on Tuesday, October 4 from noon to 1:30 pm
• 20 guests attend our Leadership Workshop with author Shawn Achor from 2:00-5:00 pm
• Premier Seating
• May designate tables (s) in honor or memory
• Full page ad in event Program
• Thank you and special recognition from podium
• Premier logo screen recognition at event

Ecstatic - $20,000
Please contact Carolyn Breese, Director of Philanthropic Giving, to participate at this level: carolyn.breese@hospicecarecenter.org or 336-331-1322.
• Two Tables of 10 at "The Happiness Advantage" Luncheon on Tuesday, October 4 from noon to 1:30 pm
• 15 guests attend our Leadership Workshop with author Shawn Achor from 2:00-5:00 pm
• Premier Seating
• May designate tables (s) in Honor or Memory
• Full Page Ad in Event Program
• Thank You and Special Recognition from podium
• Premier Logo Screen Recognition at Event

Jubilant - $10,000
Please contact Carolyn Breese, Director of Philanthropic Giving, to participate at this level: carolyn.breese@hospicecarecenter.org or 336-331-1322.
• Two tables of 10 at "The Happiness Advantage" Luncheon on Tuesday, October 4 from noon to 1:30 pm
• 10 guests attend our Leadership Workshop with author Shawn Achor from 2:00-5:00 pm
• Prominent Seating
• May designate tables (s) in Honor or Memory
• Half Page Ad in Event Program
• Thank You and Special Recognition from podium
• Prominent Logo Screen Recognition at Event
Elated - $5,000
Please contact Carolyn Breese, Director of Philanthropic Giving, to participate at this level: carolyn.breese@hospicecarecenter.org or 336-331-1322.
• One Table of 10 at "The Happiness Advantage" Luncheon on Tuesday, October 4 from noon to 1:30 pm
• 8 guests attend our Leadership Workshop with author Shawn Achor from 2:00-5:00 pm
• Prominent Seating
• May designate tables (s) in Honor or Memory
• Quarter Page Ad in Event Program
• Screen Name Recognition at Event

Blissful - $2,500
Tickets for this level can be purchased here on Eventbrite or by contacting Carolyn Breese, Director of Philanthropic Giving: carolyn.breese@hospicecarecenter.org or 336-331-1322.
• One Table of 10 at "The Happiness Advantage" Luncheon on Tuesday, October 4 from noon to 1:30 pm
• 5 guests attend our Leadership Workshop with author Shawn Achor from 2:00-5:00 pm
• May designate tables (s) in Honor or Memory
• Recognition in Event Program

Jolly - $1,500
Tickets for this level can be purchased here on Eventbrite or by contacting Carolyn Breese, Director of Philanthropic Giving: carolyn.breese@hospicecarecenter.org or 336-331-1322.
• One table of 10 at "The Happiness Advantage" Luncheon on Tuesday, October 4 from noon to 1:30 pm
• 2 guests attend "The Happiness Advantage" Workshop with author Shawn Achor from 2:00-5:00 pm
• May designate tables (s) in Honor or Memory
• Recognition in Event Program
Happy Table Sponsor - $1,000
Tickets for this level can be purchased here on Eventbrite or by contacting Carolyn Breese, Director of Philanthropic Giving: carolyn.breese@hospicecarecenter.org or 336-331-1322.
• One table of 10 at "The Happiness Advantage" Luncheon on Tuesday, October 4 from noon to 1:30 pm
• May designate table in Honor of Memory

Individual Joy Ticket - $110
Tickets for this level can be purchased here on Eventbrite or by contacting Carolyn Breese, Director of Philanthropic Giving: carolyn.breese@hospicecarecenter.org or 336-331-1322.
• Includes a ticket to "The Happiness Advantage" Luncheon on Tuesday, October 4 from noon to 1:30 pm