Location
Smart Museum of Art
5550 S. Greenwood Avenue
Chicago, IL 60637
A day of live music, art activities, talks, and so much more
About this event
Join the University of Chicago's Smart Museum of Art as we mark the end of the exhibition Bob Thompson: This House is Mine with a day-long series of live experiences created by artists, students, community partners, and educators.
Share in the artmaking, enjoy live music, talks, and so much more happening throughout the day, inside the galleries and outdoors in the sculpture garden.
Full schedule now available, including:
Live music and performances
Ari Brown
Avreeayl Ra
Ben Lamar Gay
David Boykin
Fifth House Ensemble
Lionel "Brother El" Freeman
Marvin Tate
Nick Mazzarella & Dana Hall
Richardson Middle School
Participatory experiences
Alberto Aguilar & Alex Bradley Cohen
Tin-type photobooth with Max Li
Tattoos by Aidan Frierson, Baby, and Nani Nathan
Caricatures by Lothar Speer
Build-a-bird family art activities
Figure drawing
Free Life for Bob Thompson, by Arnold J. Kemp
Tours, talks, and readings
Storytime with Elizabeth Hereford
Poetry with Metropolitan Tenants Organization
History of Happenings talk by Professor Nicole Woods
Tours by Smart Museum Educators
Virtual appearance by Sonny Rollins
Campus creativity
Catcher in the Rhyme
Choreographing the Smart: Enter the House
Dirt Red Brass Band
Groove Theory
Lullaby Project
Sarah Brailey
Underground Collective
FREE, open to all. Events and activities will happen throughout the day. Please let us know if you plan to attend by registering in advance.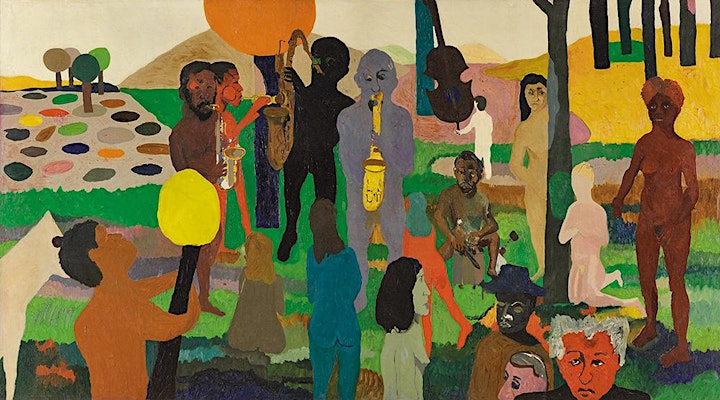 Bob Thompson: This House Is Mine is the first museum exhibition dedicated to this visionary painter in more than twenty years. Featuring more than 85 paintings and works on paper, it centers Bob Thompson's brief but prolific transatlantic career within expansive art historical narratives and ongoing dialogues about the politics of representation, charting his enduring influence.
On view at the Smart Museum of Art through May 15, 2022.