The Hamer Institute @ COFO Honors Mr. Albert Sykes

Friday, April 4, 2014 from 11:30 AM to 1:30 PM (CDT)
Event Details
The 2014 Fannie Lou Hamer
Humanitarian Awards Luncheon
Press Release
The Hamer Institute @ COFO
Will Honor Mr. Albert Sykes
The Fannie Lou Hamer Institute @ COFO will recognize six agents of change during the 2014 Fannie Lou Hamer Humanitarian Awards Luncheon to be held Friday, April 4, 2014.  The honorees will receive the Fannie Lou Hamer Humanitarian Award in an 11:30 a.m. ceremony held in Ballrooms A & B of the New Student Union on the campus of Jackson State University.

The Hamer Institute is proud to recognize Mr. Albert Sykes, Director of Advocacy and Policy for the Young People's Project (YPP).  A 15-year veteran of YPP/The Algebra Project, Mr. Sykes advocates for policies such as Quality Education is a Constitutional Right and works in conjunction with many organizations including the NAACP, where he is a member of the Statewide Education Committee, and the Wisdom Foundation and serves as the board president.
Additional honorees include:  Mr. Jessie Harris, a veteran of the Mississippi Civil Rights Movement.   Mr. Harris worked on voter registration campaigns around Mississippi in the early sixties, especially in the Delta region. In 1964, he helped train Freedom Summer Volunteers before they came to Mississippi, and managed the volunteers in and around the McComb area. The Hamer Institute will honor Dr. Beverly Hogan, the first woman president of the Historic Tougaloo College.  An effective and committed leader, she served as the Commissioner for the Mississippi Workers' Compensation Commission, the Executive Director of the Governor's Office of Federal State Programs and the Executive Director of the Mental Health Association in Hinds County and the state of Mississippi, respectively. Attorney Derrick Johnson, State President for the Mississippi State Conference NAACP will also be recognized as a Hamer Award recipient.  Mr. Johnson successfully managed the Jackson Public School District bond referendum campaign that brought $150 million in renovations and new schools to the Jackson area.The Hamer Institute will also recognize A champion for "Human Rights for Human Beings," the Honorable Mayor of Jackson, Chokwe Lumumba.  Mayor Lumumba was instrumental in the release of the Scott Sisters in 2011 who had served 16 years of double life prison sentences for an $11.00 (eleven-dollar) robbery which they did not commit.  Another honoree being recognized is Mr. Jed Oppenheim. He was recently appointed to the Jackson Public School District (JPS) Board of Trustees, where he works to ensure all youth in the community have access to high quality K-12 education. Formerly a Senior Advocate for Mississippi Initiatives with the Southern Poverty Law Center, Mr. Oppenheim assisted in organizing campaigns that addressed harsh discipline practices pushing children out of Mississippi's public schools. As an advocate, he worked with students and parents throughout Mississippi to address their concerns and needs.
Come let us recognize our fellow citizens, Friday, April 4, 2014, on the campus of Jackson State University.  For more information, please contact the Hamer Institute at 601-979-1562 or 601-979-4348 or email: Hamer.Institute@JSUMS.edu
Tickets are now available: $35.00/Person * $250.00/ Table of 8
For more information, visit:  www.jsums.edu/HamerInstitute/HumanitarianAward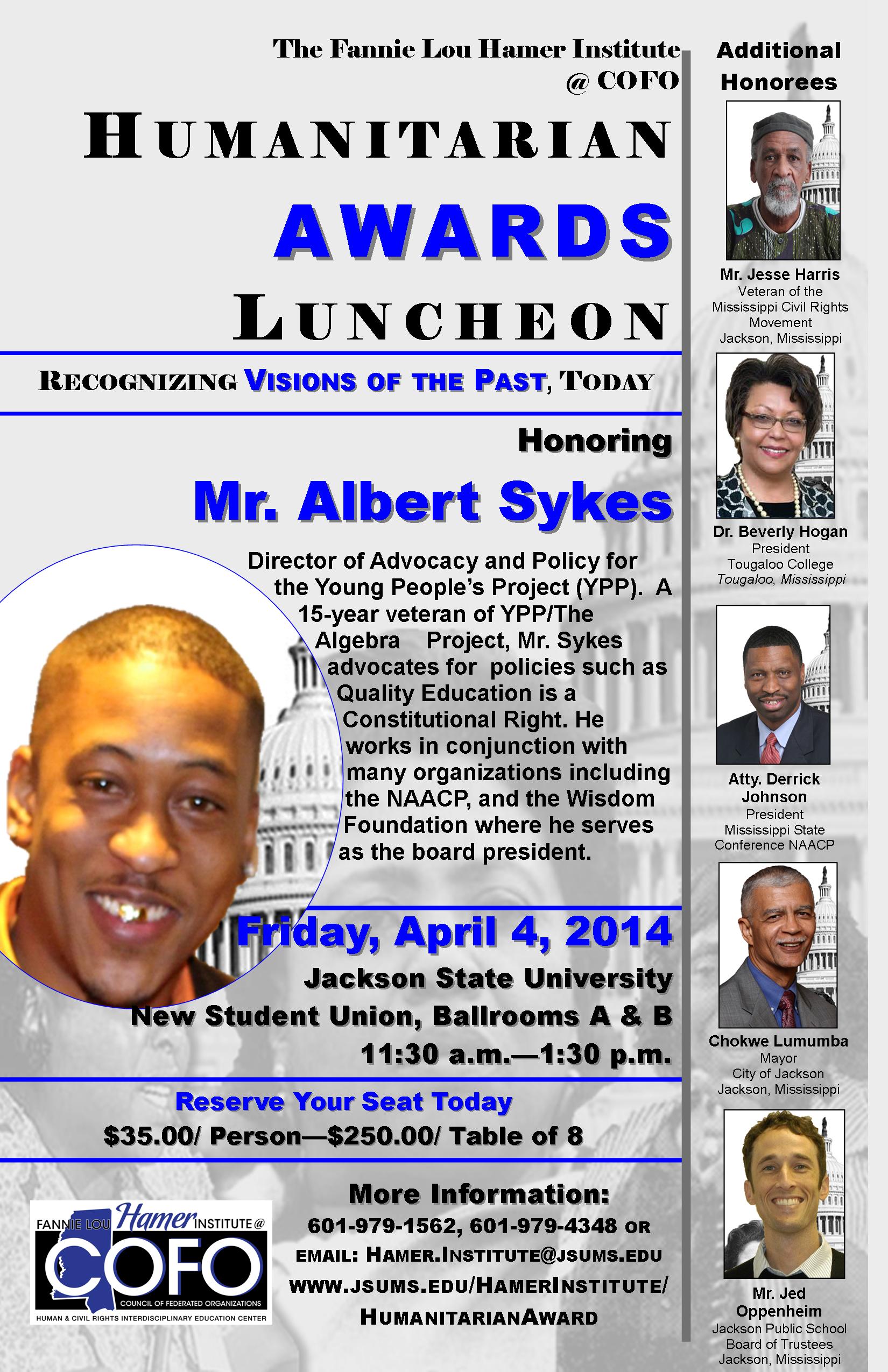 When & Where

Jackson State University Ballrooms A & B New Student Center
1400 John R. Lynch St
Jackson, MS 39217


Friday, April 4, 2014 from 11:30 AM to 1:30 PM (CDT)
Add to my calendar
Organizer
The Fannie Lou Hamer Institute @ COFO
The Hamer Institute @ COFO Honors Mr. Albert Sykes