| | |
| --- | --- |
| | |
Event Details

 November 9th and 10th, Brooklyn Music School Playhouse Theatre, Brooklyn, NY. 



The Haji Show is hosted by award-winning poet and performance artist Roger Sedarat. Join us for this wacky, edgy, and politically astute show that challenges the middle eastern stereotype in America. The production is set as a talk show parody with interviews and guest performances and more! (In English)

 




GET YOUR TICKETS TODAY!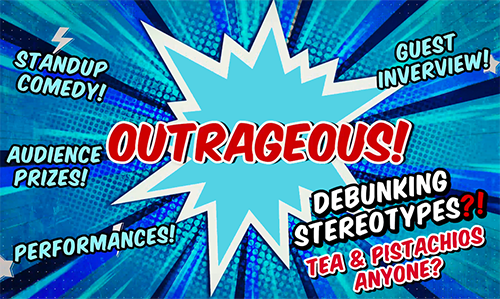 ABOUT THE SHOW CREATORS
The Haji Show was co-created by Roger Sedarat and Kevin Delaney. 


Roger Sedarat
, co-writer, and actor, is an award-winning Iranian-American poet, translator, and scholar. His 2017
work, 
Haji as Puppet: an Orientalist Burlesque,
won the Word Works' 2017 Tenth Gate Prize for a Mid-Career Poet.
He is a Professor in the English Department at Queens College, City University of New York, where he teaches courses in
literary translation, poetry, and Middle Eastern-American literature.
Kevin Delaney
, award-winning television writer, director, and producer brings his creative talent to The Haji Show as
its producer, director, and co-writer. Delaney began his career working on the iconic Pee-Wee's Playhouse. His work has
been seen on Nickelodeon, PBS, FX, VH1, and CBS. He is the Founder and Chief Content Officer of The Favorite Egg, a
development company dedicated to telling stories on screens and stages of any size, he originally bonded with Roger
over their mutual love of Andy Kaufman, The Larry Sanders Show, and punk rock.
"The Haji Show" is supported by an Atlantic Philanthropies Director/Employee Designated Gift Fund, awarded to produce a dramatic performance that challenges the western gaze of Iran, based on Roger's poetry collection, Haji as Puppet, an Orientalist Burlesque. 
---
For more information contact us at:
When & Where

Brooklyn Music School Playhouse Theater
126 Saint Felix Street
Brooklyn, NY 11217