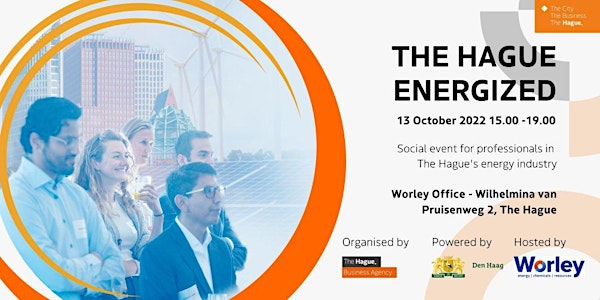 The Hague Energized
A quarterly meeting where energy professionals can network, exchange ideas, and get inspired in a relaxed atmosphere.
When and where
Location
Worley 2 Wilhelmina van Pruisenweg 2595 AN Den Haag Netherlands
About this event
After a successful launch at the sunny roof terrace at Campus@Sea, we are moving ahead with the second The Hague Energized. This edition will be hosted by Worley and take place in their office in The Hague on October 13th.
The energy transition is in full swing and thousands of professionals in The Hague are contributing to this challenging mission. For all of those we have launched a quarterly meeting where energy professionals can network, exchange ideas, and get inspired in a relaxed atmosphere with activities, short presentations and, of course, drinks and music.
The Hague Energized is organised in collaboration with young professionals from The Hague's energy industry, our Young Energizers, so expect a vibrant experience. The event is open for all energy professionals. Corporate or start-up, young or old, trainee or CEO, everybody is welcome to join.
Our team of Young Energizers currently consists of young professionals from: Aramco, Dutch Marine Energy Centre (DMEC), Hezelburcht, McDermott, Neptune Energy, Repsol, Shell, The Hague Tech, Unknown Group, Worley and the Municipality of The Hague.
Make sure to register now and join us for inspiration, networking and fun.
Program:
15.00    Walk in
16.00    Start Presentations
Opening by Greg Stock and Luiz Souza from Worley
Gemma Wong on Worley's hydrogen projects
Julian de Klerk and Stan van Hooft from Eco-Runner Team Delft on their hydrogen car
Muhammet Bilgic from Wavemakers United about engaging the youth to work on the energy transition in local communities
17.00    Networking with music, drinks and snacks
19.00    End of event
Companies already registered include: Aramco Overseas Company, British Embassy The Hague, Bureau Veritas Commodities, DecisionHall, Dixstone Shipyard Holland B.V., DMEC, DriverTrett, Econic, Equals, Fluor BV, Forest Effect Fund, Fortune ring, Getech, Hezelburcht B.V., HVC, InnovationQuarter, IRO, Kaizen Capital Investment Fund, Kinetic Pressure Control Limited, Koninklijk Instituut Van Ingenieurs, McDermott, Municipality of The Hague, Navingo BV, Netherlands Embassy, Neptune Energy, NOV, orga bv, Provider Switch Service B.V., Repsol, RSM, Schlumberger, Shell, Slow Mill Sustainable Power, Step Out, Talent voor Transitie, The Decision Hall Company', The Hague & Partners, The Hague International Centre, The Hague Tech,TU Delft, Unknown Group BV, VEROCY/Berry Commodities Fund, WorldStartup and, of course, Worley.
About the host: Worley
Worley delivers projects and provides engineering, procurement and construction expertise to the upstream, midstream, chemicals, power, and mining and minerals sectors.
They have a strong footprint in the new energy industry as well. A great example is their involvement in Holland Hydrogen 1, that is built for Shell and, when operational, will be Europe's largest green hydrogen facility.