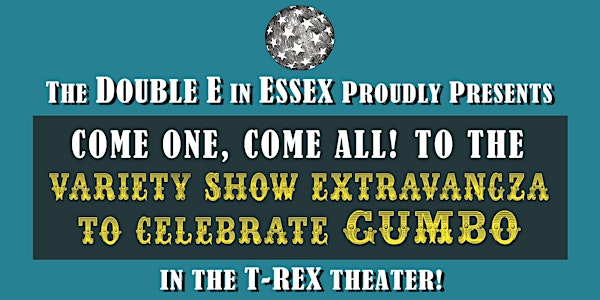 The GUMBO Album Release Bash
ALL AGES
A Variety Show Extravaganza for GUMBO, Fattie B's Acclaimed New Album!
Fattie B presents an all star line up of artist, with members of Belizbeha, Craig Mitchell, Dwight & Nicole, and much more.
When and where
Location
The Double E T-Rex Theater 21 Essex Way Essex Junction, VT 05425
About this event
3 hours

ALL AGES

Mobile eTicket
A celebration of Fattie B's critically acclaimed new album, GUMBO.
Featuring performances by Fattie B & members of Belizbeha, Dwight & Nicole, Craig Mitchell, Bob Wagner & friends, Miriam Bernardo & Rob Morse, Mister Burns, DJ Kanga and many other special guests.
Longtime area musical staple Fattie B. (aka Kyle Thompson of Bristol, Vermont) recently released this massive collaborative album that features an extensive all-star lineup of area producers, emcees, DJs and musicians.
The lineup of artists who appear on this project that will be performing live with Fattie B. throughout this evening is beyond exciting. They are:
Dwight & Nicole / Craig Mitchell /
Bob Wagner / Miriam Bernardo / Robinson Morse /
Mister Burns / Rivan / Tha Truth / DJ Kanga /
ILLu / Wish / Lone Nexus / Double G /
Plus many surprise special guests!
GUMBO record link : https://www.equaleyesrecords.com/gumbo
The album, titled GUMBO, was literally birthed through a health scare and a message from a wise young prophet that inspired change for the better. The message of the entire project is that of recognizing universal signs and hearing the messages intended for us in those moments. And the heart and soul in the songs throughout this project back this up.
This project has been produced by a lineup of amazing and talented producers.
Beyond Fattie B. himself, it has been directly shaped and crafted by:
ILLu (aka Luke Gauthier), SkySplitterInk (aka Zach Crawford),
Elder Orange (aka Matt Scott), PRO Knows Music (aka Brian McVey),
Urian Hackney, Nat Woodard and Rico James (aka Eric McEdward).
Fattie B. explains the events that led us to this moment:
"The whole thing began the day after Christmas this past December.
I found myself in the hospital with a serious heart issue that was threatening to take my life. Over the course of a week of intense testing by the hospital staff in an attempt to discover what was causing my heart to be so weakened, I had a moment one evening that changed my entire outlook on not only my situation in that moment, but on life moving forward overall.
Around 11:30 PM on a night halfway through my week-long stay in the hospital, I received some communication in my Facebook messenger from a woman named Jada who stated that I had taken a photo with her son Reese at a Belizbeha reunion show. She informed me that he was now 12 years old and also had a heart condition that was going to be requiring surgery at Boston Children's Hospital in the near future. She then told me (after hearing from her that I was in the hospital with a heart issue) that he wanted her to please relay to me that HE was thinking of ME.
This amazing sentiment hit me like a ton of bricks. It was exactly the message from the universe that I needed in that moment of feeling sorry for myself. For this 12-year-old kid with such an unknown in front of him regarding his own health future to be able to think of me and send me such a message really struck home. I realized what an amazing human being he was, but also that I literally had created my own health mess and was able to take the right steps to make my own situation better. His story, however, was one that was completely out of his hands, yet he had the awareness to reach out to me and send me a message of love in my darkest moment.
His Mom and I texted for a while that evening (and throughout the next few days). Because of his message I can happily report that I have discovered a renewed belief in living life to the fullest. It has inspired me to get healthier, live life correctly and seek out the completion of an unfinished idea for a project.
One that I had for a few years and had never fully acted upon… until now.
You see, I have made contacts with numerous amazing producers in the area who are creating unbelievable music in their bedroom studios. My vision for their amazing talents was to create a collaborative album. The concept would be to take their beats, break down the stems that they've created and then reach out to my amazing live musical cohorts (that I've had the pleasure of contacting and working with over the last 30 years) and invite them to create a collection of songs that combine the studio wizardry of these producers with live musicianship added to their tracks.
And because of Reese's message to me that night, I decided to make the theme of this amazing album based around the concept of the universe giving you signs that change is not only necessary in your life, but also a positive step that will lead you to a new and stronger path moving forward. This is not only true for myself at this time, but I'm also discovering it is for many other artists that I have been sharing this story with recently.
So, with that in mind, every song of this project is a genuine collaborative effort and brings together the most talented people that I know in the music industry in a way that they may have never come in contact with each other in any other aspect.
This project is so full of love and joy and every single person that I have reached out to in regards to being a part of it (especially when they heard the inspiration for it and the meaning behind it) jumped onboard with excitement and energy.
I am so proud to share the magic of GUMBO with YOU.
I appreciate you.
Live life now. "