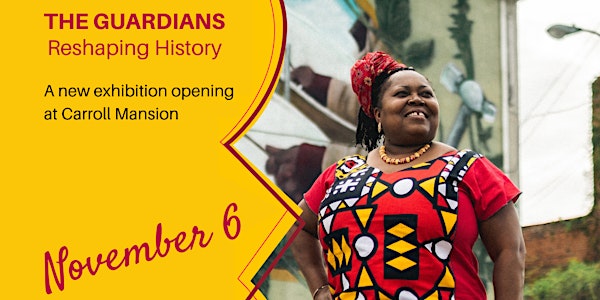 The Guardians: Reshaping History Exhibition Opening
Join us for the opening of The Guardians: Reshaping History Exhibition at the Carroll Mansion
When and where
Location
The Peale at Carroll Mansion 800 East Lombard Street Baltimore, MD 21202
Refund Policy
Contact the organizer to request a refund.
Eventbrite's fee is nonrefundable.
About this event
ADVANCE RESERVATIONS HAVE ENDED.
The event will be held in the outside courtyard and inside Carroll Mansion, located at 800 E. Lombard Street, from 3pm - 8pm.
We are asking that all guests enter the reception and exhibition through the garden entrance to the 1840's Plaza, located on S. Front Street (map here)
Part of the exhibition is QR-Code enabled, with additional audio content available throughout the exhibition, accessed from your mobile device. If you wish to experience this content, we recommend bringing headphones to listen during your visit to Carroll Mansion. The stories can also be accessed in advance on the exhibition website at http://guardians.thepeale.org
SCHEDULE OF EVENTS
3:00 - 4:30pm Cocktails & light fare / Viewing of the exhibition
4:45 - 5:30pm Opening Prayer and remarks from The Peale and The Guardians' Creative Director, Whitney Frazier
5:00pm Mayor Brandon Scott / The Guardians
5:30pm Closing Poem by Tayler Mugar
5:45 - 8:00pm Cocktails & light fare / Viewing of the exhibition
Music by Brandon Woody throughout the evening
PARKING & TRANSPORTATION
Please note that due to road construction, you may need to navigate street closures to access the streets around Carroll Mansion. S. Front Street is a one-way cobblestone street off of E. Baltimore St. Turn right onto S. Front St. just past the Shot Tower/Market Place Metro Stop and just before the current detour/road construction barrier on E. Baltimore St.
There is limited metered parking available on the right side of S. Front Street, directly in front of the Garden entrance.
Free and metered street parking is also available surrounding Carroll Mansion on Lombard, Albemarle, and S. High Streets.
Additional parking is available at the National Aquarium Parking lot, located at 751 E. Lombard Street, directly across President Street from Carroll Mansion. Map here.
The Carroll Mansion is also served by MTA Busses 7, 10 and 11, and the Shot Tower/Market Place Metro Stop.
COVID SAFETY
Effective October 1, 2021, proof of full vaccination against COVID-19 will be required to attend all in-person, indoor events, including Peale exhibitions and programs that take place at the Carroll Mansion. Proof of Vaccination is required to enter Carroll Mansion. Please come prepared with your physical vaccination card, or photograph.
Proof of a negative COVID-19 test will not be acceptable for entry into Carroll Mansion. Guests who are unvaccinated are welcome to attend the outdoor events in the garden, but will be unable to enter into the building.
In keeping with public health and local government guidelines, facemasks, worn properly over the nose and mouth, will be required at all times for indoor Peale events until further notice. We encourage visitors to wear masks while outside as well.
Please read our complete policy on COVID vacccinations here: https://www.thepealecenter.org/visiting-the-peale
----------------
Opening Reception November 6, 2021 | 3:00-8:00pm (EDT)
Free, In Person
Carroll Mansion, 800 E. Lombard Street
Proof of Vaccination Required. Please see the Peale's COVID-19 protocols before attending in-person events at the Peale or Carroll Mansion.
The Guardians is a photo documentary and storytelling project including photo portraits, large scale banners, and digital archives that celebrate unrecognized Black female leaders across Baltimore City neighborhoods. This project provides a platform for women who spend their lives fighting for a better, more equitable Baltimore. The exhibition is on view from November 6 – December 15, 2021.
We must make visible the tireless efforts and amazing accomplishments of Baltimore's Black female leaders. The Guardians are the backbones of their neighborhoods. They are the eyes and ears keeping people safe. They don't take no for an answer. They raise our future leaders. They are reshaping history. They deserve to be recognized and celebrated. The premiere exhibit will take place inside and outside of The Peale at Carroll Mansion, 800 E Lombard St., Baltimore, MD 21202 as well as through photographic banners on Baltimore's City Hall, the War Memorial and other historical buildings.
Lead Artists:
Whitney Frazier, WGF Studio, Creative Director & Public Artist
Kirby Griffin, Photographer
The Guardians:
Antionette Mugar, Harlem Park West
Audrey Carter, East Oliver
Cherring Spence, Park Lane
Dorothy Cunningham, Irvington
Gwen Brown, Govans
Joy Ross, Harlem Park West
Pauline Charles, Darley Park
Samiriah Franklin, West Baltimore
Sharon Snow, Cylburn
Sheree Briscoe, Deputy Commissioner, Mt. Washington
Tayler Mugar, Harlem Park West
Terrye Moore, Park Heights (NW)
Yeshiyah Israel, Pimlico/Park Heights
Partners: Supported by the Ruby's Artist Award via RWD Foundation and in kind donations from The Peale, Dept. of Planning & WGF Studio.
Accessibility at Carroll Mansion:
The first floor is wheelchair accessible through the garden entrance on S. Front St. The second and third floors are not accessible. There is a bathroom on the first floor of Carroll Mansion, but it is very small and does not meet ADA guidelines.
The garden is wheelchair accessible.
For detailed information about visiting Carroll Mansion, visit the accessibility page on our website: https://www.thepealecenter.org/visiting-the-peale/