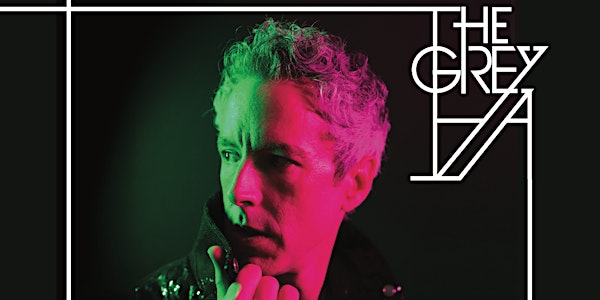 The Grey A: D8 Ur Elders Album Release
Performers
The Grey A
Crooked Sparrow
Location
DC9 Nightclub
1940 9th St NW
Washington, DC 20001
The Grey A

WEBSITE | FACEBOOK | INSTAGRAM | TWITTER | SPOTIFY | BANDCAMP | SOUNDCLOUD

We all are coming out of lockdown in various states of being, but Grey A lead singer Grey Jacks emerged married for the first time to someone 22 years his senior. The 45- year-old award winning songwriter and his band the Grey A also emerged with a new album called D8 UR Elders.

Recording in 2019 in Richmond Virginia, the Grey A's upcoming sophomore album includes rising stars such as Spacebomb recording artist Angelica Garcia. On the new LP Grey focuses on romance and secrets, privacy and surveillance, new beginnings and new endings, as well as unity and love. Stand out tracks like 'Palladium' and the award winning 'Jump the Wall' are filled with grooves and brilliant storytelling by Jacks.

D8 UR Elders will be released 9/6 exclusively on a USB drive shaped like a mini-Walkman, available for free at the door of the band's upcoming record release shows in DC and Nashville. This special item will include all album tracks, plus karaoke versions of each song, two music videos and artwork with album credits.

The Grey A band includes bassist Howard Rabach and drummer Alyson Cine, plus a number of very special guests.

Crooked Sparrow

WEBSITE | FACEBOOK | INSTAGRAM | TWITTER | SPOTIFY

Crooked Sparrow is the combination of award-winning singer songwriters Valeria Stewart (formerly in the duo Luna) and Kevin Dudley (of the band Snake Farmers). They are joined by fiddler Jenny Smith. There is never a dull moment with the blend of Texas, Latin America, Folk and Americana roots in this trio's music.

Valeria is originally from Argentina and grew up in the DC area. She has been performing in the DMV area for many years, first with the Stewart Sisters, and until last year as half of the award-winning duo Luna. She's written many songs, including some in Spanish. Her music has a blend of latin, folk, jazz, and americana sounds.

Kevin hails from Texas and is well-known in the DC area as an award-winning singer-songwriter and performer as well as a member of the band the Snake Farmers. Kevin recorded with Luna on their 2020 EP The Alchemist's Journey. He brings a mix of western swing, blues, and a deep soul to Crooked Sparrow.

Jenny is a public-school teacher and has been playing her violin for over 20 years. She studied under the Russian violinist Dana Mazurkevich, and at age 13 toured Europe with her Boston youth orchestra. She has played with The Stewart Sisters and the Difficult Run band. She now adds beautiful depth and outstanding tonality to the instrumentals and original songs of Crooked Sparrow.