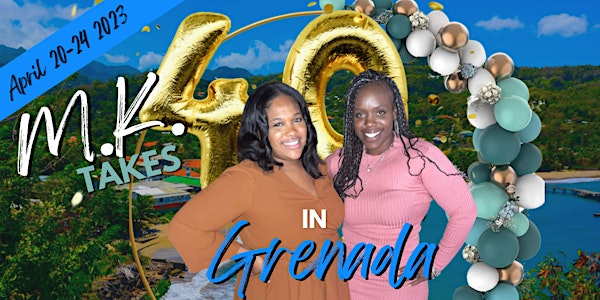 The. Grenada Takeover - 40th Edition
The Grenada
When and where
Location
Royalton Grenada, An Autograph Collection All-Inclusive Resort Magazine Beach Point Salines Saint George's, Saint George Grenada
About this event
Marcia & Kyrstle aka "M.K" are celebrating 4 decades of fabulousness x 2 and would like for you to join them while they TAKEOVER the beautiful island of Grenada 🇬🇩‼️
Dates: April 20-24, 2023
Resort: Royalton Grenada - An Autograph Collection All-Inclusive Resort
Price : Will vary (book at your leisure) - if you prefer to use a travel agent, please contact Chauncey Shider at travelsbycrs@gmail.com
***PASSPORTS ARE REQUIRED*** if you do not have one, please make arrangements to start the process asap. Also, if your passport expires within 6 months of travel you will not be allowed to travel so pease renew.
Please view the attached itinerary for all events and video for a sneak peak. Times & locations will be announced prior to travel.
Additional fees for events not included in booking will be as follows:
1. The Jet Ski Excursion & Beach Day - Total $ cost TBA. Please have an all green bathing suit (any shade-any style).
2. Photos will also be taken during this time if you would like to participate, the green bathing suit is a must. If you would like a separate photo. Total $ cost TBA.
3. The ATV & Island Tour excursion. Total $ cost TBA.
4. T-Shirts for the ATV excursion day will be made for $25 per T-Shirt.
5. The 40th dinner celebration will be a private dinner on the beach, total $ cost TBA. This is an all white/off white occasion.
The fees for the excursions can be paid upon arrival to the resort. If you would like to order a t-shirt and/or if you are participating in the private celebratory dinner, both fees are due by March 1, 2023. Please cashapp $LindseyTaylor and place your t-shirt size in the memo if applicable.
Currently there are no travel restrictions to/from Grenada however, they are always subject to change. Updates will be provided within 30 days of travel.
Thanks so much and we look forward to basking in paradise with you all!
XOXOXO - From the desk of "M.K"