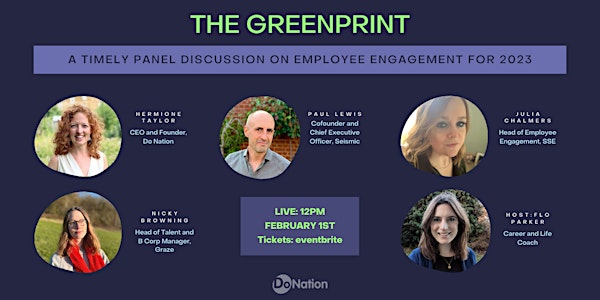 The Greenprint; employee engagement in 2023
An inspiring, informative conversation amongst industry experts from different backgrounds on employee engagement and sustainability.
About this event
Join us on February 1st as we engage in an inspiring and informative discussion from a panel of external Sustainability and HR experts and explore why and how we need to start thinking about employee engagement differently in 2023.
Attendees will receive a free copy of our latest report - The Greenprint - which re-evaluates employee engagement whilst addressing the intersecting issues of wellbeing, quiet quitting, climate change and profitability.
Our speakers
Julia Chalmers - Head of Employee Engagement, SSE
Julia is a font of employee engagement knowledge and is responsible for the employee voice strategy, employee engagement data and data protection, and internal engagement at SSE. She's rolled out numerous employee engagement initiatives and knows what works.
Paul Lewis - Cofounder and Chief Executive Officer, Seismic
Cofounder and CEO at Seismic, Paul has 20 years of experience supporting organisations across Europe building ESG, Sustainability and Net Zero Carbon strategies, and helping them build the capabilities to deliver on them. Paul has worked with 200+ companies to date ranging from high-growth, early-stage technology businesses, to multinational FTSE 100 corporates. Previously CEO of Carbon Intelligence, Paul's focus is advising and enabling leadership teams to translate sustainability performance into business value.
Nicky Browning - Head of Talent and B Corp Manager, graze
Nicky has spent over a decade working for high profile sustainable FMCG brands in marketing, people, and sustainability. She brings employee brand insight at graze, one of the UK's leading healthy snacking brands, and will share experience of graze's current Do Nation employee engagement programme.
Flo Parker - Career and Life Coach, previous FutureLearn Partnership Manager
Chairing our panel discussion is Flo Parker who brings years of experience working in tech-for-good, supporting leading sustainable fashion educators and professional development.
Hermione Taylor - CEO and founder, Do Nation
Do Nation is an employee-focused platform designed to help companies achieve net zero by engaging their communities in climate action. Hermione has helped inspire 100s of organisations from PwC to innocent drinks, and tens of thousands of people make changes to reduce their carbon footprint.