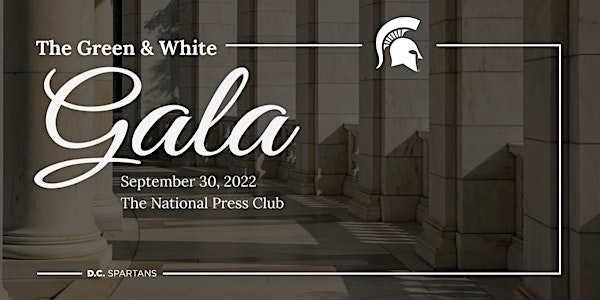 The Green & White Gala 2022
After a two-year hiatus, the Green & White Gala is back! Join us on Sept 30 at The National Press Club for an evening of philanthropy & fun.
When and where
Location
National Press Club 529 14th Street, NW Washington, DC 20045
About this event
On September 30, 2022, the DC Spartans are hosting The Green & White Gala 2022 at the National Press Club. The Gala brings together alumni and friends from across the country for an evening of philanthropy (including a silent auction), recognition of a distinguished local alumnus, and fun. Proceeds from the event go toward the Club's endowed scholarships – to date, the Green and White Gala has raised more than $20,000.
Secure your tickets soon as space is limited. Go Green! Go White!
6:00 - 7:00pm – Cocktail reception, feat. Sparty
7:00 - 9:00pm – Program and Dinner
9:00 - 12:00am – Entertainment by DJ Cea-Nor
Who is attending?
As guests are confirmed, this list will be updated:
Samuel L. Stanley Jr., M.D. – President, Michigan State University
Dr. Rema Vassar – Trustee, Michigan State University
Cameron G. Thies - James Madison College Dean and MSU Foundation Professor
Kim Tobin - Vice President for University Advancement, Michigan State University
Plus, we are excited to welcome Sparty, who will join us during the cocktail reception and at the beginning of our program.
What does the ticket include?
We have not yet finalized the menu for the Gala. However, we do know that the event will feature a plated dinner as well as an open bar (beer and wine). After-dinner entertainment is also included—from dancing to fun, many will stay until the event concludes.
What is the attire?
The Green & White Gala is a formal event, and you'll find most of our attendees are dressed in a tuxedo or formal dress.
Who is being honored this year?
Spartans who live in the Washington, D.C. metro area strive to address the world's most pressing problems each and every day. Every year, two alumni are honored at the Green and White Gala. The Distinguished Alumni Award is presented to alumni who have differentiated themselves by obtaining the highest level of professional accomplishment in their field. The Innovator Award is given to a Spartan who has distinguished themselves through a high level of professional accomplishment early in their career.
Distinguished Alumni Award: Ron Tenpas
Innovator Award: Darien Harris
Are sponsorships available?
Absolutely. Proceeds from the event go toward the Club's endowed scholarships – to date, the Green and White Gala has raised more than $20,000. This would not be possible without our sponsors. To discuss sponsorship opportunities, please contact to the Green and White Gala Chair, Jeremy Blaney. He can be contacted at jeremy.a.blaney@icloud.com or +1-616-915-6319.
Your sponsorship will significantly impact both DC Spartans endowed scholarships.
The DC Spartans is a 501(c)3 organization, and all sponsors will receive a receipt.
Your logo will be included across digital channels, including email, Twitter, and Facebook.
Your logo will be prominently displayed throughout the Green & White Gala event space.
And much more!
Who are the DC Spartans?
The DC Spartans are a community of more than 11,000 Michigan State University alumni in the Washington, D.C. metro area. The Club is not a membership-based organization and does not require annual dues. Spartan alumni, friends, family, and fans are welcome to participate in all club events, including networking opportunities, community service events, an intern mentoring program, and more.
Can you tell me about the Club's scholarships?
The Club sponsors two endowed scholarships at Michigan State University: the Rachel Kahan Memorial Scholarship and the Betty Mitchell Colden Scholarship. These scholarships provide a means for academically strong students from the Washington D.C. metro to attend Michigan State University. Since 2017, the Club has supported 11 students with scholarships, totaling $14,000.
"The Rachel Kahn Memorial Scholarship allowed me to work in Washington D.C. at the American Association of Geographers, where I was able to explore what I wanted out of my career. After my internship, I returned home to Detroit and worked in the local nonprofit space, helping entrepreneurs of color access capital for their business needs. I now work in Commercial Banking at JP Morgan and hope to return to the vibrant D.C. community at some point in the future. I am grateful for the scholarship because, without this opportunity, I would not have experienced all that D.C. has to offer young professionals."
Crys King | Class of 2019
COVID-19 Safety Guidelines
Effective March 1st, 2022, the Press Club moved their mask policy from "Masks Required" to "Masks Recommended".
Visitors will be asked to provide proof of vaccination, along with a government issued photo identification, prior to entry.