About this Event
The Green Economy, Green Tech and Social Enterprises: How to Get Involved
This final session will focus on Green Business/Clean Tech as a start-up idea. This session will present an overview of some of the latest "green" start-ups and provide resources for entrepreneurs who not only want to be sustainable with an existing business but who are interested in starting a venture that will help drive innovation for the planet. The term "green economy" describes a sustainable economy that provides a better quality of life for all people within the ecological limits of the planet. Community groups across the country are demonstrating this by forming cooperatives to buy and/or produce renewable energy; organizing employee-owned green businesses; creating nonprofit social enterprises, developing "urban agriculture" programs to sell locally grown, organic produce; creating energy-efficient affordable housing; and engaging in a range of other innovative, eco-focused activities. With a whole new Green Economy, how do you get involved? What kind of training do you need in today's economy to get ahead? What jobs or start-up opportunities are out there?
Topics Covered
What is the Green Economy?
Social Entrepreneurship
Jobs and opportunities
Greentrepreneurship
Pitching Green Ideas
Content
Understanding the Green Economy and the opportunity it presents
A look at the skills, training and/or certifications needed to be competitive
Special challenges of green start-ups and how to overcome
A look at the trends in the industry and some of the top new green ventures
Meet some of Tampa Bay's Green Start-ups and entrepreneurs
This workshop is the last in a series of eight sustainable business workshops. Stay tuned for the 2021 program schedule. THANK YOU TO ALL WHO JOINED US! See program recap below: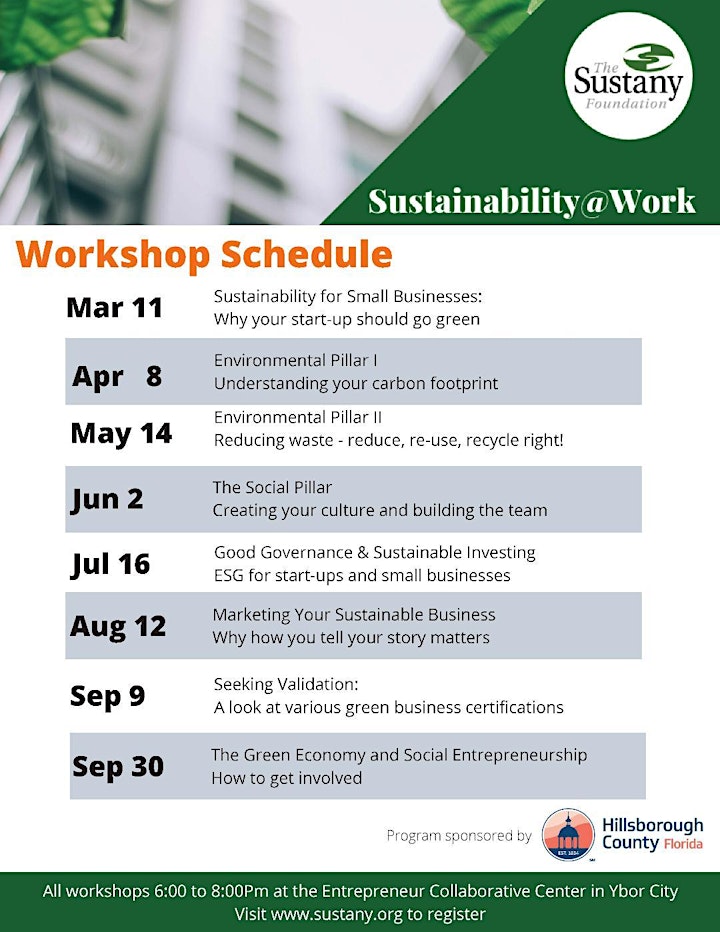 About the Program
Sustainability@Work is a series of workshops designed for start-ups and small businesses interested in learning more about how to become more sustainable and why it is not only important, but profitable. Each workshop will cover an important aspect of becoming a sustainable business.
The workshops are designed as stand-alone sessions and attendees may choose to attend one or all of them depending on their particular challenge or interest. The program is also designed to work as a cohesive series so a participant attending all sessions will be well prepared to create a comprehensive sustainability plan or work towards one of many certifications in the industry upon completion.
Attendees who are interested in pursuing a certification or getting a more formal assessment are eligible to apply for a free one-on-one consultation.
THIS PROGRAM IS MADE POSSIBLE WITH THE GENEROUS SUPPORT OF HILLSBOROUGH COUNTY GOVERNMENT