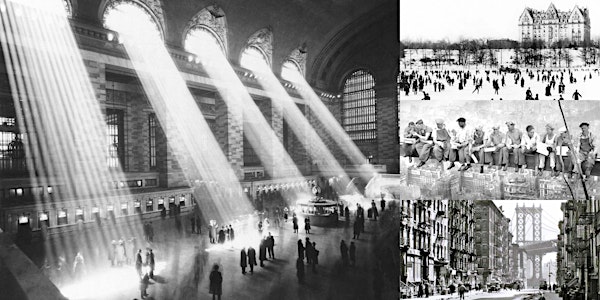 'The Greatest Photographers of 20th Century New York City' Webinar
Can't make it live? Register and get access to the full replay for one week! New York Adventure Club | www.AdventureClub.com
About this event
While cameras went mainstream beginning in the mid-1800s, they were bulky contraptions requiring lots of patience from both the photographer and its subjects. Though as cameras evolved to be lighter and more portable than ever before, they finally enabled photographers to capture those candid moments happening around them in real-time. It's time to explore a rapidly changing 20th century New York City through the lens of the era's most prolific street photographers.
Join New York Adventure Club as we explore 20th-century New York City through the images of early street photographers, who captured the changing faces and identities of a bourgeoning metropolis.
Led by Sylvia Laudien-Meo — art historian, museum educator, and NYC tour guide — this virtual journey around old NYC will include:
The changing style of photography, which reflected the advancement of camera technology and drastic changes in our metropolitan lifestyle
Artist profiles of dozens of photographers, from their background and motivations to the messages they were trying to convey
Select photo projects capturing significant moments in our city's history, including the immigrant experience, World War II, Central Park protesters during the Civil Rights movement, and life in Harlem
Afterward, we'll have a Q&A with Sylvia — any and all questions about 20th-century photographers are welcomed and encouraged!
Can't make it live? Don't worry, you'll have access to the full replay for one week!
See you there, virtually!
*Immediately upon registering, you will receive a separate, automated email containing the link to join this webinar
**For the best possible viewing experience, please ensure you're using the latest version of your internet browser — Google Chrome is the most compatible. Exact technical requirements and a webinar user guide will be shared in the automated confirmation email upon registration.
***A full replay of the experience will be available to all registered guests for up to a week
About Sylvia
Sylvia Laudien-Meo is a freelance Art Historian who works in and around the city in various capacities, specializing on Modern and Contemporary art, with a strong focus on Public Art. She teaches art history at Fairleigh Dickinson University and has been working as a museum educator at MoMA, the Guggenheim and the Jewish Museum for over many years, engaging visitors in conversation based, interactive art experiences of permanent collections and changing exhibitions.
For the Municipal Art Society, UFT, Brandeis Univ., and private clients, she has been touring the city for over 20 years, exploring art and architecture, parks, neighborhoods and history. Working in various different capacities gives her a unique opportunity to make intriguing connections and weave together the complex perspectives that make out the tapestry of our fascinating city.
SLM holds a Masters Degree in Art History (with minors in History and American Studies) from the Joh. Gutenberg University in Mainz, Germany, as well as a Tourism degree from the EST in Paris France.
Testimonials
"Sylvia's research was wonderful & thorough, an extremely entertaining & thought provoking presentation." -Mary
"Sylvia did a fab job as per normal." -Linda
"Excellent choice of photographers and photographs, interesting commentary" -David
"The content is something that I seek out whenever I've visited NYC. I've found it difficult to find photography exhibits for some reason. Was very happy to view the content today." -Kent
"Sylvia was outstanding, the program was so well put together, thanks!" -Jack
"Great presentation and excellent choice of photographs." -Sandra
"Sylvia was entertaining and personable. She had a clear purpose with the photos she used to illustrate how photographers described NY." -Mark
"Great choice of photographers and photos." -Eileen
"Sylvia always is so engaging and has an excellent presentation of work." -Karen
"Our guide was very knowledgeable. I also liked how she started from the beginning of recorded images." -Marcia
"Very organized and presented in a clear manner. Photograph images were wonderful" -Patricia
"1. love the curation of the photographs, 2. well researched, 3. good fast pacing, 4. good presentation!" -Jean-Marc
"Presenter really brought a fantastic variety of information and knew her stuff! Very engaging, interesting, and informative!" -Greg
"I very much enjoyed the many vintage photographic samples of all the photographers who were featured in the webinar. Great photos! And the whole event was very informative and well presented." -Gabrielle
"The presenter was passionate which came through... and extremely knowledgeable." -Judith
"The speaker was fabulous as was the entire content. Loved it!" -Cynthia
"The expertise of the presenter came through even though she was conversational and relaxed-is have a Master's degree in art history and I focused on photographers of this time period and I still learned a lot-she was excellent " -Jane
"I ❤️ Photography. Sylvia is knowledgeable and a great guide" -Suzanne
"Good information about NYC Photographers, strong energy and knowledge by speaker!" -Kathleen
"I liked Sylvia's comprehensive knowledge and editorial" -Marjorie
"The presenter was the right knowledgeable and make good choices about the photographers to be sent." -Doris
"Very informative, presenter is extremely knowledgeable." -Kenneth
"Very well done! Covered a broad range well." -Judith
"Presenter was invigorated lively and so informative obviously very knowlegable without any pretenses! LOVED it!" -Linda
"Great organization and fabulous photos. the presenter was fabulous." -Barbara
"The photos were mostly very appealing and the lecturer did a very good job presenting them." -Neil
"The presenter was knowledgeable and passionate about the subject." -Susan
"I liked the number of photographers covered and info given so that we could explore further." -Laura
"The speaker is very knowledgeable regarding NYC and the photographers and unique photos I have not seen." -Alicia
"Very knowledgeable tour leader. Exposure to different photographers from different time periods." -Robin
"It was extremely informative and well laid out. Sound was good and the selection of images was outstanding." -Mark
"Knowledgeable and engaging presenter discussing fascinating topic. Well organized and nice tie-ins across sections of discussion." -Martha
"I liked the information and the way it was presented." -Zoe
"Great insight into photographs presented." -Marcia
"The black and white pictures. The selections. Very informative. Liked Sylvia's varied perspectives on each slide and her descriptive and articulate expressions." -Vicki
"The breadth and depth of knowledge of the speaker was amazing. The historical perspective of these many photographers was so valuable and broadening. Really, really good talk!! Great job Sylvia!" -Kathy
"I loved her breadth of knowledge, the flow of images, the contrasts among the artists." -Wayne
"Sylvia spoke very clearly and concisely. The photographs she used as examples illustrated her description and comparisons of the photographers' work." -George
"Very good overview of all NYC photographers and intro to stylistic periods." -Charles
"I loved the presenter. She really delved into each photograph discussing at length the subject matter, the design composition, background of the artist as well as the history & culture of the times. She understands artistic nuance, and extremely knowledgeable ....she was fantastic! More of Sylvia!" -Kristine
"The lecturer presented a variety of black and white images which illustrated the different aims of the photographers. Her commentary was easy to follow." -Jacqueline
"Enjoyed the backstory behind the photographs and hearing about the photographers." -Karen
"Sylvia was so well prepared and knowledgeable." -Deborah
"Sylvia is very knowledgeable and passionate about the topic! It was a fascinating presentation!" -Benita
"Sylvia showed us a good representation of famous photographers and their work around NYC. Plus she is very knowledgeable about each of the photographers she presented." -Susan
Disclaimer
By attending a New York Adventure Club experience, you accept our terms of service.
Categories: Virtual, Art & Entertainment