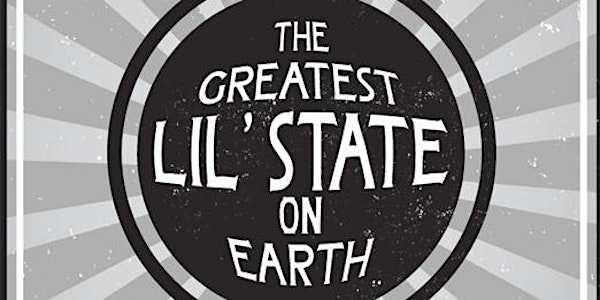 The Greatest Lil' State on Earth (statewide convening)
When and where
Location
Rhodes On The Pawtuxet Inc 60 Rhodes Place Cranston, RI 02905
Description
LEADERSHIP RHODE ISLAND PROUDLY PRESENTS....
The Greatest Lil' State on Earth!
One time only - at scenic Rhodes on the Pawtuxet!
Saturday, October 24th, 2015
1:00pm – 5:00pm
(Registration at 12:30pm)
60 Rhodes Place, Cranston, RI 02905
Highlights:
Keynote speaker Jim Clifton, Chairman & CEO of Gallup, Inc.
Marc Dunkelman, Author of The Vanishing Neighbor
Engage with hundreds of local champions from all 39 RI cities/towns
Explore strengths-based actions and expand your network
Discuss community best practices
Event emcee Alison Bologna of NBC10
Over the course of 33 community meetings...
Leadership Rhode Island's Core Program (the Lambda II class) heard from hundreds of individuals across the state regarding the strengths and assets of their local community. Now, we're convening the community champions behind those strengths and assets to share best practices, spark new innovation, spur economic development, and renew a sense of confidence and optimism for the state… and you're invited!
The Greatest Lil' State on Earth is...
A multi-layered event featuring Jim Clifton (Chairman & CEO of Gallup, Inc.), who will launch the first strength-based conference in Rhode Island. This statewide convening to explore attendees' individual strengths, community strengths, and formulas for success across Rhode Island, is the culmination of our 2015 statewide engagement effort (ReCasting Rhode Island) and decades of positive psychology research.
As an attendee...
You will receive a complimentary access code to take Gallup's Clifton StrengthsFinder assessment. We ask all attendees to take the assessment prior to October 24th. Learning about individual strengths will be a key component of the afternoon, and knowing your Top 5 Strengths will be necessary to participate.
For more information...
Please contact Matt Coupe (CLRI '12), LRI's Alumni & Community Engagement Liaison, at mcoupe@leadershipri.org or by phone at 401-273-1574 x102.
Connect with us on Facebook!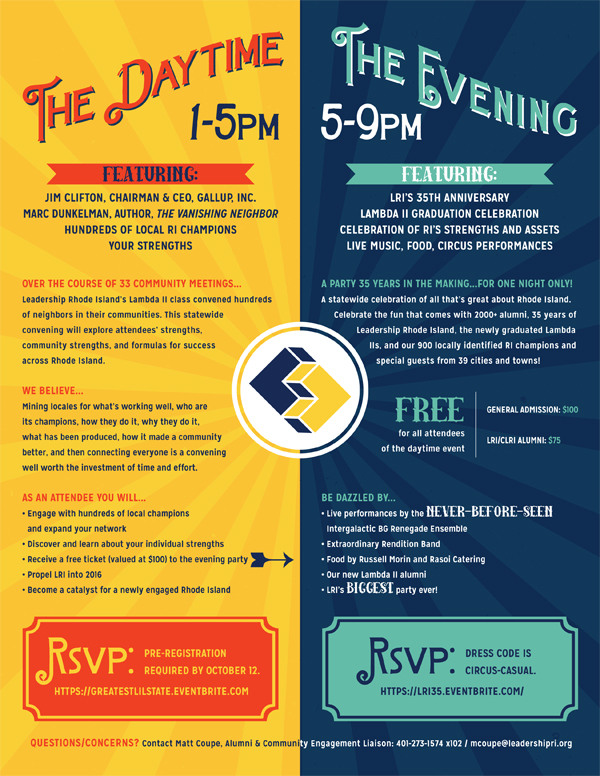 Made possible with the generous support of: