Event Information
Location
Great Star Theater
636 Jackson Street
San Francisco, CA 94133
Refund policy
Contact the organizer to request a refund.
Eventbrite's fee is nonrefundable.
The Great Star Sessions is a variety show and dance party at the historic Great Star Theater in San Francisco.
About this event
The Great Star Sessions variety show is hosted by Jamie DeWolf and features some of the Bay Area's most talented DJs, MCs, dancers, and cabaret performers including members of The Vau de Vire Society, Flux Vertical Theatre, and more!
And that's not all - the night will culminate in a Soul Train inspired dance party.
There's no better way to spend your Friday night than with us!
Doors open at 8pm and the fun starts at 9pm.
See you there!
Hosted by Jamie DeWolf, the show features a stellar lineup including members of The Vau de Vire Society, and Flux Vertical Theatre and more!
Jamie DeWolf is a performer, filmmaker, writer, live event producer, arts educator and circus ringmaster from Oakland, CA. As one of the most in demand variety show hosts in the Bay Area and beyond, he's a regular emcee and curator for circus troupes, vaudeville showcases and music festivals across the U.S.In 1999, DeWolf created the live show the Ruckus and Rumpus Revival (formerly known as Tourettes Without Regrets), "the longest running and most outlandish variety show in the Bay Area", called "one of the best underground performance art shows in America".
The Vau de Vire Society has ravaged and titillated live entertainment for more than 20 years, causing jaws to drop in awe and admiration around the world. The group has been cross-pollinating genres by collaborating with an eclectic variety of world-renowned musicians and DJs in creating original stage shows and festival productions spanning social barriers. The Vau de Vire Society creates a live choreographed explosion of all that is beautifully talented.
Flux Vertical Theatre are known as the Bay Area's premier Pole and Dance company. They strive to build a bridge between contemporary dance and pole dance and are respected for their inclusion of all genders and genres of the pole community.
Located in San Francisco's renowned Chinatown, the historic Great Star Theater is a one-of-a-kind venue. Built in 1925, this traditional proscenium stage live theater was originally home to Cantonese Opera and Hong Kong kung-fu movies. Recently under new management and newly renovated and revitalized, it now features a variety of theatrical, musical, circus, and motion pictures for a new generation.
LiL MC stands out on stages with dynamic delivery and sassy wit. Her freestyle rap skills got her recognized quickly after she started performing in 2010 by competing as one of the only women on the local battle scene and going on to become a rap battle champion. She'll be appearing with special guest Laila Love.
Shredder Hoops is on a mission to enlighten and inspire by example. Her performances are a dazzling combination of of strength, style, and courage.
Agatron is an artistic director, producer, and professional street dance performance artist, forever studying and teaching Boogaloo, Robotting, Strutting, Popping, and Mime. She produced the Bay Area's first all women all styles battle & showcase in 2010 and produced many all women battles and showcases throughout the bay and beyond. She'll be doing a solo performance as well as presenting a showcase of dancers from IRON LOTUS Dance Street Company, a group she founded.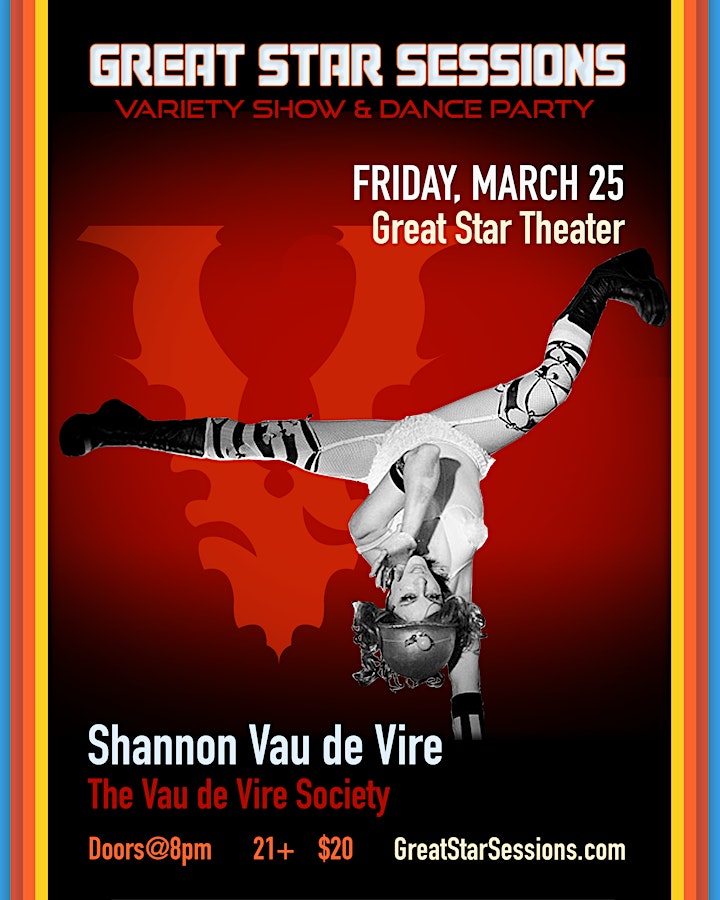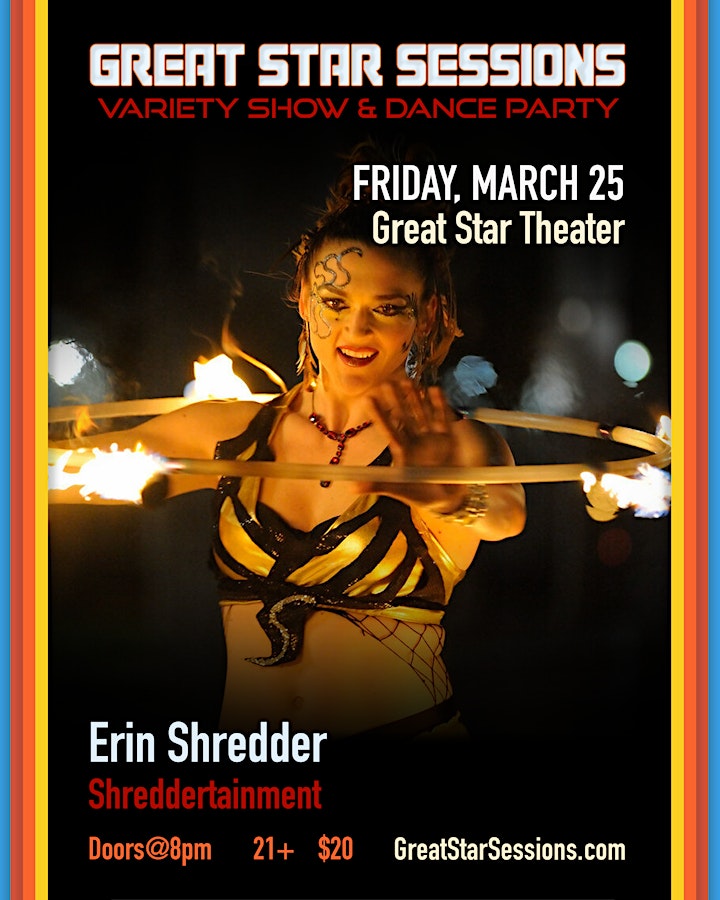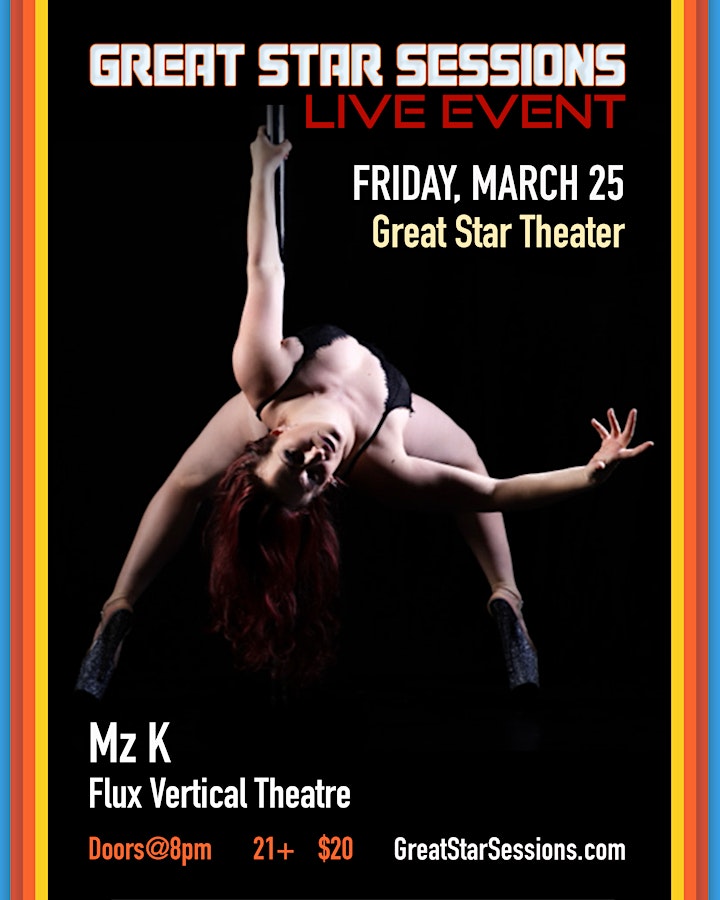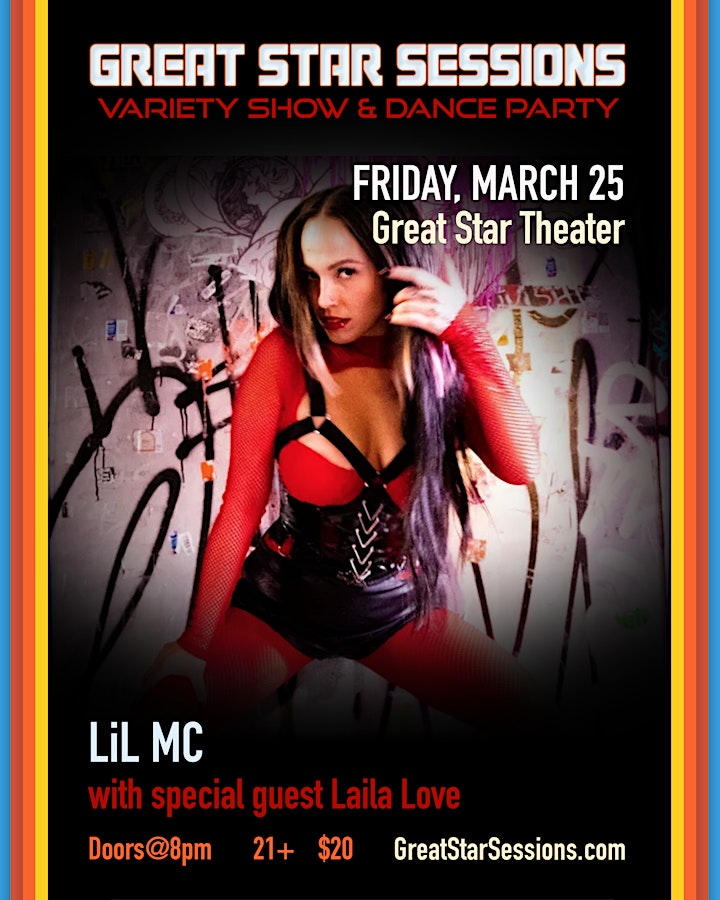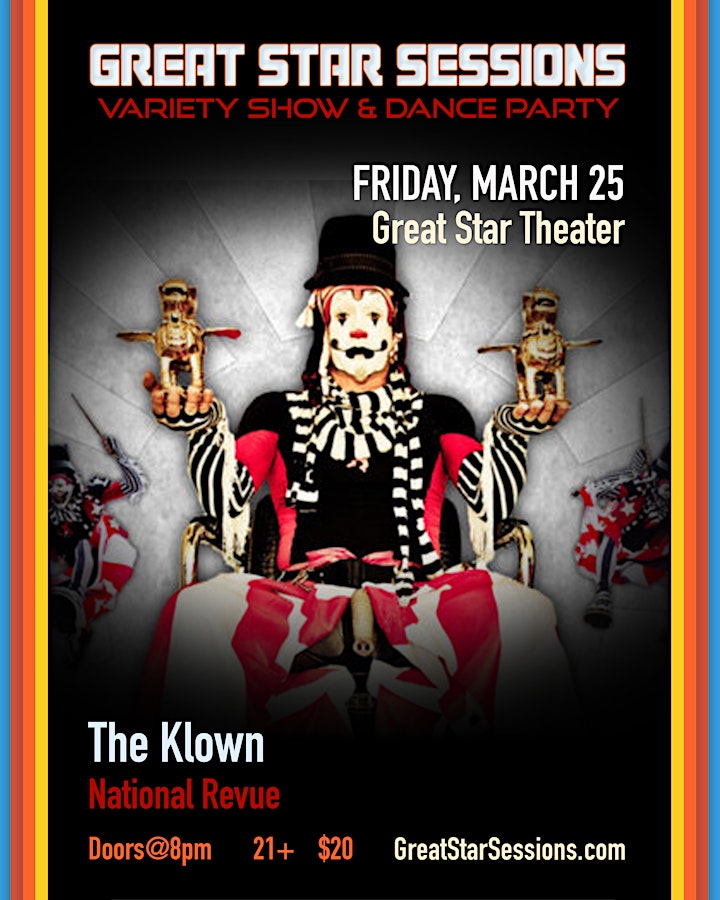 Date and time
Location
Great Star Theater
636 Jackson Street
San Francisco, CA 94133
Refund policy
Contact the organizer to request a refund.
Eventbrite's fee is nonrefundable.