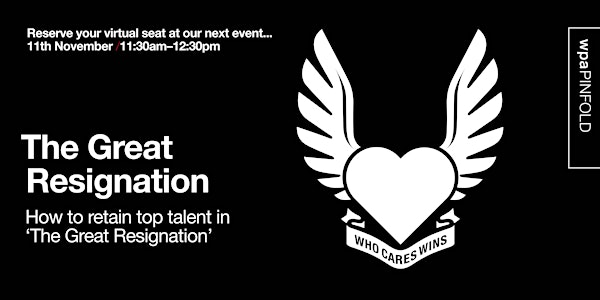 The Great Resignation
As we move on from the pandemic there is one topic on every significant employers list...how do I retain my most important asset; my people
About this event
How to retain your top talent…
As we move on from the pandemic there is one topic on every significant employers list...how do I retain my most important asset; my people.
In the next of our Who Cares Wins series we've brought together Internal Comms and Engagement Directors from Expedia Group, William Hill, Virgin Media O2 and the ex Head of Internal Communications for AXA Health.
Whether you are an SME or major employer, CEO, HR Director or Internal Comms Lead you'll take away some gems from the strategies and tactics deployed by our expert speakers from some of the largest brands in the UK.
Our panel of top senior internal communications leaders are:
Donna Dew, UK People Director at William Hill
Jess Lonsdale, Internal Communications, Change and Engagement Director at Virgin Media O2
Tor Goldfield, Senior Director of Internal Communications and Employee Engagement at Expedia Group
Deborah de Satge, External and Internal Communication and Employee Engagement Consultant
Come and hear powerful, candid and insightful thoughts on the impact of hybrid working, and why employee reflections on a post covid world is impacting on their decisions to stay or go. How do you retain your top talent in the middle of the Great Resignation?
What you can expect from this session:
- How is hybrid working effecting development and management styles?
- What is the role of trust and how is it earned?
- How do you manage the new Personalisation employees are looking for?
- For hybrid working to truly work, do we need to revamp how we employee our people?
You will hear candid learnings and current examples of how our speakers are tackling these challenges in their organisations.
Register here to join the event and reserve your virtual seat - a link will be sent to you the week before the event.
We look forward to welcoming you.