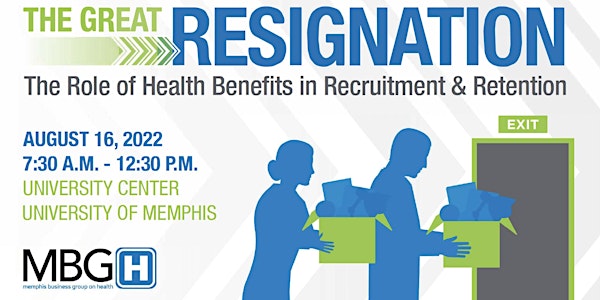 The Great Resignation: Role of Health Benefits in Recruitment & Retention
Location
University Center
499 University St
Memphis, TN 38111
We are back in-person and looking forward to seeing everyone!
About this event
The Great Resignation has thrown yet another challenge to organizations already stressed from the pivots required to just survive during the unprecedented public health emergency.
An estimated 48 million employees quit their jobs in 2021 and there is no end in sight! In January 2022 the quit rate was only slightly below the all-time high experienced in November 2021. And, even more disturbing, it is estimated that 66% of employees are still considering leaving. They are leaving for better pay; better work/life balance; and better benefits.
Attractive health benefits are critical to employers successfully recruiting new workers and retaining critical talent. Employees are looking for:
Affordable benefits - To be competitive, employers must keep the cost of health insurance as low as possible and be strategic about the employee cost share. Focusing on executing an effective primary care strategy and considering payment models that reward efficiency and outcomes are two strategies you should consider to offer valuable benefits that also lower your costs.
Personalized benefits - In a tight labor market, employees evaluate how health benefits meet their specific needs. Benefits structured for the "whole-person" - to meet their physical, emotional, family, financial, and social needs - not only answer "whats in it for me" but also provide a platform so the whole workforce can experience their benefits more equitably.
New, innovative benefits - Employers can differentiate themselves by offering benefits that employees want. More than just a new, shiny object, these non-traditional benefits reflect that you appreciate your employees and respect their priorities -- both of which, if not in place, are key drivers for employees to quit.
You will walk away from the conference with a better understanding of these key strategies and approaches you can deploy, thereby delivering positive business results, even in the Great Resignation.
HOW TO REGISTER
Register and either pay by credit card or indicate you will pay by check
Mail check payment (if applicable) to Memphis Business Group on Health and mail to the location indicated
REGISTRATION FEES 
MBGH Employer Members: Unlimited complimentary registrations .
CEO Culture of Health Participants: 2 complimentary registrations.
Annual Supporters: See your material for number of complimentary registrations; all others are $25 each.
All others: $75 each
No refunds after June 30, 2022. Substitutions are allowed.
Complimentary parking is provided in the Zach Curlin garage.
Thank you to our Annual Supporters and Conference Sponsors!