#forever14 has teamed up with Project Discovery and Sky Tavern for a fun day of adventure, music, food and community connection.
About this event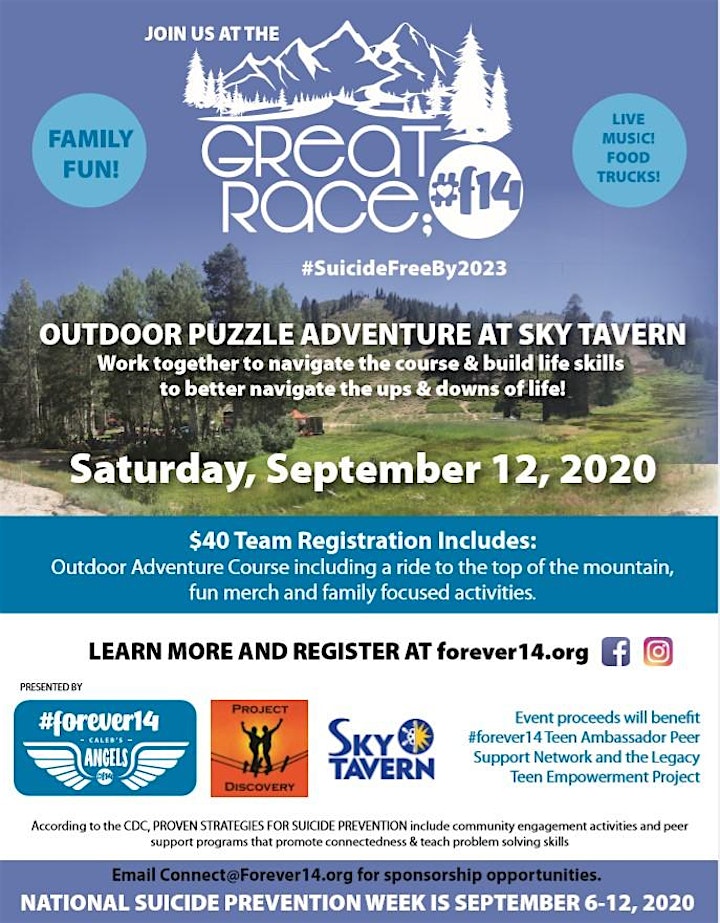 The Great Race; #SuicideFreeBy2023
It is not a competition nor physical race, this is a Washoe County community effort to lock arms in The Great Race to be #SuicideFreeBy2023
Register Your 4-6 Person Team Today! Due to COVID restrictions, Space is very Limited!
Work with your team to navigate the course & discover real life skills that help you manage life's ups & downs!
Live Music! Food Trucks! Family Fun! Outdoor Adventure!
Here is how it works:
Your Team Captain will assemble a team of 4-6 family members or close friends to navigate the adventure course on Saturday, September 12th, 2020. All event activities will be conducted within your small group, maintaining safe social distancing between teams. Your Team should be people who are comfortable being within 6 feet of each other.
Your Team Captain will register your team here and choose a start time - 3 teams will start every 20 minutes beginning at 8:40am.
$40 Team Registration includes Outdoor Puzzle Adventure for up to 6 people, event bandana that can be used as a face covering & other great merch, and tons of family fun! Got a bigger group? Register two teams at the same start time!
Your Team will need to arrive at least 20 minutes prior to start time to register and receive team trail guide.
As a Team, you'll work together traveling through the course and completing each challenge. Be prepared, you will need good communication, positive encouragement, critical thinking and Teamwork to cross the finish line.
Hooray, you did it! Now it's time to celebrate with live music & lunch in the meadow - bring your own picnic or enjoy the food trucks on site!
The Great Race; #SuicideFreeBy2023 is going to be amazing! It is a Community Connect event like nothing that's ever been done before! Let us join forces and come together as a community in the Great Race to be #SuicideFreeBy2023.
National Suicide Prevention Week is September 6-12, 2020
DID YOU KNOW? Suicide is the leading cause of death in Washoe County children ages 12-19. It is estimated that for every child who dies by suicide there are 100 attempts within our community.
HELP SAVE OUR TEENS! According to the CDC, PROVEN STRATEGIES FOR SUICIDE PREVENTION include community engagement activities and peer to peer support programs that promote connectedness & teach problem-solving skills.
The Great Race is bringing families and friends out in the fresh mountain air to work together on an outdoor adventure course problem solving and building life skills to navigate the ups and downs we face every day.
PLEASE EMAIL CONNECT@FOREVER14.ORG FOR SPONSORSHIP OPPORTUNITIES
Event proceeds will benefit the #forever14 Teen Ambassador Peer to Peer Support Network and The Legacy Teen Empowerment Project...Learn more...
A Message from #forever14 Founder Kerri Countess...About #forever14, Project Discovery, Sky Tavern, and The Legacy Teen Empowerment Project
On October 22, 2019 my son Caleb died by suicide. Caleb was a student-athlete, he was funny, smart, outgoing and loved by many. He was only 14. In the wake of his death, with the help of friends and our community we formed #forever14.org. Our mission is to advance conversation and human connection to prevent teen suicide. We believe that by giving teens a voice, fostering peer-to-peer support, hosting connect events and coordinating community service outreach we can help develop a sense of connection, purpose, and global perspective.
The Great Race; #SuicideFreeBy2023 is a Community Connect Event hosted by #forever14, Project Discovery, and Sky Tavern. Sky Tavern Recreation Area is nestled in the Sierras near the summit of Mt. Rose. All my boys learned to ski and then snowboard on this mountain while my husband flipped burgers and I helped with the Sky Kids. We love to volunteer and have enjoyed many winters at Sky Tavern since moving to Sparks in 2002. It's an amazing program for our youth and one our community should be proud to support.
Late this spring we had a chance to see just how awesome this mountainside is without snow. A serendipitous opportunity found me with a group of #forever14 Board Members and a few of our teen ambassadors swinging in the trees above an amazing ropes and adventure course right next door to Sky Tavern. Project Discovery is not your average ropes course...Aside from the good vibes of being out in nature for a day, we learned valuable insights about ourselves and the tools we need to help us overcome challenges and better navigate life. Cay would have loved it.
On that day, The Legacy Project was born; a partnership between #forever14 and Project Discovery that brings teens into the mountains for a climbing and zip line fun on a ropes course like no other...its more of an outdoor adventure experience that helps you face fears and overcome hardships. The Legacy Teen Empowerment Project is an experiential learning program that fosters peer-to-peer support, human connection, and social-emotional competence. And, now, we get to share it with YOU!!!
We can't think of a better way to demonstrate the benefits of The Legacy Project than to invite you to experience it for yourself on September 12th, the last day of Suicide Prevention Week. Get outside for some family fun and let us join forces in the Great Race to make Washoe County #SuicideFreeBy2023!
Round up your team of 4-6 people - families and/or small friend groups highly encouraged for optimal health and safety - come navigate the outdoor adventure course and discover life skills to #saveourteens
Thank you for your continued love & support, together we can be the change,
Kerri & Storm Stenvold
Forever14.org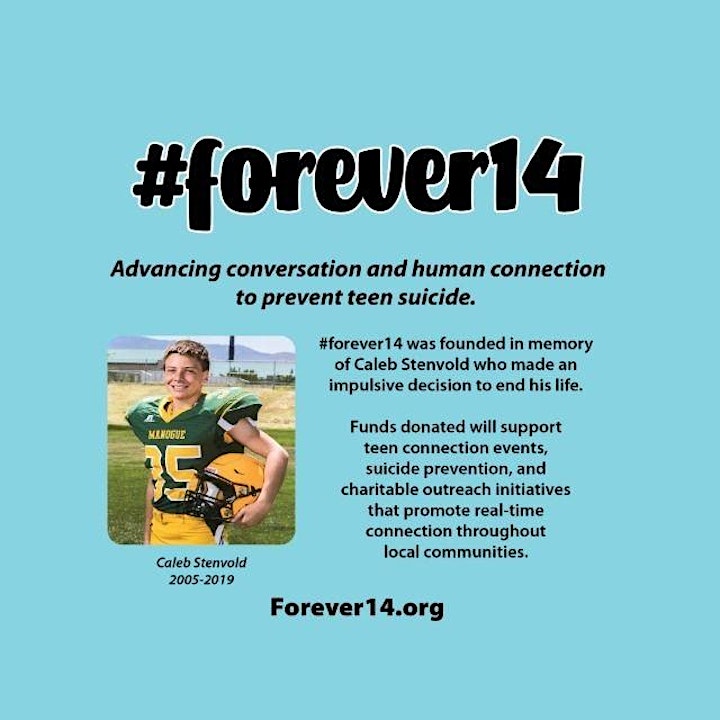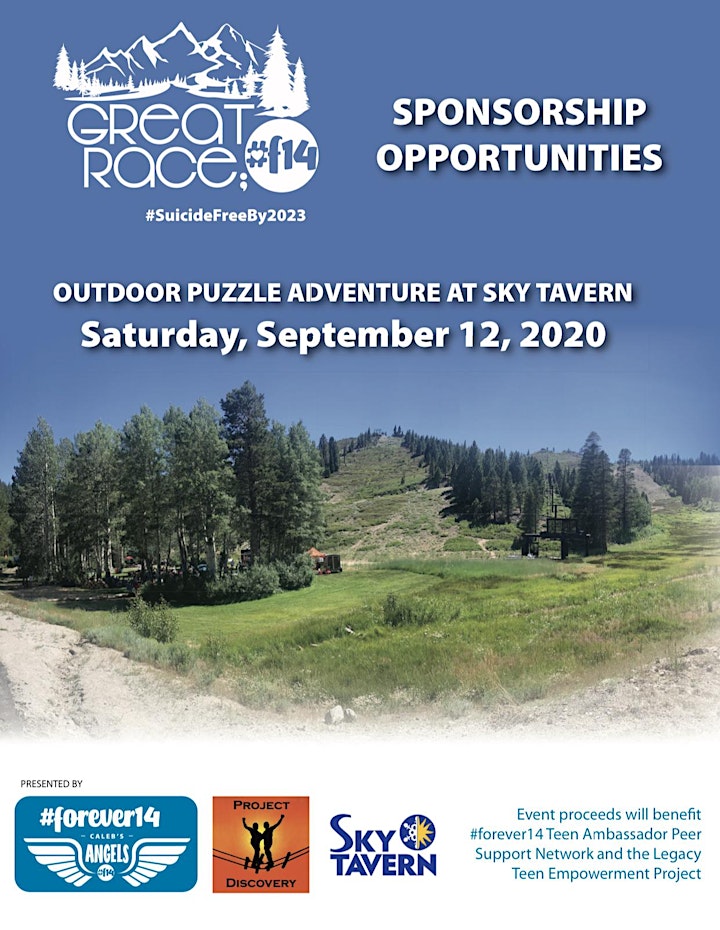 Organizer of The Great Race; #SuicideFreeBy2023