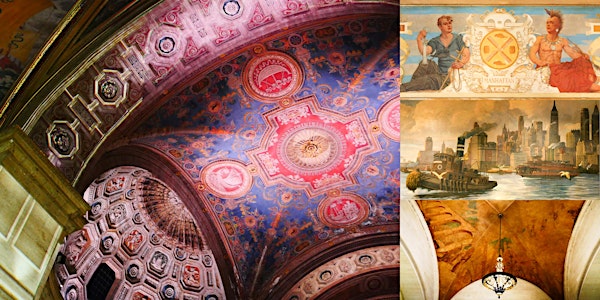 'The Great Murals of New York City' Webinar
Can't make it live? Register and get access to the full replay for one week! New York Adventure Club | www.AdventureClub.com
About this event
From major commissions for New York's most iconic landmarks to pop-up pieces on the side of buildings, mural art has gone hand-in-hand with NYC ever since the mid-20th century. It's time to explore this super-sized artistic medium and its ability to spark not only meaningful conversations, but also criticism and controversy along the way.
Join New York Adventure Club as we explore a selection of the great murals of New York City throughout the modern era, alongside the muralists behind the brush strokes.
Led by Sylvia Laudien-Meo — art historian, museum educator, and NYC tour guide — this digital showcase of NYC's greatest murals and mural artists will include:
Pre-1930s mural traditions in NYC and the prevalence of murals inside the city's Beaux-Arts buildings like the Cunard Building and the Appellate Courthouse
Contributions of great Mexican muralists in NYC like Diego Rivera and José Clemente Orozco, whose influence on Depression Era and Art Deco murals can still be found today in many public and private spaces including post offices, schools, and airports
Fine art murals created by artists like Roy Lichtenstein and Julie Mehretu in the mid-20th century
A closer look at contemporary mural artists — such as street artists JR and Banksy — and the proliferation of street art as a respected medium
The role of mural art in shaping public opinion and changing perspectives
Afterward, we'll have a Q&A with Sylvia — any and all questions about NYC's murals are welcomed and encouraged!
Can't make it live? Don't worry, you'll have access to the full replay for one week!
See you there, virtually!
*Immediately upon registering, you will receive a separate, automated email containing the link to join this webinar
**For the best possible viewing experience, please ensure you're using the latest version of your internet browser — Google Chrome is the most compatible. Exact technical requirements and a webinar user guide will be shared in the automated confirmation email upon registration.
***A full replay of the experience will be available to all registered guests for up to a week
About Sylvia
Sylvia Laudien-Meo is a freelance Art Historian who works in and around the city in various capacities, specializing on Modern and Contemporary art, with a strong focus on Public Art. She teaches art history at Fairleigh Dickinson University and has been working as a museum educator at MoMA, the Guggenheim and the Jewish Museum for over many years, engaging visitors in conversation based, interactive art experiences of permanent collections and changing exhibitions.
For the Municipal Art Society, UFT, Brandeis Univ., and private clients, she has been touring the city for over 20 years, exploring art and architecture, parks, neighborhoods and history. Working in various different capacities gives her a unique opportunity to make intriguing connections and weave together the complex perspectives that make out the tapestry of our fascinating city.
SLM holds a Masters Degree in Art History (with minors in History and American Studies) from the Joh. Gutenberg University in Mainz, Germany, as well as a Tourism degree from the EST in Paris France.
Testimonials
"It was vert informative. I have always admired some of the murals in NY, but now I have an appreciation for the ones I love and learned of ones I can not wait to visit." -Nicole
"I learned some new things about art in NYC. I liked the teacher." -Cynthia
"A good overview of a wide variety of muralists. Speaker knew the material well." -Duane
"The presenter was really knowledgeable and very organized in her presentation. I really liked that she included modern, current work with info how to see it." -Roseanne
"Fast paced, lots of info presented, good visuals" -Judy
"I liked everything! Slides were very well put together and I loved how you started us in the 1930s then up to current! Great energy and vibe from the presenter!!!" -Christina
"The speaker utilized lots of visual material to highlight what she was saying. She also drew connections between artists' work. She covered a variety of Important artists...highlighting those seminal Mexican artists from the 1930s to present day artists." -Melissa
"High interest and fascinating discussion of prominent mural artists and their sustained influence on other artists. I especially enjoyed Sylvia's expertise." -Marion
"Sylvia covered so many artists, & gave us so much information about the social context of their work - it was fascinating & I learned a lot! Definitely looking forward to visiting the pieces still on view post-covid. A great presentation, thank you." -Mary
"The presenter had a wealth of knowledge and presented a great many works. She also did a good job interacting with the audience comments." -Rodney
"Art itself, but the explanations as art is often hard to understand for me - so many layers of meaning. I esp appreciate the cultural connections underpinning much of it, the oersonal stories of the artists & why they did what they did. Glad she gave the locations so they can be seen @ some point." -Sharon
"I enjoyed the NY related murals. The presenter was knowledgeable and spoke well." -Mindy
"Covered a lot of material in a brief period." -Pam
"The murals were wonderful . I was glad to see that most are quite accessible" -Rita
"The speaker was amazing, very knowledgeable and entertaining" -Carol
"She introduced me to murals in places I'd never heard of before. I learned some interesting facts about a few artists. I loved that she added in some Street Art." -Charlene
"Sylvia is a wealth of knowledge. Really enjoyed" -Gail
"I liked the breadth of the subject matter and the inclusion of artists who hadn't come to my attention before. One is reminded of the famous names but there is also a lot of new information and fresh insights. It's often as interesting to learn who the apprentice understudies were as it is to learn about the famous lead artist." -Stephen
"Sylvia was fabulous & so were the murals" -Betty
"Very knowledgeable speaker but also very engaging." -Carole
"Sylvia showed so many wonderful slides." -Katherine
"I learned about some artists I was unfamiliar with." -Frances
"Sylvia was very knowledgeable and had put together a great lecture." -Christina
"The presenter was knowledgeable and presented the material in an organized manner." -Marsha
"I loved how well she connected the murals to the politics and attitudes of the periods in which they were painted. Great photos too." -Virginia
"The history of the art and the context. The info about whether there were public places to see the work." -Joanne
"Well organized, good photo support." -Rose Ann
"Great presenter, fascinating subject." -Carole
"Fascinating. Well presented." -Linda
Disclaimer
By attending a New York Adventure Club experience, you accept our terms of service.
Categories: Virtual, Art & Entertainment