The Great Migration Centennial Tribute to Chicago's Captain Walter H. Dyett
Event Information
Location

The DuSable Museum of African American History

740 E. 56th Place

Chicago, IL
Description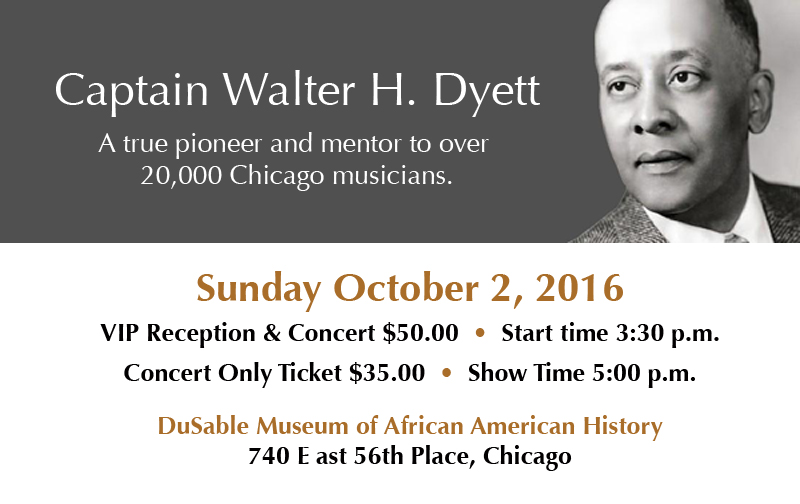 ---
EVENT DESCRIPTION
The Great Migration Centennial Tribute to Captain Walter H. Dyett is a salute to the Great Migration Centennial (1916-2016), as well an acknowledgement of one of Chicago's most illustrious music educators.


Walter Henri Dyett nurtured the growth of jazz and black musicians in Chicago from 1931 to 1962. Without Captain Dyett's tutelage, Chicago surely would not have produced so many legendary jazz and blues artists.  


Some of the more famous musicians that trained under Captain Dyett include: Gene "Jug" Ammons, Dorothy Donegan, Nat King Cole, Redd Foxx, Dinah Washington, Johnny Hartman, Johnny Griffin, Morris Ellis, Jimmy Ellis, Von Freeman, John Wright, Eddie Harris, George Freeman, Mwata Bowden, Wilbur Ware, Milt Hinton, and John Young, to name a few.


According to Chicago Tribune writer, Howard Reich, "The era that produced the great talent that Dyett nurtured obviously has come and gone, and the network of South Side clubs that gave these students the opportunity to hone their art unraveled long ago. But Dyett and DuSable remain integral to the history of jazz, Dyett's achievements worthy of remembrance and potential a source of inspiration for a younger generation of musicians." 


Pre-Concert VIP Reception and Living Legends Tribute
The VIP reception, an exclusive, upscale event, will feature a special "Living Legends Tribute" to five Chicago jazz legends and former students of Captain Dyett:  Mwata Bowden, jazz reed player; Jimmy Ellis, jazz saxophonist; Morris Ellis, trombonist and band leader; George Freeman, jazz saxophonist; and John Wright, jazz pianist.  All five of these musicians have made major contributions to jazz, not only as individual players but in the community as teachers, leaders of jazz organizations and unions and as local and international jazz luminaries.
VIP Attendees will also have the opportunity to mingle with the legends and performing artists while enjoying food, drinks, and viewing historical photographs of former Captain Dyett musicians.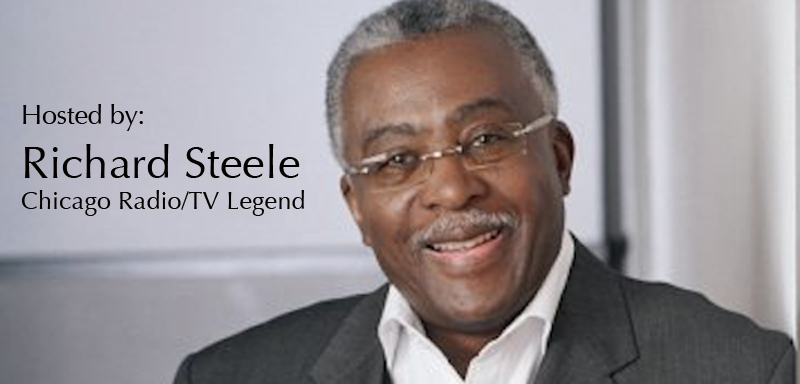 ---



Captain Dyett is commemorated by the Walter H. Dyett High School for the Arts. Located at: 555 East 51st Street, Chicago, Illinios 60615
---
FOR HISTORY'S SAKE, a division of The Chicago African American Firefighters Museum, through exhibits, events and special recognitions will celebrate the ongoing legacies and cultural contributions of our nation's African-American communities. 
All tickets and donations for this event are tax deductible. 
Location

The DuSable Museum of African American History

740 E. 56th Place

Chicago, IL