Location
Alhambra Ballroom
2116 Adam Clayton Powell Junior Boulevard
6th Floor
New York, NY 10027
Description
The Great Harlem Vaccine Debate
The vaccine issue is one of the most controversial topics today, making this event a historic occasion! Many people are confused as to what to believe, while many others have strong views on both sides.
The vaccine debate raging across America has raised questions about vaccine safety and effectiveness, religious freedoms, medical freedoms, first amendment rights, conflicts of interests, censorship and many other critical issues.
A panel of experts, community activists, parents and others will attack the vaccine controversy from many angles. A public debate like this is long overdue! And TICKETS ARE GOING FAST!
The second half of this event will include a partial viewing of the documentary Vaxxed II: The People's Truth, followed by presentations from nutritionists, scholars and others who will offer some solutions.
This is not to be missed! Invite family, friends and share with your social media contacts.
Secure a ticket NOW as TICKETS WILL SELL OUT!
Link to share: http://bit.ly/TheGreatHarlemVaccineDebateDec15
EVENT SCHEDULE
2:00 PM EST - Doors Open, Check In
3:00 - Intro with Host and Moderator, Author Curtis Cost
3:15-5:15 - THE GREAT HARLEM VACCINE DEBATE - A few key questions will be shared and then answered by those on either side of the debate. This will be an exchange that you don't want to miss! Historic in every way.
5:15-6:00 - Break for Food - An variety of food vendors on site, with lots of delicious options. Cash Preferred.
6:00-6:15 - Short Clip Presentation from Vaxxed 2: The People's Truth
6:15 Announcement of Screening Date for Vaxxed 2: The People's Truth that will be taking place in Harlem
6:20-TBD - Presentations on vaccines and health from doctors, health practitioners, parent activists and others.
TICKET RATES
Reduced - $20 Each Ticket, Limited Quantity - for students, family members, seniors, and those who need a lower rate.
Early Bird - $30 Each Ticket, Limited Quantity - for those who can pledge a higher rate.
Standard - $45 Each Ticket, Limited Quantity - for those who can pledge a higher rate to help the ensure events like these continue.
VIP Tickets - $140 Each Ticket, Limited Quantity - Ticket price includes Reserved Seats + $10 Food Coupon + Download Link of Filmed Event to Share with Others + Autographed Copy of the Book "Vaccines Are Dangerous" by Curtis Cost. This price is for those who can help subsidize the cost of the event space, and help ensure events like these continue.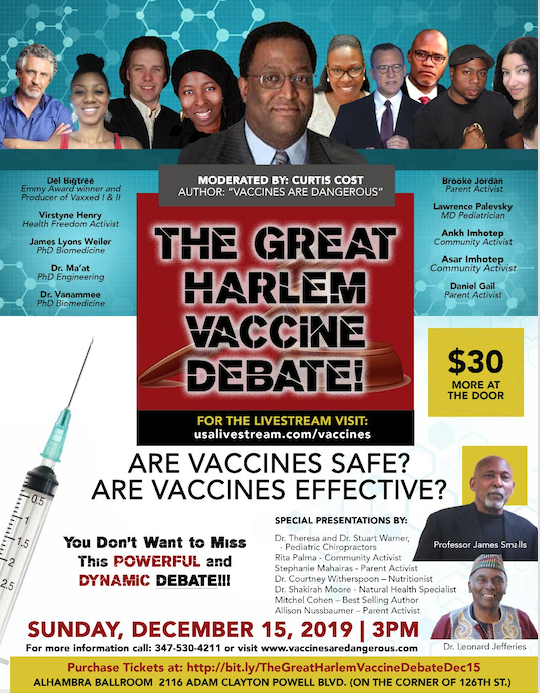 LIVESTREAM LINK to view on day of the event: http://bit.ly/HarlemVaccineDebateLivestream
FAQs
What are my transportation/parking options for getting to and from the event?
The event is located to all major public transportation, and there is parking nearby.
For istance, the 2/3 Train Line to 125th St is just around the corner.
Can I get tickets at the door?
Tickets are going fast, so we encourage you to purchase now to secure your place.