THE GREAT DIVAS OF GOSPEL in Concert Celebrating Their 20th Anniversary

Sunday, August 25, 2013 from 4:00 PM to 7:00 PM (EDT)
Event Details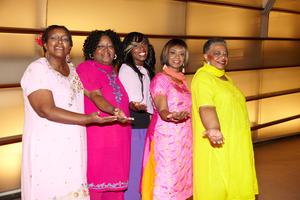 "The Great Divas of Gospel"
The Great Divas of Gospel, a female quintet, will celebrate their 20th Anniversary at Beanrunner Cafe, at 201 S. Division Street, in Peekskill, NY, on Sunday, August 25, 2013, at 4 p.m., by singing a lively medley of popular Church Hymns and Gospel songs that were originally recorded by the pioneers of Gospel music like The Clara Ward Singers, The Sallie Martin Singers, Sister Rosetta Tharpe, Mahalia Jackson, and others. The quintet's harmonious a cappella-style of singing is reminiscent of veteran group, Sweet Honey In The Rock.

In actuality, these strong singers are cast members of the long-running Gospel musical by the same name, "THE GREAT DIVAS OF GOSPEL," which plays a powerful tribute to the original Queens of Gospel, such as Mahalia Jackson, Clara Ward, Albertina Walker, Ruth Davis, and others.

Now The Great Divas of Gospel will be performing to raise funds in order to film a documentary film about these legendary ladies of Gospel Music who bravely took Gospel music all across this nation during a difficult era of segregation, discrimination, and tough Jim Crow laws in the 1940s, 1950s, and early 1960s. This was an extraordinary feat because they could not eat in white-owned restaurants, nor sleep in white-owned hotels while traveling throughout this country. As a result, they were forced to travel hungry and sleepy all night long many times until they reached the next town of their engagement. However, they did not allow these obstacles to keep them from singing the Gospel, and because of their courageous efforts they sold millions of records during the Golden Age of Gospel Music from 1945-1960. Their singing styles has had a profound impact upon today's singers, not only in Gospel music, but in today's modern R & B, Pop, and Jazz music.
 Make plans now to attend this glorious celebration of traditional Gospel Music on Sunday, August 25, 2013, at 4 p.m. You may order tickets online now for only $10.00 at: www.thegreatdivas.eventbrite.com. The Music Charge at the door will be $15.00.

Click the Donation button above to support the filming of the documentary of the show, or go to their fundraising website at: www.gofundme.com/3saui8
To see a video of The Great Divas' singing a prayer ballad for President Obama visit their website at: www.divasofgospel.com
When & Where

BEANRUNNER CAFE
210 South Division Street
Peekskill, NY 10566


Sunday, August 25, 2013 from 4:00 PM to 7:00 PM (EDT)
Add to my calendar
Organizer
Presented by Lady Peachena
Lady Peachena has been the Choir Director for the Kingdom Kid's Choir at Love Fellowship Tabernacle, in Brooklyn, NY, for the past 17 years where the renowned Bishop Hezekiah Walker is Senior Pastor. She's a founding member/lead singer of LFT's Rhema Choir, and she sings with Bishop Walker's Azusa Choir which recorded Gospel's mega-hit, "EVERY PRAISE."
Lady Peachena is also the founder/lead singer of the famed Late Show's Gospel Choir, which she formed for CBS TV's "LATE SHOW With DAVID LETTERMAN," 20 years ago. They have performed on 'THE LATE SHOW" over 14 times, backing such celebrities as: Darlene Love, Steve Martin, Enrique Iglesisas, Gloria Estefan, Martin Shore, and newcomer singer-guitarist, Shawn Mendes, from Canada. They have also performed on "MTV's "MTV UNPLUGGED," & NBC's "TONIGHT SHOW With JIMMY FALLON," with hot rock band, Jared Leto & 30 Seconds to Mars. Last Fall, Lady Peachena & The Late Show's Gospel Choir filmed 14 commercials for GO DADDY for the Internet, now they're also known as GO DADDY'S Business Inspirational Choir.

Platinum Peachtree Records promotes the Gospel of Jesus Christ, and the Christian life-style through it's four major acts: The Late Show's Gospel Choir, New York's Youth Sunshine Choir, The Great Divas of Gospel, (the cast), and sole owner-visionary, Lady Peachena.
You may order The Great Divas of Gospel's CD, "STAY IN THE RACE" at: www.cdbaby.com/divasofgospel
You may order NY'S Youth Sunshine Choir's CD, "I AM SOMEBODY" at:
You may order Lady Peachena's "THE BISHOP'S DAUGHTER" CD at:
You may order "DIVINE RESTORATION" CD at:
"Divine Restoration"
You may order Lady Peachena's new CD, "I'LL NEVER LET GO OF MY FAITH," at: www.tatemusicgroup.com. Click on 'store,' and type in her name.
Thanks for your support!

THE GREAT DIVAS OF GOSPEL in Concert Celebrating Their 20th Anniversary