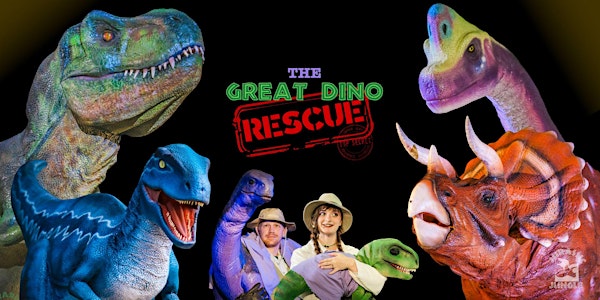 Multiple dates
The Great Dino Rescue: Experience An Immersive Dinosaur Show in Middle GA
The Great Dino Rescue, an immersive dinosaur show featuring over 12 realistic dinosaurs and a thrilling adventure, comes to Warner Robins!
Date and time
Starts on Saturday, July 22 · 11am EDT
Location
Homer J Walker Civic Center 700 Watson Boulevard Warner Robins, GA 31093
About this event
Experience the awe-inspiring world of dinosaurs like never before at The Great Dino Rescue, presented by Jurassic Jungle.
Prepare to be mesmerized as our incredibly realistic dinosaurs come to life before your eyes while you embark on a thrilling adventure with your favorite blue raptor, Erika, on a relentless mission to protect prehistoric creatures.
Get ready to witness the most extraordinary lineup of lifelike dinosaurs ever assembled in one place while encountering your favorite breathtaking species like the Spinosaurus, Tyrannosaurus Rex, Triceratops, Brachiosaurus, and more!
Don't miss this unforgettable journey as you're captivated by the size, presence, and authenticity of a world where dinosaurs once again roam the Earth. This is an astonishing spectacle that must be seen to be believed!
🚨 Hurry, tickets are selling fast and availability is limited! Don't miss out on this once-in-a-lifetime experience – secure your tickets now before they go extinct! 🚨
GENERAL INFO:
📅 Date: Select Dates July 21-30, 2023
🕒 Show Times:
Fridays: 7 p.m.*
Saturdays: 11 a.m., 3 p.m. and 6 p.m.
Sundays: 2 p.m.
Doors open one hour prior to show time
⏳ Duration: 1 hour
*Showtime only available on Friday, July 28th
📍 Location: Homer J Walker Civic Center (700 Watson Boulevard, Warner Robins, 31093)
👤 Age requirement: all ages are welcome!
♿ Accessibility: the venue is ADA compliant
Ticketing
Pricing:
General Admission: $15.00 USD
VIP: $40.00 USD
Small infants, ages 12 months or younger, who may be held are free. No strollers will be permitted in the performance space.
General Admission Includes:
Free interactive pre-show activities in the lobby to unleash your inner paleontologist and explore the fascinating world of dinosaurs.
Entry to the live production
Access to exclusive Jurassic Jungle Merchandise only available at shows
General Admission tickets are first come, first serve and include all seats EXCEPT the front row. Please plan accordingly.
VIP Admission Includes:
Free interactive pre-show activities in the lobby to unleash your inner paleontologist and explore the fascinating world of dinosaurs.
Entry to the live production
Front Row seating to all the action
VIP Take-home bag
Access to exclusive Jurassic Jungle Merchandise only available at shows
All tickets are non-refundable. Should the show be cancelled for any reason other than force majeure, we will give refunds to our patrons.
What To Expect
This is a theatrical stage production where performers and dinosaurs will take you along on an action packed adventure. Audience members will remain seated during the performance while the story unfolds in front of you.
Our show includes low lighting, loud noises and BIG dinosaurs! For our smaller conservationists who might be a bit frightened, please watch the promotional video at the top of the page to ensure this is an event they will enjoy as tickets are non-refundable. We also offer seating towards the back of the theatre where our prehistoric pals may be a little less scary.
This experience is more closely related to seeing a play versus a museum or walk-through experience. This production does not include ANY animatronics.
FAQS
What is The Great Dino Rescue? The Great Dino Rescue is a 55-minute educational and interactive show led by our team of passionate Dinosaur Conservationists who are dedicated to making learning about Natural History fun and exciting. Our show features more than a dozen dinosaurs and a captivating story. This fully immersive performance features themed lighting, sounds, and spectacular décor! Please be advised that during the performance, there will be low lighting, loud noises, and large dinosaurs up close that may not be suitable for all ages.
I accidentally purchased tickets for the wrong date/time. What should I do? Based on availability, we allow guests to transfer their tickets to another event and/or upgrade their tickets within 24 hours of their showtime. Eventbrite has instructions posted here.
Please note that tickets are non-refundable if a new date or time cannot be selected due to availability. Please review your order carefully before purchasing.
What is your refund and exchange policy? All tickets are non-refundable. The terms and conditions of the refund policy are agreed to at time of purchase. In special circumstances, we may be able to help reschedule your ticket to another date and session that has not already sold out. Please contact us for more information. Be sure to include your ticket order number.
What ages require a ticket? EVERYONE NEEDS A TICKET EXCEPT INFANTS. Infants under 12 months that can be held and do not require seating do not need a ticket.
Are tickets available at the door? Based on availability, tickets may be available at the door for an increased price. We cannot sell tickets over capacity. We highly recommend purchasing tickets online prior to the show. Tickets are available for purchase up to an hour prior to showtime.
What is the difference between VIP and General Admission? VIP tickets are limited to the front row of the venue for our brave conservationists and dinosaur lovers! They will have a front-row seat to all the action in the show and be up close and personal with our dinosaurs. The front row may be scary for some children as some of our dinosaurs are over 12 feet tall and can be quite loud! Please make sure this is something your child will be comfortable with.
General Admission is any other seat in the venue that is not the Front Row. General Admission seats are not assigned and will be first-come, first-serve.
View additional FAQs of this experience here
Terms & Conditions
By purchasing tickets, you agree to our Terms & Conditions
⭐️⭐️⭐️⭐️⭐️
I went to Jurassic jungle when they came to Kissimmee Florida at the end of August. It was super nice they had a lot of the dinosaurs species my two kids, 4 and 2, LOVED IT.
- Ararmis V.
⭐️⭐️⭐️⭐️⭐️
This is awesome and a great interactive show for little ones.
- Anita P.
⭐️⭐️⭐️⭐️⭐️
We had such an amazing time at the show. The staff was so friendly from the minute that we walked in the door.
- Stefanie W.
⭐️⭐️⭐️⭐️⭐️
Our daughter absolutely loved it! Highly recommend!!!
- Victoria C.
⭐️⭐️⭐️⭐️⭐️
We had an amazing time at this interactive show! It exceeded my expectations and I would love to go again!
- April A.
⭐️⭐️⭐️⭐️⭐️
So much fun! The cast was so involved and believable. Great experience.
 - Eva M.
See for yourself why people can't stop raving about our dinosaurs with more dino-mite reviews and testimonials from our delighted audience members by visiting out Facebook Page
A big thank you to our Educational Partner, Macon Museum of Arts and Sciences!
"The Museum of Arts and Sciences is a regional resource for life-long learning and enrichment that engages a diverse audience by presenting objects and experiences designed to evoke wonder, stimulate curiosity, and open minds to new worlds of discovery.
The purpose of the Museum of Arts and Sciences is to acquire, preserve, study, interpret, and exhibit objects of artistic, scientific, historical, or cultural value that have inherent significance to the people of Central Georgia, so as to promote a fuller understanding of humankind, its heritage and environment." [1]
Visit https://www.masmacon.org for more information on this dino-mite partner!
About the organizer
Learn more about Jurassic Jungle at www.jurassicjungle.org or follow us on Facebook and Instagram @JurassicJungleDinos