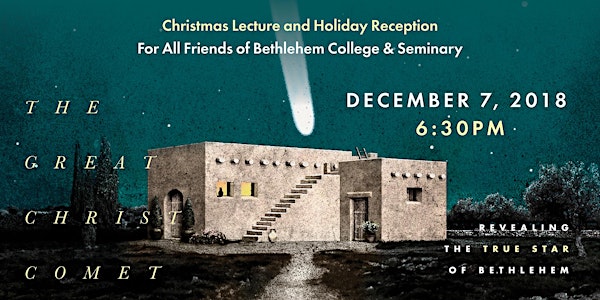 The Great Christ Comet: Christmas Lecture and Holiday Reception
By Bethlehem College and Seminary
Date and time
Friday, December 7, 2018 · 6:30 - 8pm CST
Location
Bethlehem College & Seminary 720 13th Avenue South Minneapolis, MN 55415
Description
Bethlehem College & Seminary invites you to be our guest for The Great Christ Comet: Christmas Lecture by Dr. Colin R. Nicholl and Holiday Reception. Join us for a short lecture by Dr. Nicholl on his book The Great Christ Comet, followed by a dessert reception.
---
About The Great Christ Comet: Revealing The True Star of Bethlehem:
"The Star of Bethlehem is one of the greatest mysteries in astronomy and in the Bible. What was it? How did it prompt the Magi to set out on a long journey to Judea? How did it lead them to Jesus?
In this groundbreaking book, Colin R Nicholl makes the compelling case that the Star of Bethlehem could only have been a great comet. Taking a fresh look at the biblical text and drawing on the latest astronomical research, this beautifully illustrated volume will introduce readers to the Bethlehem Star in all of its glory."