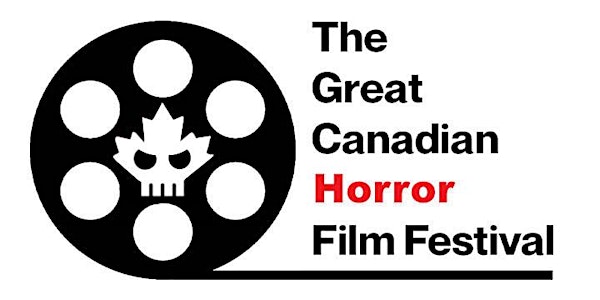 The Great Canadian Horror Film Festival
Welcome to The Great Canadian Horror Film Festival! The perfect way to start the Halloween weekend with horror films from around the world!
When and where
Location
The Royal 608 College Street Toronto, ON M6G 1B4 Canada
Refund Policy
Contact the organizer to request a refund.
Eventbrite's fee is nonrefundable.
About this event
Welcome to the second year of The Great Canadian Horror Film Festival! We have curated films from around the world for you to enjoy. The event will be taking place at the Royal Theatre located at 608 College St. Toronto, Ontario M6G 1B4.
Films that will be screened:
1. My Cat Lucy 
Directed and Written by Kate Vaillant 
A boy tries to prove that his pet cat is possessed by a demon.
2. Stuck
Directed by David Mikalson  Written by David Mikalson and Jonah Vallez 
A gymnastics coach must deal with a man who has taken an interest in the young girls she coaches. The man makes a bold move and the coach responds with an even bolder one.
3. Rest in Peace
Directed and Written by Deborah Balboa Juarez, Karien Benz, Yuk Yan Tsoi, Aparna Hegde and Kai-Hsun Chan.
After a tragic incident strikes a happy town, their beloved governor knows just how to fix it.
4. Science of a Séance 
Directed and Written by Louie La Vella and Monica La Vella 
A grief-stricken brother drags his skeptic sister to a medium in hopes of connecting with their dead mother.
5. Cannibal Dad
Directed by Liam Cooper Written by Jacob Birney 
When a father raises his son to be a cannibal, the son comes to realize his world isn't as narrow as his father made it out to be.
6. Welcome 
Directed and Written by Yanglu He and Sia Du
A lonely, poor little girl was invited by mannequins into a luxury clothing store in the midnight. They offer her free accessories, dress, shoes, and seduce her to take more. But the little girl has no idea what price she need to pay later.
7. Janus
Directed by Priscila Carvalho Vailones Written by Harry Page
A traumatized domestic abuse survivor lures unsuspecting Tinder dates to her flat to be devoured by a mysterious beast that resides behind her bedroom door, only to become conflicted when she bonds with one of them before the beast can get to him. Forcing her to face the beast and make peace with her past to be able to move on.
8. Zero Stress / Love Bites
Directed and Written by Tel Benjamin 
During a 1987 highschool prom, two star crossed lovers must overcome social hierarchy and their demonic faculty of teachers in order to reunite and destroy evil at the speed of love.
9. Love is Just a Death Away
Directed and Written by Bara Anna Stejskalova 
A tender story about finding love even amid utter decay.
10. Lunch Ladies
Directed by J.M. Logan Written by Clarissa Jacobson 
Two burnt out high school Lunch Ladies do whatever it bloody takes on their quest to become Johnny Depp's personal chefs.
All the trailers for the films will be available on our Instagram:
https://www.instagram.com/greatcanadianfilmfestivals/
You will be able to purchase tickets at the Royal Theatre's box office or here for $20. After the screening we will be contacting ticket holders by email so they can cast their vote for best film. The film with the most votes will receive $300 USD prize.