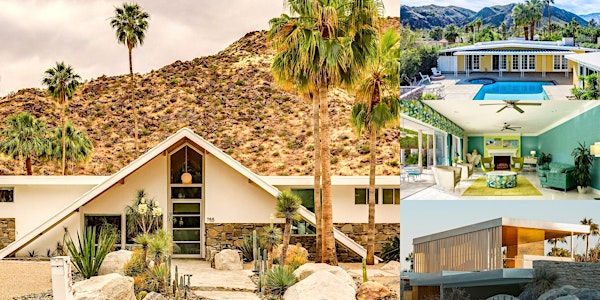 'The Great American Resort Cities, Part III: Palm Springs' Webinar
Can't make it live? Register and get access to the full replay for one week! New York Adventure Club | www.AdventureClub.com
About this event
As the United States began to develop and prosper as an independent nation in the 19th century, so too did its desire for leisure. From the coasts of New England to the high desert of California, resort cities not only sprang up as places for the well-to-do to mingle and relax, but also became showplaces for the very latest in architectural development. What were the architectural styles that dominated during this time period, and which homes defined these cities? It's time to explore how the concept of the resort influenced American architecture as a whole.
Join New York Adventure Club for our three-part series on the great resort cities of America, where we take a look at three leisure communities during the 19th and 20th centuries that influenced the history and creation of modern American architecture. In Part Three: Palm Springs, we'll examine how an isolated desert community grew into a byword for Hollywood glamour at the height of film's golden age.
Led by architectural historian David V. Griffin of Landmark Branding, this digital showcase featuring a selection of unique structures will include:
A look at the earliest history of this unique desert region, and rise of the first weekend homes and hotels
A discussion of the extraordinary flowering of Mid-Century Modernism and its greatest landmarks
A look at the prominent architects and their clients and how personalities helped shape buildings in a variety of styles
The recent renewal and preservation of this city's architectural legacy
An in-depth look at each building's construction, context, and current status, with a focus on how culture and innovation drive architectural symbolism
Afterward, we'll have a Q&A with David — any and all questions about these unique buildings are welcomed and encouraged!
Can't make it live? Don't worry, you'll have access to the full replay for one week!
See you there, virtually!
*Immediately upon registering, you will receive a separate, automated email containing the link to join this webinar
**For the best possible viewing experience, please ensure you're using the latest version of your internet browser — Google Chrome is the most compatible. Exact technical requirements and a webinar user guide will be shared in the automated confirmation email upon registration.
***A full replay of the experience will be available to all registered guests for up to a week
'The Great American Resort Cities Series
Part I: Newport
Part II: The Hamptons
Part III: Palm Springs
Testimonials
"Excellent content & presenter's knowledge of the content." -Amy
"David's presentations are always well researched and interesting. I definitely look for his name when I review New York Adventure's website. The Palm Springs presentation did not disappoint." -Karen
"Good presentation overall. Good content. Especially liked the list of buildings presented." -Lynn
"Good overview of the architecture in Palm Springs and the surrounding area." -Paul
"Got a good overview of the Palm Springs area." -Janice
"David is great. I know when I see his name I will get a really throughly researched and well presented session. He puts a lot of effort into his programs and it comes through. Very enjoyable." -Noelle
"I've been familiar with Palm Springs because I have an interest in design from the 50's and 60's. I really appreciate that while that was beautifully covered, you also included what's come before and after. I had not learned about that previously." -Jennifer
"The expertise of the presenter. Such a good history of the development of Palm Springs" -Peggy
"Fantastic visuals. The pace of the speakers presentation" -Diane
"Great visuals and content." -Michele
"I've been to Palm Springs and never saw some of those houses" -Patricia
"The stories of the people and their houses." -Joel
"It was very concise and he spent just a perfect amount of time on each picture that he showed explaining but not going to so much detail which we could do on our own. A nice time line starting in the 20s all the way up to the 80s. I'm so glad I registered for this event I've been going to Palm Springs since the 1950s as a child and until to this day!! My husband passed away a couple years ago and he just loved Palm Springs in fact our high-rise condominium in downtown San Diego, has so many items that we've purchased from the various modern stores, museum gift shops etc. Definitely was a highlight of our lives…." -Linda
Disclaimer
By attending a New York Adventure Club experience, you accept our terms of service.
Photo Credit: Bottom Right - Mitch Gaff
Categories: Virtual, Art & Entertainment, Replay