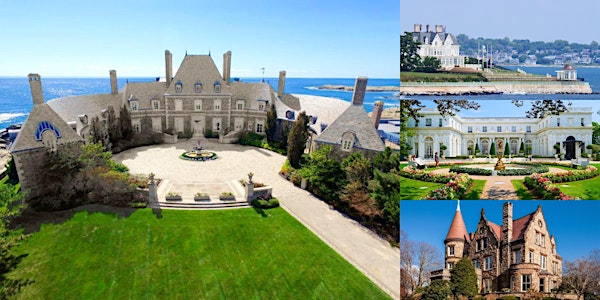 'The Great American Resort Cities, Part I: Newport' Webinar
Can't make it live? Register and get access to the full replay for one week! New York Adventure Club | www.AdventureClub.com
About this event
As the United States began to develop and prosper as an independent nation in the 19th century, so too did its desire for leisure. From the coasts of New England to the high desert of California, resort cities not only sprang up as places for the well-to-do to mingle and relax, but also became showplaces for the very latest in architectural development. What were the architectural styles that dominated during this time period, and which homes defined these cities? It's time to explore how the concept of the resort influenced American architecture as a whole.
Join New York Adventure Club for our three-part series on the great resort cities of America, where we take a look at three leisure communities during the 19th and 20th centuries that influenced the history and creation of modern American architecture. In Part One: Newport, we'll examine the development of the earliest resort culture in the United States.
Led by architectural historian David V. Griffin of Landmark Branding, this digital showcase featuring a selection of unique structures will include:
A discussion of colonial Newport, Rhode Island, itself a thriving city before the American Revolution
The earliest of the summer homes and the Romantic Revival
The development of the Shingle Style and its influence on later Modernist
architecture
The arrival of the great "cottages" and the establishment of the Beaux Arts as the dominant architectural tone
A look at the prominent architects and their clients and how personalities helped shape buildings
An in-depth look at each building's construction, context, and current status, with a focus on how culture and innovation drive architectural symbolism
Afterward, we'll have a Q&A with David — any and all questions about these unique buildings are welcomed and encouraged!
Can't make it live? Don't worry, you'll have access to the full replay for one week!
See you there, virtually!
*Immediately upon registering, you will receive a separate, automated email containing the link to join this webinar
**For the best possible viewing experience, please ensure you're using the latest version of your internet browser — Google Chrome is the most compatible. Exact technical requirements and a webinar user guide will be shared in the automated confirmation email upon registration.
***A full replay of the experience will be available to all registered guests for up to a week
'The Great American Resort Cities Series
Part I: Newport
Part II: The Hamptons
Part III: Palm Springs
Testimonials
"I enjoyed the first part about the very early history of Newport and associated buildings." -Aleisa
"Great overview. Really appreciated the info on the early history of Newport." -Pam
"Learning about Newport's history and seeing all the mansions. David is an excellent presenter." -Eleanor
"Saw houses I was not familiar with--what a treat to see so many types of architecture." -Joel
"Knowledgeable presenter. Wonderful photos." -Jacquline
"His presentations are always fabulous with great photos of the buildings he is speaking of. It must be a huge project to find all of those photos and put it all together!" -Karen
"The presenter provided an informative and thorough presentation of the subject matter, along with wonderful visuals. I was delighted he covered Newport's origins and offered context regarding its architecture and culture. Bravo! He favorably kicked off this series, and I look forward to the other programs." -Emily
"I enjoyed visiting Newport vicariously -- and especially seeing some of the older buildings that can be missed if you focus on Bellevue Avenue." -Lahring
"Living about an hour away I have been in Newport many many many times over our almost 40 years since we moved to Boston. My daughters and I have been in all of the mansions sponsored by the preservation Society and have had lunch breakfast or dinner or coffee in a lot of the other places mention such as the Whitehorse tavern and other places. Castle in and some of those out on Bretton's Point area & I have sailed a few times in Newport waters and have been to the jazz festival at Fort Adams. And toured the Hammersmith Farm before it went into private hands. It is one of our most favorite spots. But I did not know much of the history that the presenter laid out and was just so appreciative of this background. His detail and knowledge of architecture and social history of the moment is just outstanding. Much appreciated!" -Sharon
"Wonderful presentation of Newport architecture highlighting details and from a historical perspective (not just a tourist romp)." -Shawna
Disclaimer
By attending a New York Adventure Club experience, you accept our terms of service.
Categories: Virtual, Art & Entertainment