Description
The Gray Area Festival - A conference, performances, workshops, and an exhibition surveying culture through the lens of art and technology.
Gray Area is a 501(c)3 nonprofit arts organization, all proceeds support this production. All sales are final: no exchanges or refunds. The Festival Pass includes entrance to Thursday night exhibition opening, Friday and Saturday Day Conference, Friday and Saturday Night performances. Please note: Sunday Workshop Day tickets will be sold separately and you can secure Friday and Saturday night performance tickets separately.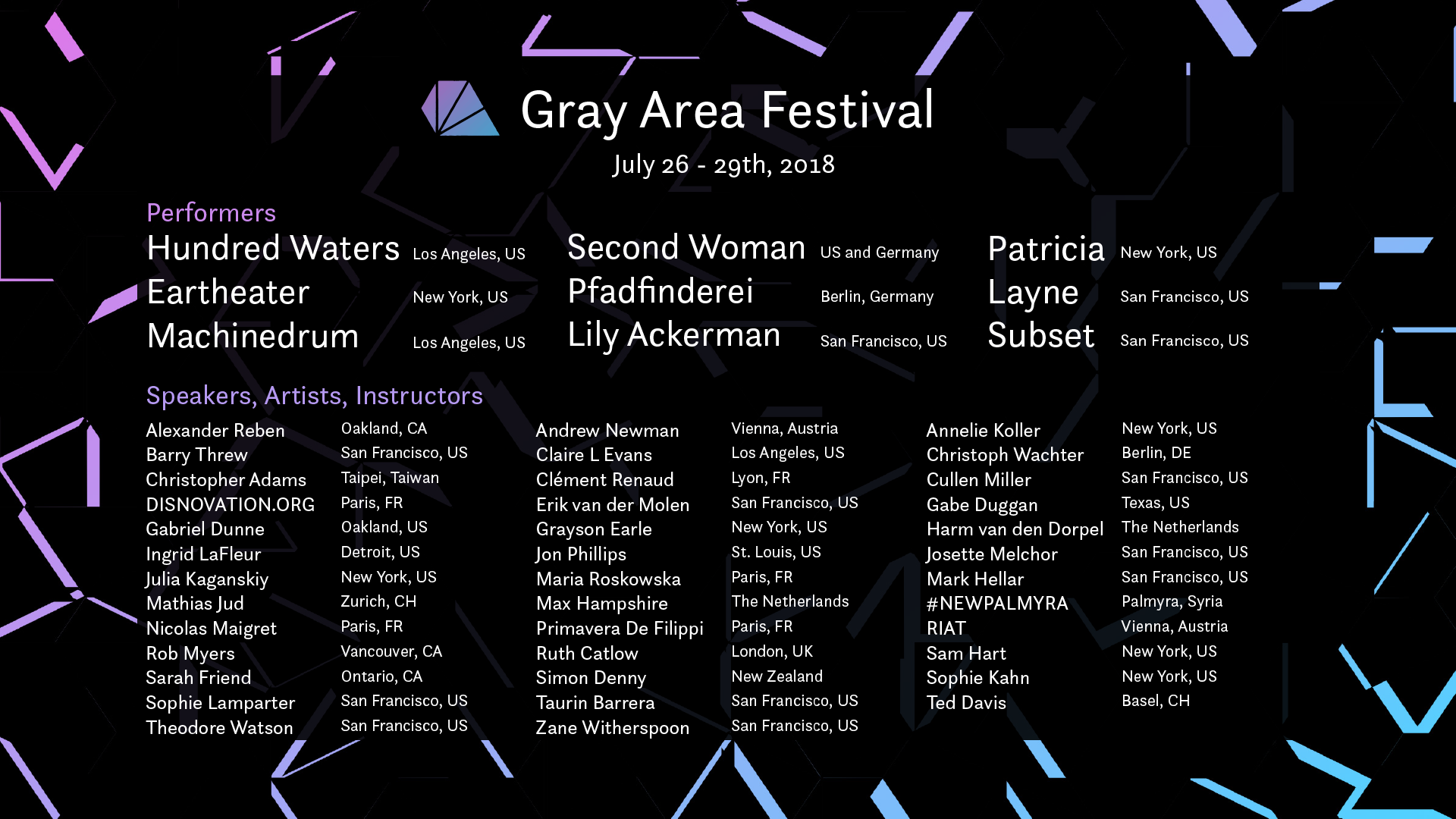 THURSDAY - Exhibition Opening
Assembles the largest collection of blockchain-based artwork on the west coast. Sliding Scale Entry or Festival Pass Entry.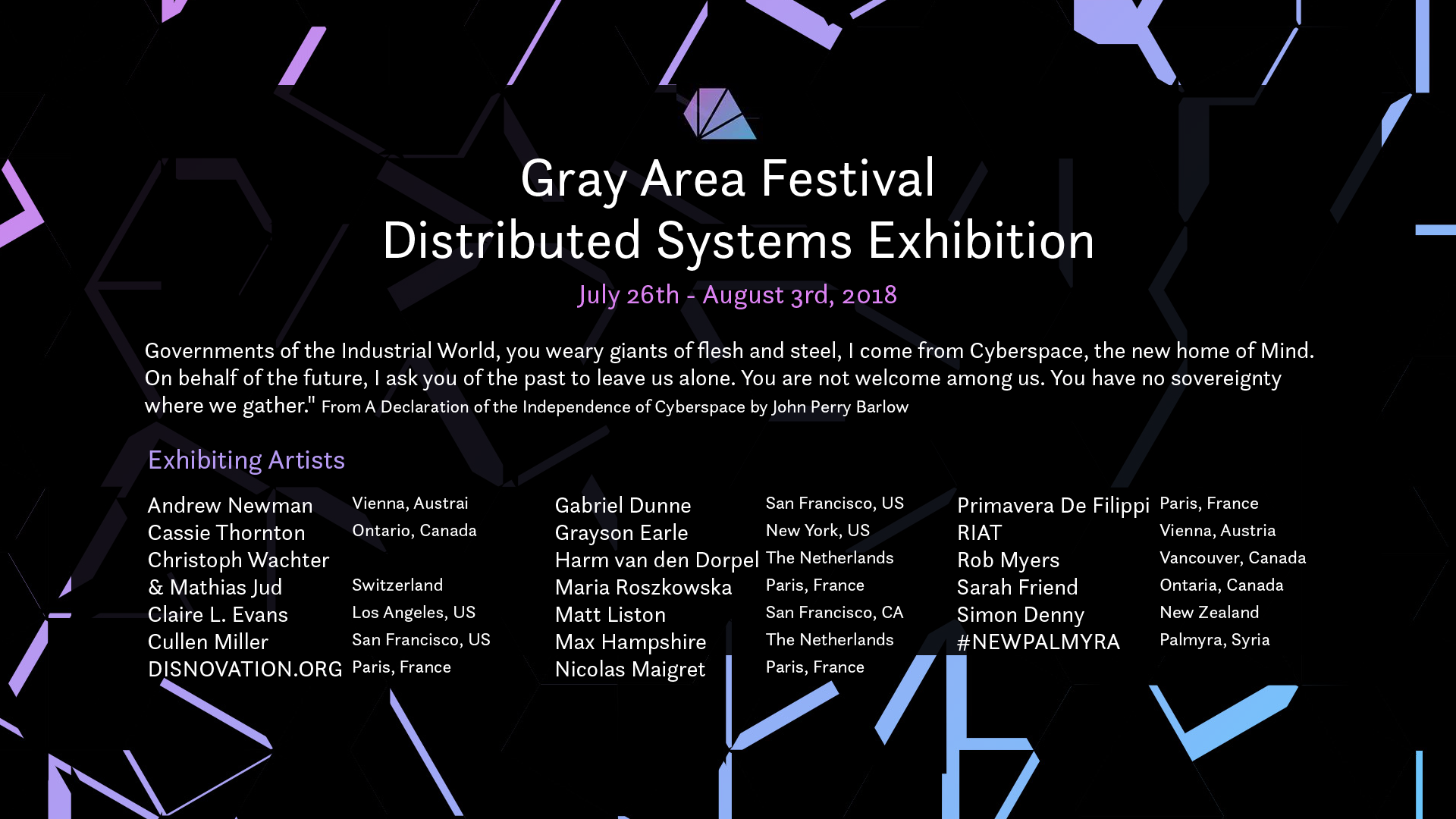 FRIDAY + SATURDAY DAY CONFERENCE- 10am-5pm
On Friday and Saturday mornings, we welcome festival pass holders for two full days of CONFERENCE featuring talks and panels from leading international thinkers and practitioners for discussions that uncover art and technology's impact on culture.
2018 Featured Speakers include:
Singer of the pop group YACHT and the author of Broad Band: The Untold Story of the Women who Made the Internet, Claire L. Evans (US); Artist and co-Founder of openFrameworks, an open-source library for writing creative code in C++, Theodore Watson (US); the co-Author of Blockchain and the Law published by Harvard University Press, Primavera De Filippi (FR); co-Founder and co-Director of Furtherfield & co-Editor of Artists Re:Thinking the Blockchain, Ruth Catlow (UK); Max Hampshire (NL) with terra0, a scalable framework built on Ethereum that provides automated resilience systems for ecosystems; Founder and Editor-in-Chief of Avant.org, Sam Hart (US); Founding Director of NEW INC and one of Business Insider's most influential women in technology, Julia Kaganskiy (US); co-Founder and Editor of ARTS.BLACK, a journal of art criticism from Black perspectives, Jessica Lynne (US); and two members of Vienna-based, RIAT Institute for Future Cryptoeconomics.

7/27 FRIDAY NIGHT PERFORMANCES- 9PM - 1AM
Hundred Waters, Eartheater, and Lily Ackerman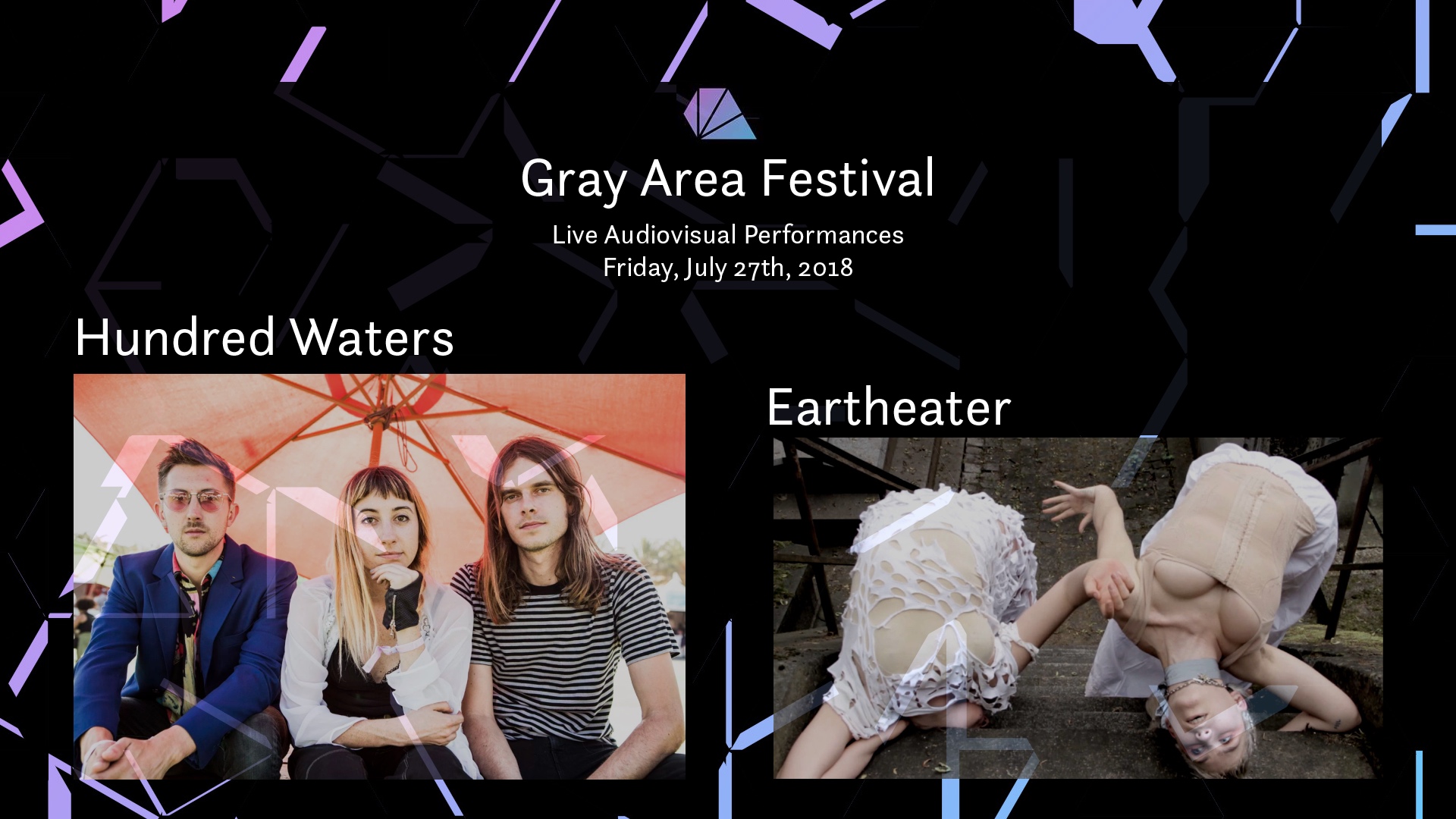 Hundred Waters, with music that's part acoustic, part electronic and completely captivating, musicians Nicole Miglis, Trayer Tryon & Zach Tetreault makeup Hundred Waters.. The fusion of their talents quickly gave rise to a sound that has fans raving and critics drawing comparisons to Stereolab, Bjork and Four Tet. It attracted the most unlikely of label bosses, Skrillex, who signed the band to his OWSLA label. Since then the band has taken its' live show around the world, touring with artists such as Alt-J, the XX, Jack Ü, Grimes, Julia Holter & more. The band is also responsible for co-founding and curating the application based micro festival, FORM Arcosanti. Watch Hundred Waters Recent Music Video
Eartheater, Eartheater (aka Queens based artist Alexandra Drewchin) distills foley-filled digital production, a three-octave vocal range, and classical composition into works suspended between obsessively detailed sonic tapestries and almost recklessly romantic and gestural electronica. Watch Eartheater's Newest Music Video
7/28 SATURDAY NIGHT PERFORMANCES- 9:30PM - 2 AM
Second Woman, Pfadfinderei, Patricia, Layne, and Machinedrum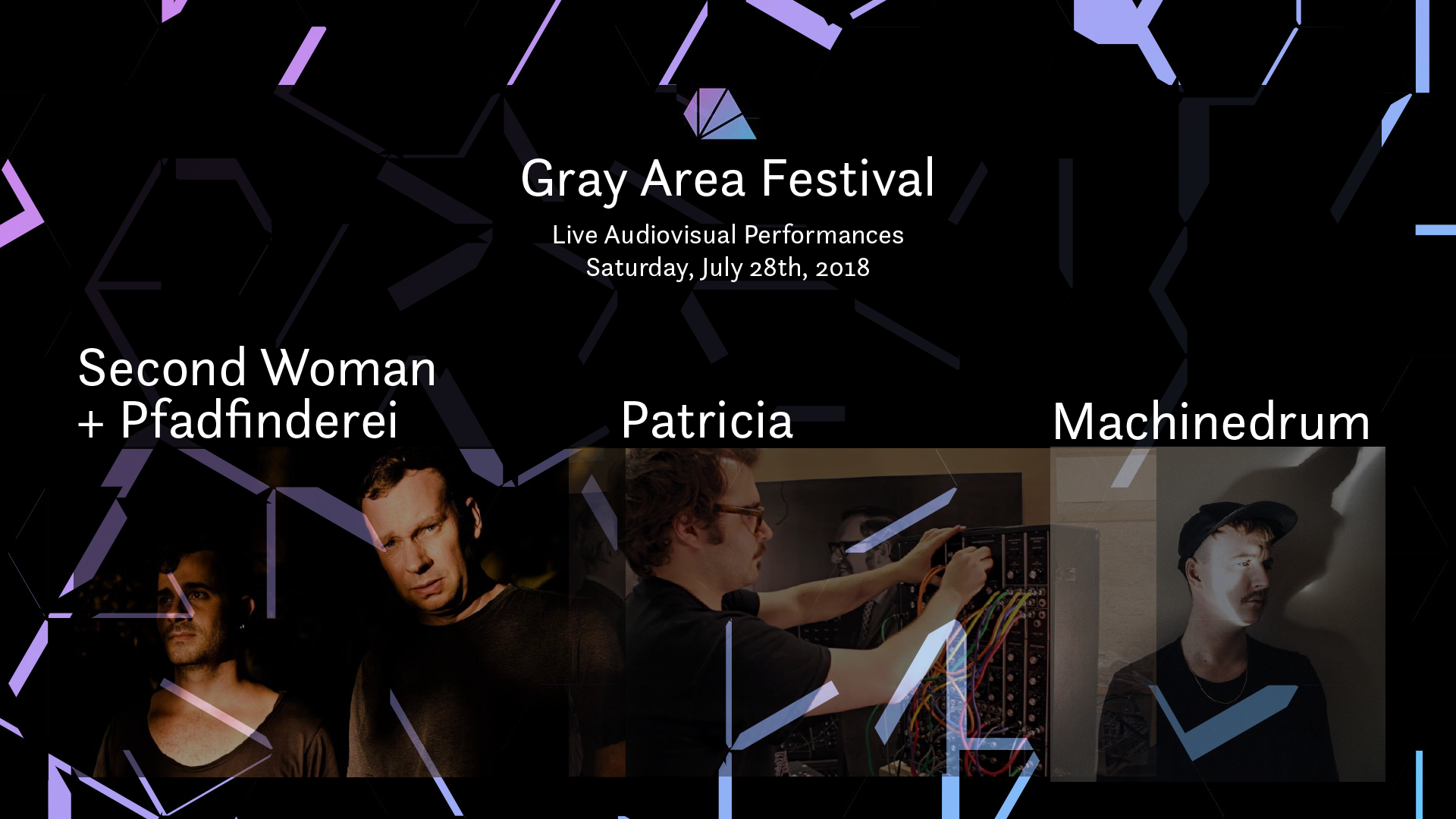 Second Woman with Pfadfinerei, "Second Woman" is actually two men: Turk Dietrich of Belong and Joshua Eustis from the legendry Telefon Tel Aviv. Both Americans are obsessed with sound and production processes and have been working together for some time to shape a dystopian, piercing, taciturn and amazingly magnetic electronica; complex and demanding music that sits perfectly on the Editions Mego sub label, Spectrum Spools. They describe their sound as borrowing elements from footwork, dub, house and techno, manipulating them until unrecognizable and unconstrained from established conventions. When performing live these sounds are visualized, almost becoming tangible, thanks to a powerful AV show created together with Berliners Pfadfinderei, one of the most reputable filmmaking teams in the world (already well known to Sónar for their work with Moderat, Tiga, Paul Kalkbrenner and Boys Noize, among others).
On Sunday of the Gray Area Festival, join us for a selection of Creative Code workshops taught by ten talented instructors. Four workshops will be held during Session 1 (11am-2pm) and four workshops will be held during Session 2 (3pm-6pm), take one from each set for 6-hours of learning! Workshop Pass not included in Festival Pass.
All sales are final: no exchanges or refunds.