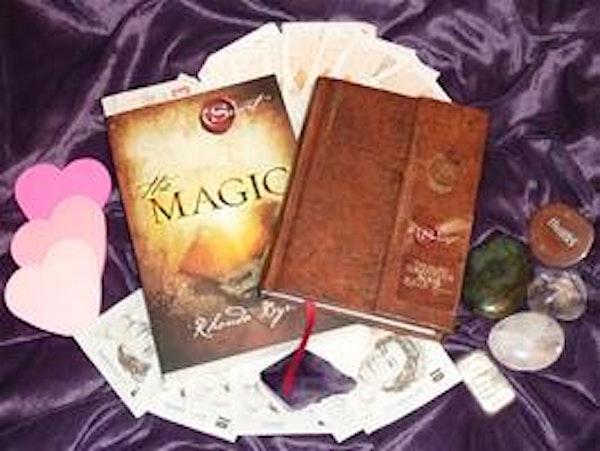 The Gratitude Plan - Small Daily Steps for Big Daily Magic & Happiness - Th...
Location
Online eCoaching Programme
Comfort of your own home
Global / Anywhere
The Gratitude Plan - Small Daily Steps for Big Daily Magic & Happiness - The Online eCoaching Programme
About this event
THE MAGIC & GRATITUDE eCOACHING PROGRAMME
The journey through the eCoaching Programme is open to all regardless of where in the world you happen to be in the world because this is an online, teleseminar, and e-mail Programme.  The amazing testimonials below all relate to this version of the Programme because we have yet to get together and create realtime magic!
 Purchase the NEW Online On-Demand 1-Day Video Webinar Workshop at: https://www.bigmarker.com/series/1-day-magic-gratitude-video-/series_details
A NOTE FROM OPRAH WINFREY ABOUT THE POWER OF GRATITUDE
Oprah Winfrey says in this Super Soul Sunday interview with Elizabeth Lesser:
"Practicing gratitude. I've said this many times, and I can't say it enough and I'm gonna say it again in case you didn't hear me the first time, or you didn't try it. Gratitude is the single best way I have ever discovered of changing your personal vibration. You can INSTANTLY do it with gratitude."
If you want to get on that path and learn how to instantly change your vibration and do it in a way that has proven to be fun, easy, and effortless, then do join us on this magical and life changing Programme and journey.  
IF YOU PREFER TO WATCH AND LISTEN RATHER THAN READ 
  For those who prefer an audio visual experience you can watch my Facebook Live Magic Q&A video
here
.   I also did a video of the 2018 questions
HERE
WHO CAN JOIN THIS PROGRAMME & WHEN?
The life changing testimonials outlined below are from people who have taken part in the remote Online version, so I can hardly begin to imagine what will unfold when we are together in person! 
With the Live Teleseminar* and eCoaching Programme, because you receive the daily Magic & Gratitude Practice Exercises via e-mail you can join at anytime from wherever you happen to be in the world as long as you have e-mail access.  
DOES AN ONLINE PROGRAMME REALLY DELIVER?
People have asked if you can really get a sense of magic, connection, and gratitude from an onlne group.  This is what is just one of the many similar posts from a member of the Magic & Gratitude Group:
"Thank you so much for these readings and for your positive and encouraging words!  I ended a week filled with happiness and positivity and hope and I am so, so ready and grateful to welcome more amazing greatness in my life. Just like the cards say, I too have a strong feeling that 2015 is a year of abundance of health, wealth and happiness !!!  I wish words could express how I truly feel, but the level of gratitude and excitement exceed the power of words  My WOW is THANK YOU, THANK YOU, THANK YOU  Wishing you all a great week and an amazing start of the year"
WHAT CAN YOU EXPECT TAKING PART IN THIS 28-DAY PROGRAMME?
I discovered from creating and running the first 28-Day Daily Magic & Gratitude eCoaching Programme back in February 2013 that this approach, although seemingly remote because it essentially takes place online via e-mail and Facebook, could still be life changing and deeply personal and impactful.  One of the members of the Gratitude Facebook Group recently posted this:
"Oh, guys, you have no idea how much I needed these last postings ... WOW ... I'm speechless, but extremely grateful ... It feels so good to be part of this group ... You all are amazingly warm special people. Strong individually, a force as a group! Thank you! Thank you! Thank you!"
This is from someone who had never personally met the other people within the secret Facebook Accountability Group.  They went on to say:
"The magic power of one's mind is beyond imagination if and only if there is both consistent belief and constant appreciation ... There is good in every situation, choosing to see it is the hard part, but once we learn to do so, giving thanks becomes first nature  ... I'm very excited by the Magic workshop and I thank you Marilyn for the time and effort you're putting into it for all of us."
People's dreams were coming true within a few short weeks of joining the eCoaching Programme:
"Wow Marilyn!  I am truly happy for Sonny and I am happy for myself, happy to be a part of your Magic circle. It is so wonderful to read how people's lives change in such wonderful way and mine will never be the same thanks to you my dear!!!  THANK YOU Marilyn Devonish the words could not describe how amazing, empowering. life changing and truly magical your course was!!  Please keep on doing your magical work. YOU are an inspiration. Big warm hug xxxx 
God bless you Marilyn 
Hugs and love"
Ana Capone xx
Wishes were being granted: 
We had one member of the group focus on creating the finances to be able to take some time off to get their 'head sorted out.'  A couple of months later someone sent them a cheque in the post, out of the blue, completely unprompted, just so that they could do exactly that.  One of the things I hear most often from my clients is:
"Wow.  You are not going to believe this!"
Career goals were being attained:
One of my Gratitude & Magic Programme participants was focused on reviving part of their career.  As the miraculous changes unfolded this is what they had to say on some of those changes:
" . . . . . More has evolved since then, but I can wholeheartedly recommend Marilyn's excellent coaching programme based around Rhonda Byrne's 'The Magic'. It is a simple, easy to follow and practical programme spread over a month which can deliver amazing results. Marilyn's supportive, holistic & experienced coaching combined with the simple exercises make for a fun, insightful & powerful coaching course, which (if followed) will deliver some remarkable results.  One of the very best programmes I have ever done, in large part, due to Marilyn's experience & combination of skills. Highly recommended."  BEN BROPHY
Lives were being changed within weeks of taking part in the Magic & Gratitude Programme:
"I hope you don't mind, I just wanted to give you an update of my progress.
Where to begin, Magic is happening everywhere - I am so much more aware of not just the big things that are happening but I'm stopping to appreciate the small magic that happens everyday. I'm also so enjoying telling people around me about the magic that they are creating. I've definitely been raising some smiles along the way and my comments are always appreciated, which makes me feel amazing.
Some HUGE manifestations this week and I can't wait to tell you when everything is signed and sealed. A few months ago I never believed it could happen."
I know it sounds miraculous, and there are a ton of other stories just like this from participants on my Magic & Gratitude Programme, Mind Body Spirit Energy Fest Workshop, TranceFormation™ Programme, and Breakthrough Coaching Programmes.
Much needed money and cheques were being received out of the blue!
Ok so long story short..........Whilst on The Magic program Gina & Marilyn both sensed for about 9 months I had been getting close to the point of physical/emotional/mental exhaustion...."running on empty". They advised me I was always juggling "too many skittles", it was fine to say "no" and I needed to slow down - go with the flow a little more. Once I had stopped after feeling pretty wounded from the business lesson and I took a few days to reflect on what Gina/Marilyn and a few close friends had said to me recently.  I then asked the question "I'm truly grateful for knowing how I can afford to stand still long enough to decide How I want my life to be in the future? I'm also grateful for How I can have the enough focussed time and resources to seize whatever opportunities feel right to me (resonate) that serve others using my experiences & skill set......so I can gain immense job satisfaction on all projects and comfortably support my family's needs." 2 days later my boyfriend calls me and asks me if I'm sitting down, which I did and he explained a cheque made out to me for a few grand had been sent through to his address. That day I went to see the donor of the cash and they said "the money was to enable me to take a step back to recoup some strength & energy, so I could restructure how I earn money and enable me to restore balance/harmony to my life and so I stay strong/well enough to inspire/impact the lives of others." So there you have it "Gratitude rocks, as does being part of this lovely group"
WHAT DO YOU RECEIVE EACH DAY VIA THE ONLINE PROGRAMME?
Based on this now tried and tested model, every day for 28 days you will receive a Daily Exercise e-mail.  It will give you an overview of what you will be doing or focusing on that day.  That is followed by a step by step outline of what to do and how to put the exercise into practice.
An example is outlined below:
WHAT ELSE IS INCLUDED?
There are 3 levels of participation available with The Magic & Gratitude Programme:
Basic
Silver
Gold
The Basic Programme includes:
The 28-Day eCoaching Programme delivered directly to your e-mail inbox.
Live Video Webinar Workshop (for those taking part during Spring 2020)
Access to the private Lifetime Facebook Coaching Group.
The Silver Programme includes:
The 28-Day eCoaching Programme delivered directly to your e-mail inbox.
LiveVideo Webinar Workshop (for those taking part during Spring 2020)
Access to the private Lifetime Facebook Coaching Group.
Plus
A Private one-to-one 45-minute Coaching Session with Marilyn Devonish
Copy of The Magic book by Rhonda Byrne.
The Gold Programme includes:
The 28-Day eCoaching Programme delivered directly to your e-mail inbox.
Live Video Webinar Workshop (for those taking part during Spring 2020)
Access to the private Lifetime Facebook Coaching Group. 
Plus
Two Private one-to-one 45-minute Coaching Sessions with Marilyn Devonish
Copy of The Magic by Rhonda Byrne
Copy of the Secret Gratitude Journal
The Magic Gift Parcel worth over £100 and counting . . . . .
Private one-to-one Sessions can be booked separately and are £150 per session and £190 for 90-minutes.
The private Coaching Sessions are done via telephone or Skype.
The secret private Coaching Group which is open to all Magic participants is via Facebook.  We have an ongoing weekly focus and I share additional coaching tips, magic practice insights, and monthly Angel Tarot Readings.  Participation in the Coaching Group is optional and free or charge to all Magic Participants that would like to join.
If you have any further questions or queries e-mail: marilyn@tranceformationsTM.com
WHEN DOES THE PROGRAMME START?
It's an online eCoaching Programme so you can join at anytime, frow wherever you happen to be in the world.  The eCoaching Group is run via a secret Facebook private members group.
If you want to be part of the Live Teleseminar version of the Magic & Gratitude Programme, this runs in Autumn 2016, thereafter you will be part of the online version.
YES!!  I AM READY TO JOIN THE MAGIC & GRATITUDE PROGRAMME AND CREATE MY OWN LIFE OF FLOW AND SYNCHRONICITY!
If you are ready to join the Magic Programme just select the Basic, Silver, or Gold ticket option above.  
For information about the 28-Day Money Breakthrough Programme go to: http://www.eventbrite.co.uk/e/the-tranceformationtm-money-breakthrough-programme-tickets-15045115345