Description
The Grateful Gathering:

Kirtan Concert and Celebration
David Newman

|

Yvette Om | friends



Join David Newman and Yvette Om as they co-lead a 2 hour workshop exploring the nature of bliss as a vital lifeline to authenticity, creativity and joy. Through mantra, sound, meditation and song a sweet inner freedom is recalled.

Stick around and join us for the Grateful Gathering Kirtan Concert celebration. Join us for a heart lifting evening and afternoon of healing chanting and inspirational songs of peace and love at the historical Ethical Society in Center City, Philadelphia.


Bhakti Bliss Workshop: 2:30pm - 4:30pm

Concert: 7:00pm - 10:30pm


We can't wait to see you there!

Register early for the workshop as seating is limited. David and Yvette are hometown favorites, so get tickets early to make sure they don't sell out.


Concert $30 pre-sale / $40 same day

Workshop $40 pre-sale / $50 same day

Combo $60 pre-sale /$70 same day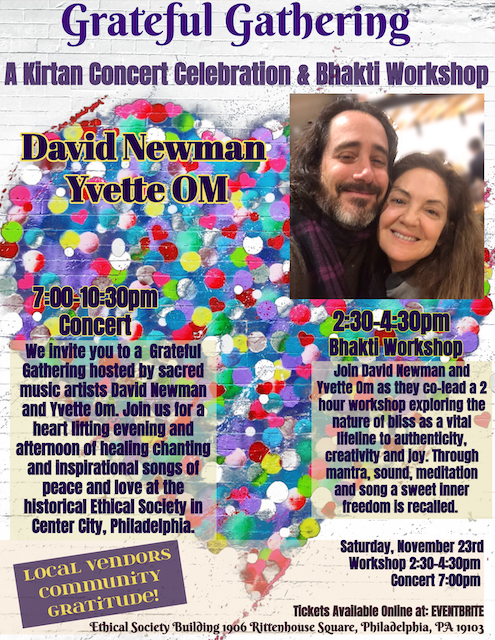 Local vendors and communities will be at tables with great things as well; Be sure check out these free demonstrations in the lobby!
4:45 Integrated Energy Therapy 5 minute Empowerment Session
5:15 Cleaning with NO chemicals
5:45 The art of sitting: How to increase comfort & deepen your meditation
6:00 All about Elixers with Mel-Lo Elixers
(stay tuned for more!)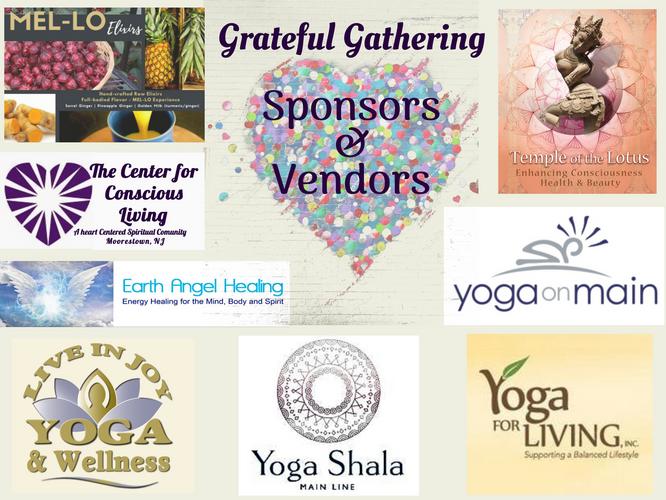 More about David:
David Newman is a renowned sacred mantra artist, singer-songwriter, author, and inspirational teacher. David, also known as Durga Das, has released twelve acclaimed albums, including the #1 iTunes World Music Bestseller Love is Awake. David's music is a celebration of spirit diving deep into the power of mantra, and spreading conscious lyrics with a message of hopee, peace, and universal love.

"At David Newman's concert, the event's volume knob seemed to go from low-level joy to full-on bliss, the kind you feel after climbing a gorgeous mountain or ending a tough run on a strong sprint."
-The Washington Post

"David Newman is reminiscent of George Harrison, Bob Dylan and Paul Simon when they are in soul mode."
-LA Yoga Magazine

www.davidnewmanmusic.com

More about Yvette:
Celebrated Songwriter, Chant Artist & Vocal/Mantra Coach, Yvette has the voice of an angel. Her music and chanting open the gates within the heart, allowing for the Divine within to shine. From the sacred to the dramatic Yvette's range of expression is infectious. She offers Kirtan, Bhakti Bliss Retreats, Workshops and Teacher trainings on chanting, mantra, yoga and self-inquiry. Yvette has released CDs: Into the Arms of Love, The Song of Breath, We Are One, and her just released album Divine.
"Yvette is a beautiful soul and spirited singer who brings it straight from the heart."
- Ben Leinbach, Producer

http://yvetteom.com