Live Wire Athens is proud to present The Grateful Brothers! Support provided by Cam and His Dam Jam Band.
About this event
The Grateful Brothers
The Grateful Brothers pay tribute to two of the richest catalogs of music in American history: The Grateful Dead and The Allman Brothers Band.
With special guest Cam and His Dam Jam Band.
Formed in early 2016 by Zach Thigpen and Brad Crowe, The Grateful Brothers combine the catalogs of The Allman Brothers and The Grateful Dead. Often intertwining songs through segues and transitions, they carry out the improvisational spirit of the two groups in their own space. They use the songs as more of a template rather than adhering to strict album-style covers, creating a unique, high-energy, and genuine crowd experience at every performance. The seven musicians making up the band have known each other and played in various outfits with one another for upwards of twenty years. The camaraderie between them is obvious and the familiarity leads to the ease of musical exploration.
Zach Thigpen - Guitar and Vocals
Brad Crowe - Guitar and Vocals
Adam McFarlane - Keys and VocalsJeff Holland - PercussionJames Hall - Drums and VocalsSamuel Kruer - BassLarry Williams - Drums
Cam and His Dam Jam Band
Based out of good ole' Athens, GA, Cam and his Dam Jam Band is all about one thing- GROOVE! Foot-tappin', room-shakin', get up out-of your chair'n start dancin' music is just the start, with the band taking musical influences from blues, rock, jazz, bluegrass, and psychedelic funk. The band consists of Garrett's soul-movin' bass, Brian's slappin' sax, Max's funky drummin' and Cam's jammin' guitar and vocals, all put together with a little bit of old-school southern flair. Put all these elements together, and you have one groovy show! Expect nothing short of a musical experience you'll want to tell your friends about...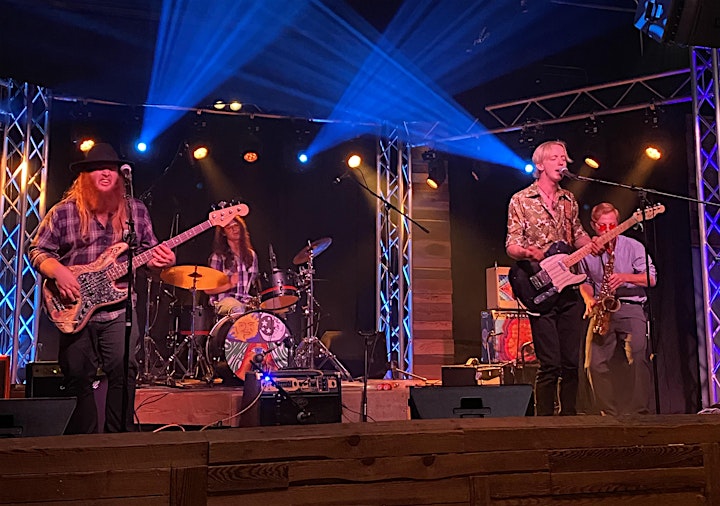 Organizer of The Grateful Brothers wsg CDJB | 8PM Doors
Live Wire Athens' roots began in the Music Industry. We strive to support music and many different facets of the arts. Our space is available for you to create your art and express yourself. As proponents to growing the local music scene, we use our resources to develop up-and-coming bands. Our state of the art facility will record, video, and broadcast your performance in a live soundstage setting. Create locally. Express globally. Listen for inspiration.