Description
---
Tickets are available at the door starting at $100.
On Saturday, December 31st, the classiest of revelers will be celebrating the dawn of 2017 at our red-carpet event fitting of this Grand Affair. From the second you arrive at The Grand, your heart will beat in anticipation of an unforgettable evening with your friends that lie ahead. Music: Top 40's, Hip Hop and EDM. Our DJs will be taking you and your friends on a musical journey that will have you dancing all night long!
---
Delight yourself in a champagne toast as the crowd counts down the last seconds of 2016 displayed on our magnificent LED JUMBO TRON at The Grand (reminiscent of NYE in Times Square, NYC). Boasting 2 levels of attractive décor, energetic dance floors and world-class VIP Bottle Service; The Grand will exceed all your expectations.
---
THE GRAND AFFAIR NYE 2017 PRODUCTION:
Laser Show

Confetti Explosions

Festive Party Favors

Grandtastic Midnight Balloon Drop
---
---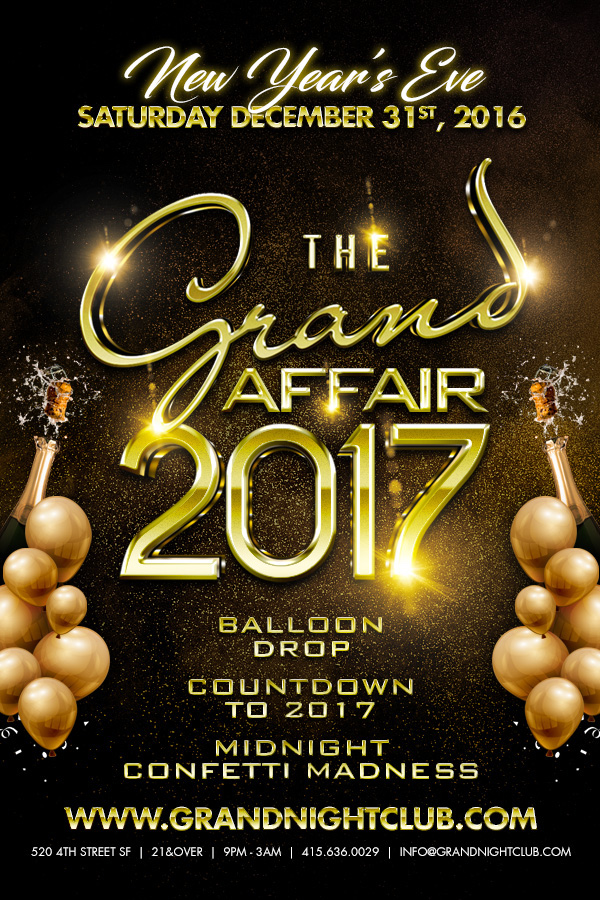 ---
---
VIP BOTTLE SERVICE
OWN A PIECE OF LUXURIOUS REAL ESTATE FOR THE EVENING WITH PURCHASE OF A VIP TABLE
Celebrate the most epic night of the year in style! Please note the a VIP table packages do not include admission tickets. Admission tickets must be purchased separately.
Our expert staff specialize in making your night special, memorable and without worry. With a VIP table reservation, you and your guests will be expressed to the front of the line, whisked straight into The Grand Affair NYE 2017 by our friendly VIP hosts. A VIP table reservation comes complete with your choice of bottle(s), flashy sparkler light presentations, mixers, fruit condiments and ice that are served table-side by a personal server. Get the ultimate VIP treatment and reserve your piece of real estate at the classiest NYE party in town!
---
THE GRAND NIGHTCLUB
Boasting 2 floors with 5 levels of elevation, The Grand Nightclub offers an intimate vibe in a big space with views of the entire nightclub from any vantage point. Consisting of attractive interiors and sophisticated production details, The Grand redefines nightclub entertainment in San Francisco. The newly remodeled space includes: all-new state of the art sound and lighting systems, a stunning LED Chandelier that hovers over the energetic dance floor surrounded by lavish VIP Bottle Service table seating. The fully elevated DJ deck, handcrafted from shiny gold bricks, offers maximum visibility of DJ performances.
You can expect the best VIP Bottle Service experience San Francisco has to offer, theatrical bottle presentations with unique props and never-before-seen nightclub production at The Grand Nightclub.
We had to give San Francisco's nightlife scene what it truly deserves; a world class nightclub with suspenseful surprises around every corner! The significant additions include a dazzling LED chandelier, state-of-the-art lighting + sound systems and refreshed interior décor that offers an entirely new GRAND experience.
---
Have a question?
Call or Text (415) 636-0029
Email: info@grandnightclub.com
---