About this Event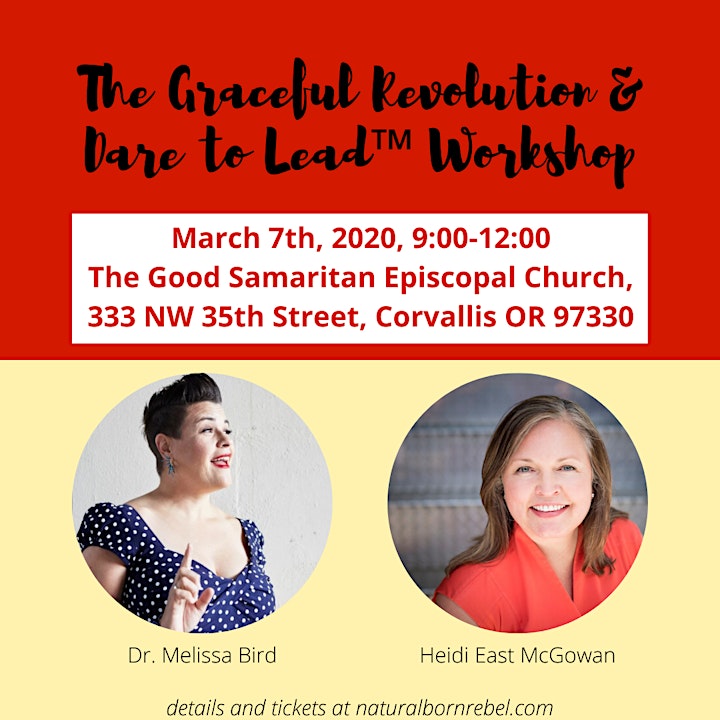 Session description:
Dr. Melissa Bird and Heidi East McGowan are excited to bring you an introductory session based on the Graceful Revolution and Brené Brown Dare To Lead™ in an interactive and reflective workshop designed to tap into your heart centered rebellion and call to courage as the leader of your life.
The Graceful Revolution – Inside of each one of us is a pull towards our divine assignment. Some people deny that pull until one day the resistance becomes too much and we have to succumb to our purpose. Whether you know exactly what your calling is or if you need help finding it, this process can help you get clear on where you are headed.
Dare to Lead™ – Using the four skill sets of courage from Brené Brown's latest research. a) rumbling with vulnerability, b) living into our values, c) braving trust, and d) learning to rise, this session will focus on defining your personal call to courage as the leader of your life. You will come away with concepts to catalyze a movement of courage, trust and resiliency within one's personal life, workplace and community
About:
Dr. Melissa Bird, CEO Natural Born Rebel
As a fiery public speaker, author, and life coach, Dr. Bird creates the genesis for a new brand of leadership and graceful revolution. Her words awaken revolutionaries, trailblazers and powerful innovators in the quest for justice. When she's not building her public speaking business, she can be found reading trashy novels, drinking fine whiskey, playing mom to three delicious humans, and loving her punk rock scientist James Thomas Kelly.
Get her FREE book Natural Born Rebel and learn how to awaken your inner revolutionary trailblazer and engage in the quest for justice. You can also connect with Missy at naturalbornrebel.com and on Facebook, Twitter, and Instagram @birdgirl1001
Heidi East McGowan MBA, MPH, Certified Dare To Lead™ Facilitator Principal at East Consulting & Associates, Heidi is dedicated to supporting leaders and organizations drive towards high impact outcomes. We have a successful track record focused on our three key areas of service: leadership development and training; Board of Directors engagement and strategic planning; policy development and system impact.
Heidi was trained by Dr. Brené Brown representing a small number of Certified Dare To Lead™ Facilitators in the world. Heidi offers Dare To Lead™ training through workshops, coaching and public speaking events.
Heidi has over 20 years of experience supporting leaders and organizations lead with courage, finding the potential in people and processes to achieve meaningful and impactful results. When I'm not working with my amazing clients, you can find me in the beauty of nature hiking, kayaking, backpacking and spending time with my family to renew and inspire.