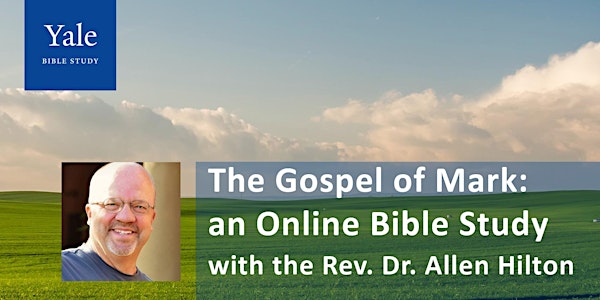 The Gospel of Mark: An Online Bible Study with the Rev. Dr. Allen Hilton
The Gospel of Mark: An Online Bible Study with the Rev. Dr. Allen Hilton
About this event
Zoom | September 21st - November 9th | 8 - 9 pm EDT | 8 Sessions
Mark's telling of Jesus's life leaves a good reader breathless. It's the briefest and fastest-moving of our Gospels (the Greek word for "immediately" appears 41 times in its 16 chapters), with few words and many deeds, so Mark offers a condensed look at what a Son of God DOES. Join Allen Hilton this fall for an eight-session walk through the sprint that is Mark's Gospel. Allen will keep the pace he and David Bartlett used in their 2005 Yale Bible Study on Mark, but move the text toward the events of 2020 and the lives and ministries of class participants. We hope you will join us for 8 1-hour sessions on Zoom.
The eight sessions will occur on September 21, September 28, October 5, October 12, October 19, October 26, November 2, and November 9.
The Rev. Dr. Allen Hilton is the Executive Director of House United, a non-profit organization he founded in 2016. His book, "A House United: How the Church Can Save the World", moves from the facts and causes of American political polarization to the possibility that faith communities can help solve it.
The Rev. Dr. Hilton is a former Yale Divinity School faculty member, where he taught the New Testament in the late 1990s and early 2000s. He later took the call to become a pastor for The Congregational Church of New Canaan, CT, Plymouth Church in Seattle, WA, and Wayzata Community Church in MN. For more information go to our website.