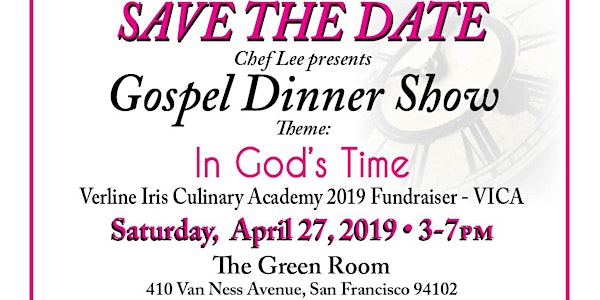 The Gospel Dinner Show" In God's Time" Fundraiser 2019
When and where
Location
The Green Room 401 Van Ness Avenue San Francisco, California 94102
Description
Save The Date:
Chef Lee Presents: Gospel Dinner Show "In God's Time "
The Academy is an all year round after school program that teaches inner-city kids basic life skills that prepare them on how to become great Chef's. This year we are raising 100k toward opening the Academy this spring 2019.
We are currently fundraising for our Annual "Gospel Dinner Show" which will be held on April 27, 2019, held at The Green Room 301 Van Ness Avenue, San Francisco, CA 94102 from 3 pm -7 pm, which proceeds will also be contributed to the Verline Iris Culinary Academy.
In support, I am asking for your tax-deductible donations in the amount $68.00 - $5,000 to make the Fundraiser a success. Your donation will go towards the Academy and to the kids that love to cook.
All donations can be made payable to The Verline Iris Culinary Academy (VICA) 959 Buchanan Street Ste. E, San Francisco, CA 94102, or through our Go Fund Me Page on Facebook www.verlineirisculinaryacademy.com. Thank you for your support.
Program: The Gospel Dinner and Show:
Dinner: Prepared by Chef Sharon Lee
Menu
Entertainment: All the way from Atlanta Georgia- Lolo Harris
LoLo Harris" is truly a blessed and anointed Singing Evangelist who has an amazing testimony of how God still works miraculous miracles. "LoLo" has ministered in song at thousands of venues around the United States, and has had an opportunity to minister in music in several different countries including Canada, Bermuda & Curaçao, Netherlands Antilles, Jamaica, & Puerto Rico.
Pianist: Stephanie Woodford
Soloist: Mark Harris
Keynote Speaker: Josefina Castillo Baltodano JD, Executive Director of Executive leadership Academy
Guest Speaker: Bishop Gregory Richardson
* For sponsor tickets inquire to Kendra Jones-kaykemarketing@gmail.com or
Chester Williams -ckwenterprise@yahoo.com.