The Gospel According to Moses - Semester 2 (Light of Menorah - Torah Projec...
Description
​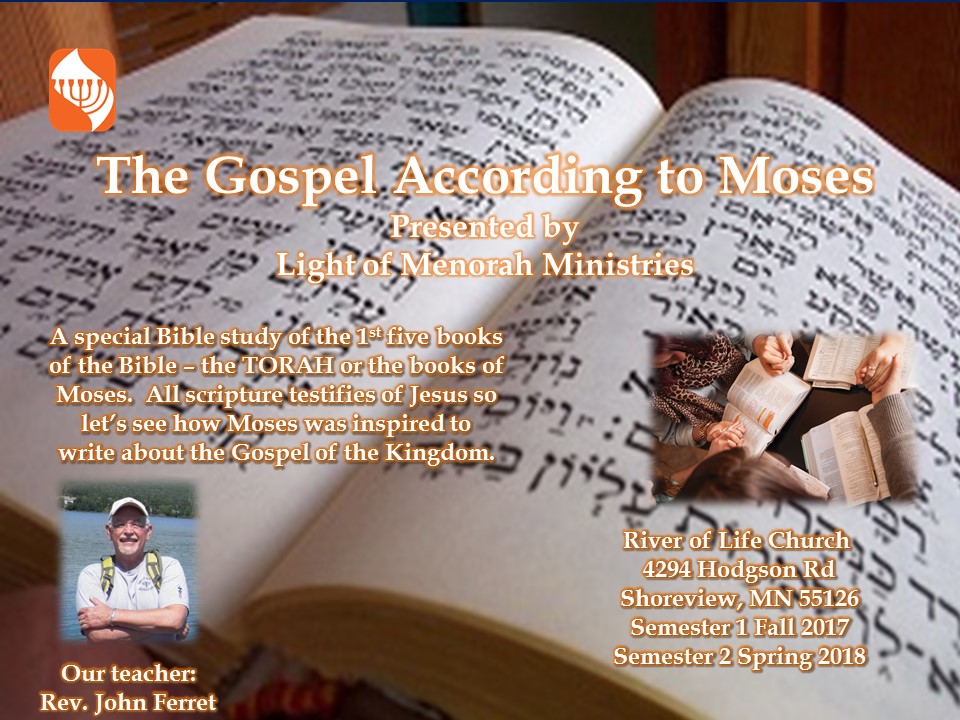 (REGISTRATION REQUIRED - and please note that there is no cost to this class. One registration per person except for married couples. Semester two dates in 2018 - 2/18, 2/25, 3/4, 3/25, 4/8, 4/15, 4/22,4/29
This new Bible study from Light of Menorah continues. Even if you missed semester one, come and join us and delight in His Word, His instruction (Torah means instruction and NOT law) that is so timely for us who walk in the dust of Adonai Yeshua. All sessions are recorded; if you missed semester one you can easily purchase the 8 audio sessions for $80.
The focus in on the first five books of the Bible - Genesis, Exodus, Leviticus, Numbers, and Deuteronomy - better known as the TORAH. This is a Torah study will focus on the historical and cultural context of the Torah emphaszing the archaeology, geography, history, culture, customs and the languages of the ancient Middle East. Semester One we completed Genesis chapters 1-11. In Semester Two we will study Genesis chapters 12-25.
Four purposes of this study ...
1) In Jesus' day and perhaps till after 100 A.D. the only Bible the "church" has was the Old Testament. They changed the world with the Hebrew Scriptures. So, we too will study the Torah just like them. We want to see Yeshua, the only God, the Lord, Messiah of Israel, the Savior of Jew and Gentile, and to "hear" the Gospel as understood and written by Moses inspired by Adonai. Let us hear it as those first believers.
2) Jesus says in John 5:39 that all scripture testifies of Him. He said this sometime between 24-30 A.D. (Note - Herod began building the Temple in his 18th year of his reign - about 20-19 B.C. In John 2:20 we read that Jesus was alive and was into His ministry 46 years after it began to be built. He may have said this in 26 B.C.) This is the the Hebrew Scriptures, the Old Testament, for those in the 1st century A.D. Jesus, God, is telling us we can find Him in the Torah. So if Jesus says it, we will go for it.
3) Torah means instruction, God's instruction. Thus, the early believers, who were mostly Jewish, knew the Torah was God's instruction and guidance for each day. For us too!! We will delve into the books of Moses, the Torah, and hear God speak to us again so we can live as His people in these difficult days.
4) Who are those who first heard the Torah? Probably the Hebrews on the plains of Moab before Moses died. How did they hear the words of Torah, the books of Moses? All they knew was Egypt and slavery. They knew nothing of Israel. They knew nothing about a Temple or the feasts or sacrifices. They had seemingly forgotten about the God of Abraham and perhaps may have even assimilated into the pagan culture of Egypt. And God used the culture of Egypt, the culture that the Hebrews were immersed in, to help His people learn of Him and His instruction. Jesus did it in the Galilee. Jesus did it again in Turkey and Greece and Rome. Jesus is God and He said He never changes. So, we will also study His Torah to try and grasp how God used ancient Egypt to help the Hebrews know Him and His ways to live righteously before Him.
Class dates for Semester Two in 2018 - 2/18, 2/25, 3/4, 3/25, 4/8, 4/15, 4/22, 4/29