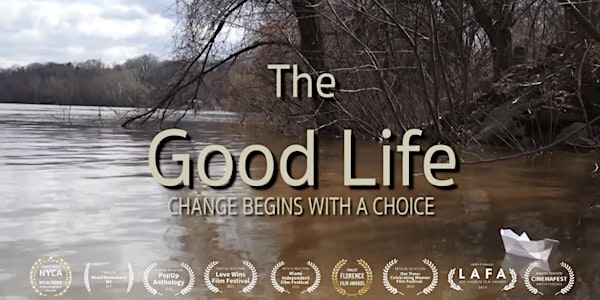 The Good Life - Film Screening & Discussion Event
Join Award Winning Film-maker Carolyn Wilson for a Virtual Screening & Panel Discussion about the Good Life <img src="h
Date and time
Sunday, February 28, 2021 · 12 - 1:30pm PST
Refund Policy
Contact the organizer to request a refund.
About this event
"The Good Life" is a story of trauma, scars, healing, and freedom. This story follows one women's journey of being molested that laid the foundation for a life of further trauma, abuse, depression and nonexistence. This short documentary is about a pinnacle moment that led to healing from sexual child abuse, being set free, and the movement created out of the process that helps others heal from their own trauma and abuse.
Join us as we celebrate a year of achievement for The Good Life that has received recognition at Film Festivals Worldwide so far! More to come!
Winner of New York – Cinemafest for Best Documentary
Winner of Los Angeles Film Award for Inspiring Women in a Film
Finalist for the Florence Film Festival for Best Inspirational Film
Finalist for New Film Maker Awards for Documentary
Official Selection for Miami Film Festival for Short Narratives & Docs
Official Selection for Our Time Celebrating Women Festival for Documentary Short
Official Selection for Love Wins Film Festival for Best Short Documentary
Official Selection for PopUp Anthology Film Festival for Documentary Shorts
Semi-Finalist for New York Cinematography AWARDS for Best First Time Director
Official Selection for LiftOff First Time Filmmaker Showcase @ Pinewood Studios
Semi-Finalist for Strong Chance Film Festival - Documentary
Official Selection for the International Social Change Film Festival aka ChangeFest - Short Films
Winner Short Film Awards (SOFIES) Best Writing in a Documentary Short Film
Award Nominee Short Film Awards (SOFIES) Best Directing in a Documentary Short Film
(Donations to support continuing getting out this important message and to support an organization that services young girls surviving sexual child abuse.)
About the organizer
Magnify Your Essence is a blog created to empower and inspire founded by Carolyn Wilson.
Carolyn Wilson is The Magnified Educator™ an empowerment expert who educates, teaches, guides, empowers, motivates and inspires women of all ages to see and reach their full potential. She helps them to identify their life's purpose and how to break through their own barriers to overcome their number one culprit - FEAR. Carolyn is the master of positive thinking and being able to strategically align your gifts and talents with your purpose. She wants to help you "Magnify Your Essence" through your thoughts, words and deeds. All in order, to help you discover your true you, to be free and to be magnified.
She's is also the creator of  the Women on the Move - A Women's Empowerment Network, The Power Hour Empowerment Series & the upcoming Celebrating You Women's Conference.  
She holds a MBA from Philadelphia University, BS from Gwynedd-Mercy University, and an AS from Community College of Philadelphia. Presently she's an Adjunct Professor, a Business Analyst, and a Community Leader.   
Carolyn is a single mother of two amazing children. She enjoys spending quality time with family and friends.
As a past MS Leadership Award Receipient, her own personal motto read by the former Sixers owner Pat Croce, "I believe that self-determination through any circumstances leads to prosperity. If you can see it, and you believe it, you can achieve it. Just simply speak 'it' into existence and 'it' will be yours when the time is right."