Sales Have Ended
Registrations are closed
Time has run out. Please try again. Thank you.
Sales Have Ended
Registrations are closed
Time has run out. Please try again. Thank you.
Description
"Awa Sangho is a proud daughter and a shining star of West Africa." – Banning Eyre
Multi-talented Malian singer/songwriter Awa Sangho is a charismatic new solo star on the world music scene. After singing with Salif Keita, Ali Farka Toure, Oumou Sangare, Manu Dibango, Amadou & Mariam and the pioneering all-girl group Les Go De Koteba she co-founded, Awa left Bamako in 2011 to move to New York City to commit to her own creative life. The beautiful original songs on Ala Ta (The Truth Belongs to God), her masterful debut on Motéma Music, represent her "Afropolitan" experience of leaving Africa but never leaving it behind.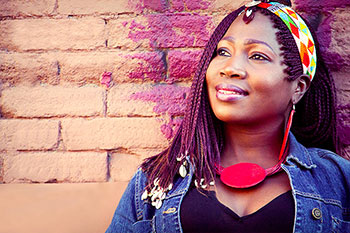 Born and educated in Bamako, Awa moved to Abidjan in the Ivory Coast as a young girl and quickly became immersed in its music and dance scene. Known for a stunning voice and high-energy shows featuring her drumming and dancing, Awa is a unique and original artist dedicated to equality for women, security for children and unity of all Africans everywhere. Her socially conscious lyrics address controversial cultural traditions, her hopes for mothers and their children, and her reverence for the people who have forged her path. The music percolates with the rhythms and resonance of Africa – of Mali but also of the Ivory Coast and Senegal, countries she has also called home, and of Guinea, land of her early mentor, the recently departed Soulemane Koly from the legendary Ensemble Koteba.
For more information, visit www.awasangho.com.
---
Tickets Purchase Policy
Queens Library programs are a free to the public. In order to make the programs available to the most number of people we are limiting general admission free tickets to 2 per individual. Multiple orders per individual are not allowed and will be cancelled. This policy ensures that no-shows are reduced and tickets are available to the most number of people.