As seen Off-Broadway, on CNN, Comic Con NY and the Golden Fans at Sea cruises! The Golden Girls for the NEW generation!
About this event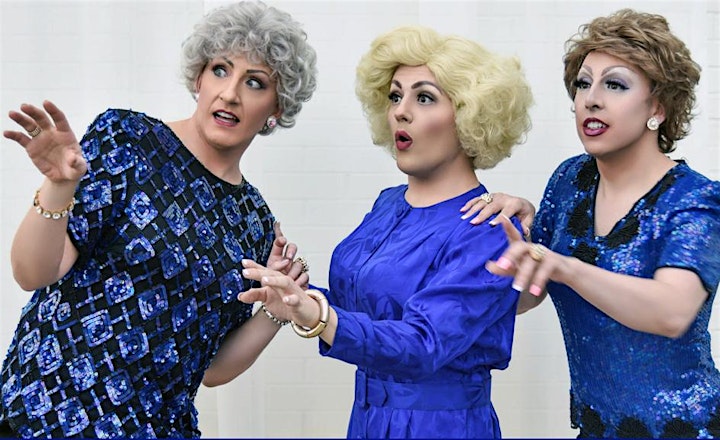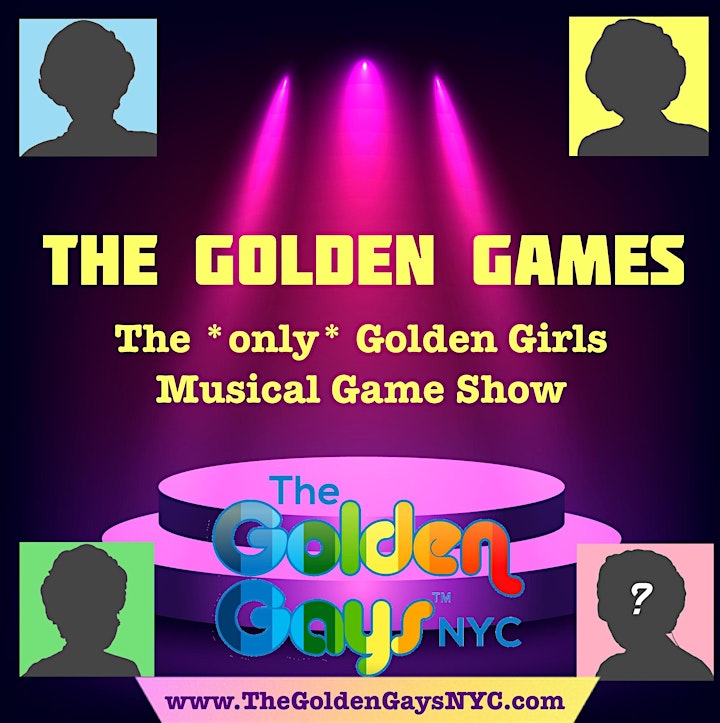 "The Golden Games"- A Golden Girls Musical Game Show
Picture it: Your city! Sophia Petrillo has gone missing! Your favorite pals and confidants Dorothy, Blanche, and Rose must travel down the road and back again across America to find her. The hip-old grannies take you on a musical journey through The Golden Girls' favorite game shows. Lucky audience members will become contestants, interacting directly with your bosom buddies, while competing to become the next #TokenSophia. Grab That Dough! Prizes! Songs! Jeopardy Dream Sequences! Oh My! Toto, we're not in Miami anymore, sugar.
"It's like vaudeville for the new generation!" - Rachel in Asbury Park, NJ
"They had me laughing so hard my cheeks hurt!" - Mary in Fort Lauderdale, FL
"The best show I've seen here in a long time. More of this, please!" - Michael in Detroit, MI
About The Golden Gays
TRAVELED DOWN THE ROAD AND BACK AGAIN...
The hilarious camp trio, the Golden Gays™ NYC, burst onto the scene in the Summer of 2017. They first appeared at RuPaul's DragCon NYC 2017 and then at the famed Rue-La-Rue Cafe in Washington Heights, New York. Since then, they have performed sold-out engagements off-Broadway at Theatre Row, The Laurie Beechman Theatre, and The Duplex. Additionally, they have performed regionally at The Asbury Hotel, The Music Box Supper Club, and The Pilgrim House. The Golden Gays have garnered a loyal and loving fan base (#FriendOfClayton).
They set their sights beyond Broadway and took their Golden Girls Musical Revue "Hot Flashbacks" on a mini-tour to Pittsburgh, PA, Cumberland, MD, Baltimore, MD, and Asbury Park, NJ. They became the toast of the Northeast in Spring 2018.
At RuPaul's DragCon in 2018 (their 2nd appearance), GGNYC partnered with Golden Girls merchandise aficionado Sassy Green Lady, spreading the Golden Girls love and dressing up gaggles of #TokenSophias along the way. They even sang live on the main stage with an introduction by Mrs. Kasha Davis!
​"It's like a gay barbershop, Pitch Perfect, and the Hallmark Channel got together to put on a show!"
In December 2018, GGNYC hit the road again with a brand new holiday musical "Thank Yule for Being a Friend," returning to their newfound homes away from home in Pittsburgh, Cumberland, Baltimore, and Asbury Park. They also picked up New Hope, PA along the way!
In 2019, GGNYC played Rochester, NY. They premiered their musical game show The Golden Games during the summer of 2019 with Mrs. Kasha Davis and Aggy Dune. Additionally, they performed on the maiden voyage of VACAYA's Provincetown Cruise. Then, they did a Midwest tour of their show "Hot Flashbacks" in Cleveland, Detroit, Chicago, Indianapolis, and Pittsburgh. Tickets sold out fast!
"Thank Yule for Being a Friend" premiered in Provincetown, MA before playing Asbury Park, Cleveland, Pittsburgh, Cumberland, Baltimore, Philadelphia, and NYC, followed by a two-week run in Fort Lauderdale. The holiday tour concluded at the Hackensack Performing Arts Center in Hackensack, NJ.
Starring The Golden Gays™️ founders Jason B. Schmidt (as The Dorothy) and Gerry Mastrolia (as The Rose) and more! A musical adventure, their shows consist of live singing and dancing, along with hilarious sketches from the television show's most memorable moments.
About the Milton Theatre
Official Website | Facebook | Twitter | Instagram
The historic Milton Theatre is a uniquely diverse venue where you will find the best local, regional, national, and international talent. Free municipal and on-street parking are available. Full bar and light food options available. This facility is fully accessible.